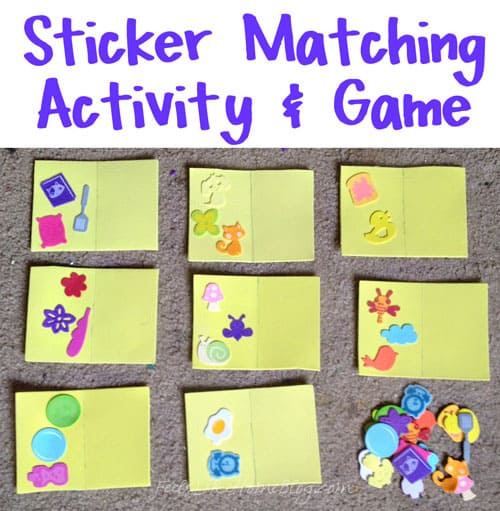 Pin
Are your kids crazy for stickers?
Mine are. Both of them, and the sticker addiction began very early. I think Grace was 1 when she discovered stickers, and Allie was choking on them prior to 6 months (because Grace has always left them all over the place).
We had the opportunity to work with a new line from Darice Crafts called PomTree Kids, and I really, really love their products. They offer mega craft supply kits (some are no glue required!), building kits, and sticker tubs.
The idea is that the kits are very open-ended to inspire creativity in children and fun parent-child time. My kids have asked to play with these materials almost every day since they arrived a month ago. The designs are cute and inviting, and they almost all include stickers.
Awesome!
Most of these things are not recipe-style projects you can give your kids and walk away. They are materials. You and your kids have to come up with the projects and work together to make them happen. I absolutely love that!
Anyway, on to our project.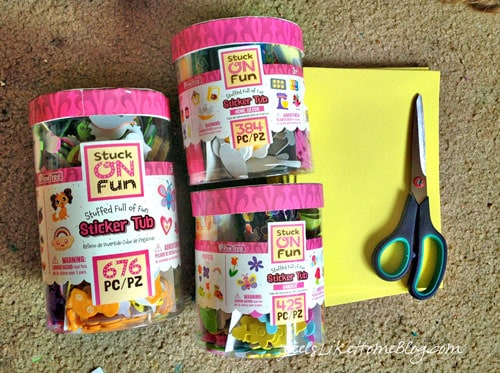 Pin
Materials:
Stickers - We used 3 different tubs of Stuck On Fun stickers from PomTree. I love that the tubs contain 3 different kinds of stickers - foam stickers, felt stickers, and paper stickers. The differences made this a sensory experience in addition to everything else.
2018 NOTE: Pom Tree stickers are no longer available, but I found some really awesome 3D puffy stickers on Amazon that I would use for this activity. They come in packs of 30, 40, or 80 sheets. You would have to buy TWO packages though, because they are guaranteed to have no repeated sheets in the pack. The 30 sheet pack is under $7, so it wouldn't be a huge deal to buy 2 sets.
Foam sheets - I used 4 yellow foam sheets. It's important that all the sheets are the same color.
Scissors
A pen or marker
Creating the Activity:
1. Cut each of your foam sheets in half. I used yellow because it's Allie's favorite color. Fold each of the halves in half and draw a line down the center - but don't cut it! You want to make little folders, like the ones below.
2. Stick 2-3 stickers on half of each folder. As you attach a sticker, place an identical one in a pile to the side. Grace (my 6-year-old) helped with this part. She was elated to be creating a project for her little sister, and the fine motor skills required to peel the stickers is great for her as she's still working hard on writing correctly.
Don't make the designs too intricate (unless your child is much older; mine is 2).
Eight folders were too much for Allie. We did 5 of these, put them up, and then did the last 3 another day.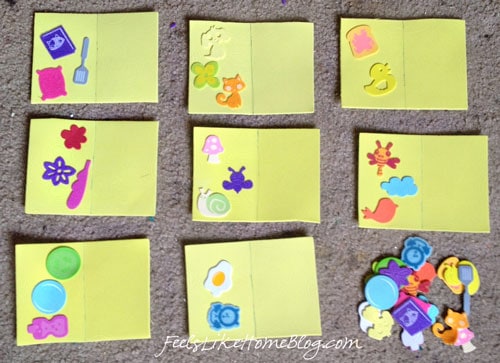 Pin
3. The idea of the activity is that your child will use the stickers in the pile to recreate your designs. She should try to get the stickers in the right spot, with the right orientation. It can be a little tricky, and she will probably need help to keep her stickers inside the line.
You're going to cut on the line later, so it's important to keep her stickers on the correct side.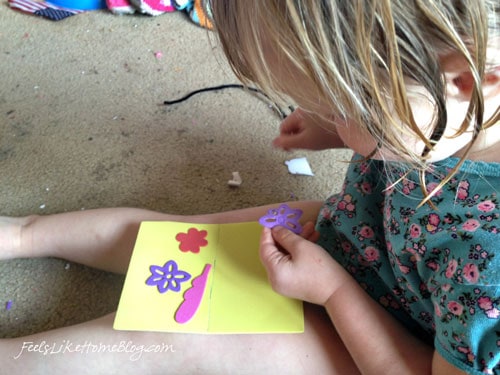 Pin
4. Allie was so intent on her stickers; she even peeled the centers out of all the petals and flowers. She wanted her side to match my side exactly. This is such great fine motor practice for her, too.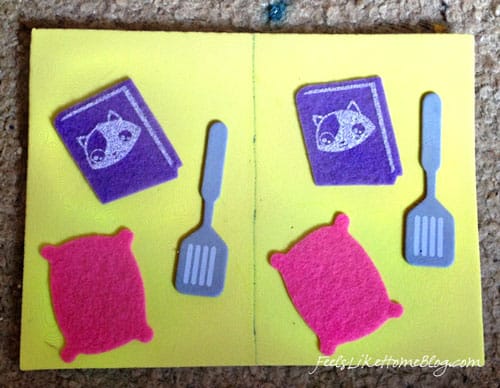 Pin
Some of the folders are perfect, and some aren't. Aside from moving stickers to avoid cutting them in half, I didn't "fix" anything. She self corrected frequently, putting the sticker down, looking at it, then picking it up and fixing it.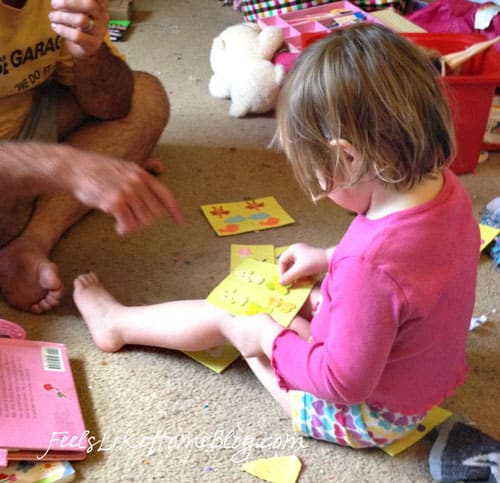 Pin
5. When all of the folders are finished, look over them with her. Talk about themes (eggs and alarm clocks for morning time), textures, shapes, and colors.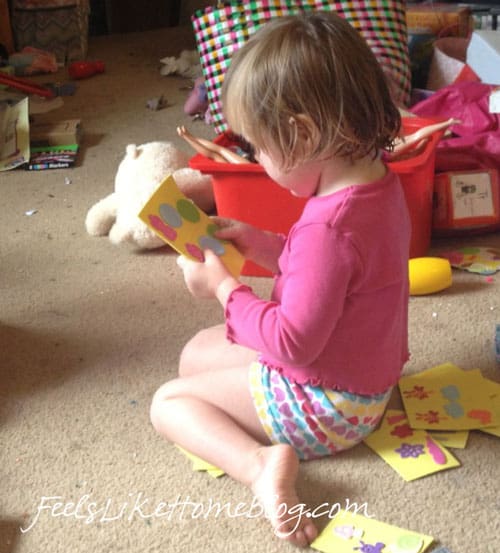 Pin
6. Help her to cut the folders in half along the lines to make a memory game. Allie LOVES to cut with scissors, and she took special care to cut straight along the lines.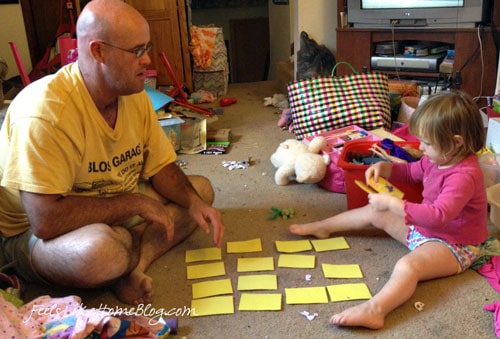 Pin
7. At 2, Allie is not so much into waiting for her turn and allowing her dad to take his turn. She picks up a card and then turns over all the others until she finds her match.
It's not ideal, but it works for her, and she's learning so much about spatial relations and observation and remembering. I just love it.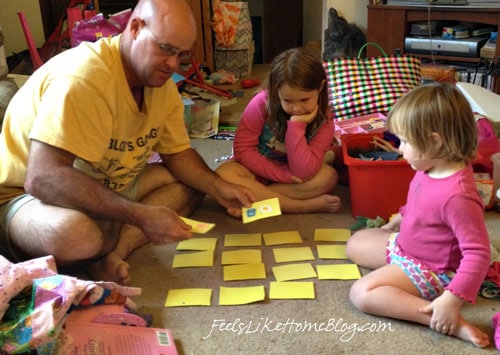 Pin
Grace thought the matching game looked like fun, so she joined in. They played something a little closer to the rules then, but Allie still did her own thing.
This post is sponsored by PomTree Kids and Darice.