My primary goal in homeschooling has been to instill a love of learning into my kids, and that all started with a love of reading. We have read every day since my children were babies, and my good reading habit has paid off because they now read independently without being asked. Even my kiddo with dyslexia has become an avid reader (graphic novels ftw!).
We've aged out of the library's summer reading program, but a lot of reading programs require children to record the number of books they've read or the number of minutes they've read or the names of the books they've read.
I didn't have an easy way to record the books when summer started, and I got behind.
After an hour or more of searching for printables online, I didn't find a free reading log that had the columns I wanted and listed more than 10 books per page.
We read a lot of books around here. 10 books per page would take an awful lot of paper.
So. I made a simple printable reading log for myself.
I left a space so that my kids could write their own names on the log and a second space where we could write the month and year. Then, of course, there's space for the date, the title of the book, the author of the book, and how many minutes they spent reading it. If you don't have to record minutes, you could use that column for a star rating system. (I do that in the reading journal I keep for myself.)
In Pennsylvania, homeschoolers have to keep a list of books they've used throughout the year, so it's a good habit for us to start. I also just like having a list of the books Grace has read by month.
This list would also be great to use in a classroom where the teacher can give one to each student and have them keep track of the books they read outside of class.
Here's what the free printable reading log looks like: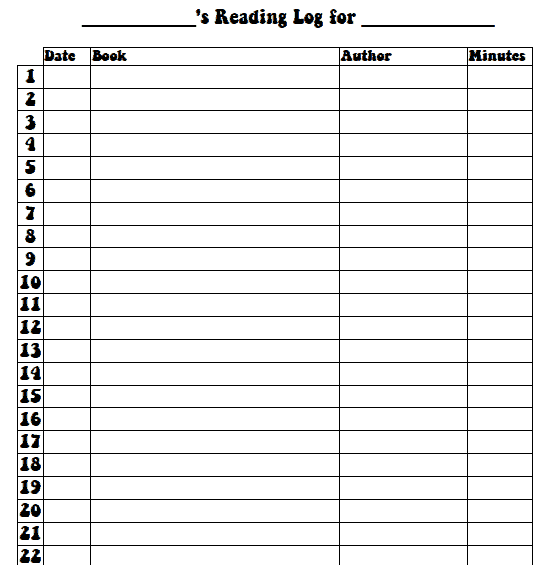 You can download a pdf of the summer reading log below. (Okay, it's not just for summer. The anytime reading log then.)
For more homeschool curriculum ideas, visit my curriculum index.