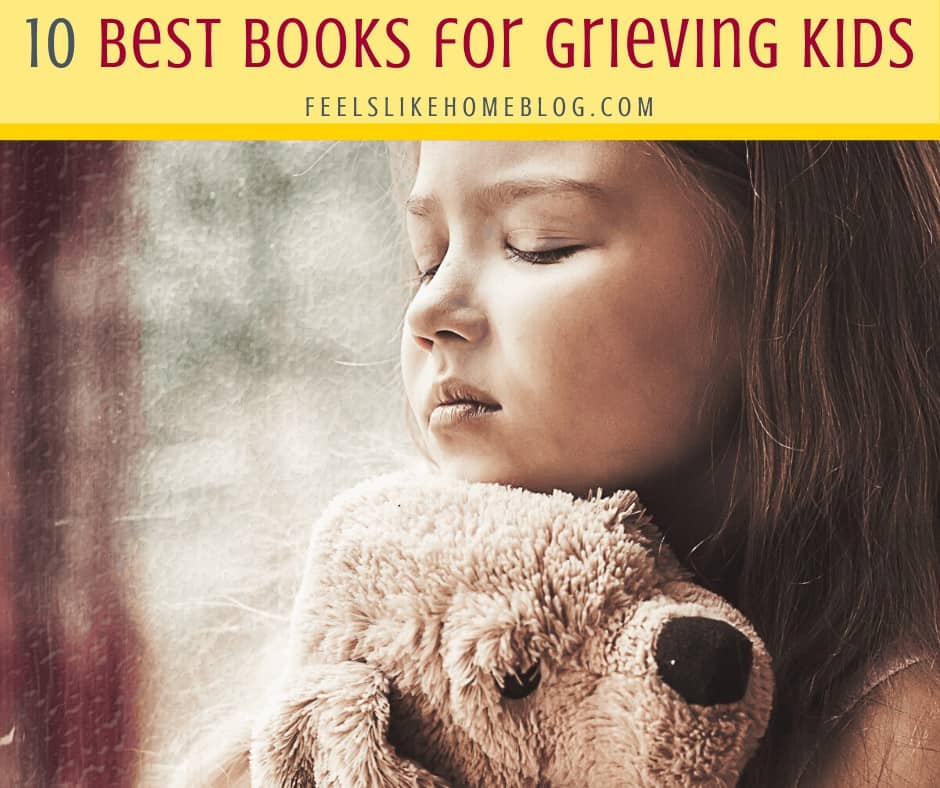 Pin
These 10 kids books on grief will help your child to deal with death in a positive way. They will help you to open a dialogue with your child, and they will bring peace and comfort during what is likely to be the most difficult time in her short life.
I have struggled with my mom's cancer diagnosis since the day my sister told me. I skipped most of the stages of grief and went right for depression.
With each chemo treatment and each hospitalization and each time we hoped for good news, I saw her strength and vigor decline sharply. Her body betrayed her a little more every day. Now, it takes two people to help her out of bed and into her wheelchair.
I can imagine few things more grueling than watching a loved one waste away from this brutal disease and its brutal treatment.
When her treatment changed over from possibly curative to palliative, I realized that I needed to talk to 6-year-old Grace about the fact that Grandma would not survive this disease.
I took the opportunity when Grace told me something that she used to do with my mom "before Grandma got sick." We talked about the fun things they'd done together, how my mom always took her to kids classes at the garden center, and how Grace liked to sleep with her in her heated water bed.
I burst into tears (something I had been doing at least thirty-seven times a day), and I asked her if she was aware that Grandma might not get better from this sickness.
She was not aware, but she did not want to talk about it any more.
A few weeks later, I told Grace that not only was Grandma not going to get better, but that Grandma was going to die sooner rather than later. She still did not want to talk about it.
At one point, our family doctor told me that she had only a few weeks left, and I arrived home hysterical. The kids, of course, wanted to know what had happened, why was Momma crying so much?  I told them that Grandma was going to die very soon.
For a while now, my mom alternates between conscious and confused. She doesn't always make sense; she isn't always thinking clearly. For a while, she seemed sometimes to be in another place, smiling and staring, but I haven't seen that in a while. She's mostly just sleepy now.
When we thought it was the end, I asked Grace if she wanted to say goodbye to Grandma. I didn't have that opportunity when my own Grandpa passed away, and I've always wished for it.
She said she did, and I took her along to my mom's house.
She didn't really want to say goodbye. She wanted to stand at the foot of Grandma's bed and look at her. She wanted to play near Grandma's bed. She wanted to blow a kiss and say "hi."
She did finally say "bye Grandma!" when we left.
As you know, Grandma didn't pass that weekend. Grace makes artwork for Grandma and plays on her bed (when she's sitting up in her wheelchair) and says goodbye when we leave. She keeps the feelings and the reality of all this at arm's length.
I really want her to talk to me the same way that my mom wanted me to talk to her when my grandpa died. I dreaded the times that she came into my room. I didn't want to talk; I just wanted to cry alone. I suspect Grace feels the same way now, so I try not to push.
I don't think she understands the hole that will grow in her heart when Grandma passes away. Or maybe she does, and that's why she's keeping a distance in preparation for that.
I started seeing a therapist (against my own wishes but at the request of my psychiatrist), and he suggested getting a lot of books from the library and reading them with Grace.
Grace hates to hear me cry. She hates it. She will get up and leave the room or cover her ears. She won't sit and listen to a book if it makes me cry.
So.
Joe reads these books. I sit in a chair close by and cry while he reads. The books really are lovely, and they make us think nice thoughts about heaven and family and grief and moving on when we've lost someone we love so much.
Once in a while, Grace will bring up something from one of the books in a conversation later on. Sometimes, she just listens while her dad reads and that's the end. I hope that someday, she'll decide to talk about her feelings and how all of this is affecting her delicate heart.
The 10 Best Kids Books on Grief
My mother passed away seven days after I published this post. Grace was in the room when she was taken off life support, and I was worried that she had been scarred for life. Years later, however, she remembers nothing of that day except that Grandma died and went to heaven. It's a blessing.
The books above were instrumental in beginning heavy conversations with Grace and as she began to process Grandma's passing. Children, especially small ones, don't have the words to talk about their big feelings about death and dying, and these kids books on grief give them those words and help them to communicate in a way that will help them for many years to come.