Grace's favorite subject is science.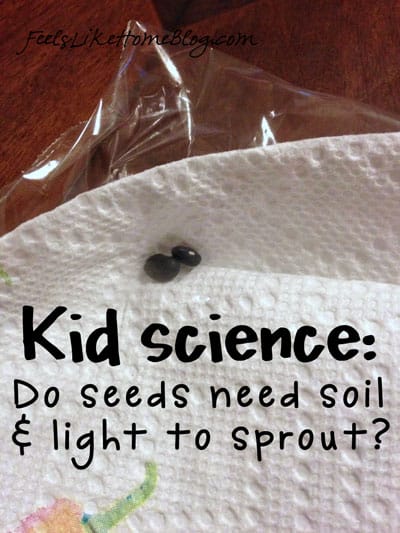 Pin
Perhaps it's because I spent ten years as a science teacher. Perhaps it's because I love science, too. Perhaps it's because she's good at it, and it's active learning.
The why is irrelevant. She adores science.
A couple of weeks ago, Grace's Calvert First Grade curriculum suggested an experiment with two seeds, one wrapped in a damp paper towel and the other in a dry one.
I mentioned the concept to Grace, and she said, "Well, plants need water to grow, so the dry one isn't going to do anything."
Well.
Some experiment.
We redesigned, making it more complicated to give her something to puzzle over.
It's important that you don't give your child any experiment like you'd give her a recipe. Research has consistently shown that kids understand science concepts best when they investigate for themselves - answer their own questions, design their own experiments, draw their own conclusions.
Give your child some materials, ask her some questions, and help her to come up with her own plan.
Grace already knew that seeds in soil would grow, so I asked her if seeds would grow outside of soil. I asked her how we could test whether a wet paper towel would make a suitable substitute. I asked her if the seeds would grow if we wrapped them up inside the paper towel (rather than in a sunny window), and she suggested putting the whole bag into the closet.
We went on like this for a few minutes, until she designed the experiment.
Early on, I asked Grace if seeds could grow without soil. She was stumped, but she decided that they couldn't, and the whole experiment was useless.
I love seeing her understanding develop, a little bit at a time. She was so shocked that the seeds grew.
Good times.
Experiment Materials
To replicate our experiment, you'll need the following:
4 zippered sandwich bags

4 paper towels
8 seeds (We used black bean seeds from last year's garden.)
Sharpie marker to write on the bags
[imagebrowser id=2]
Experiment Notes
Check the dampness of the paper towel every couple of days. I had to re-wet Grace's a few times. I did this without her knowledge; I was afraid she's over wet the towel and drown her plants.
Be careful about your seedlings. You can't keep seedlings in the dark for too many days, or they'll die. Once the leaves come out, get them out of the dark and into a sunny window. Your zippered bag is essentially a mini greenhouse, and the seedlings will grow nicely in there in a sunny window, until they outgrow it. That happened for us around 10 days, I think. It might have been 2 weeks even.