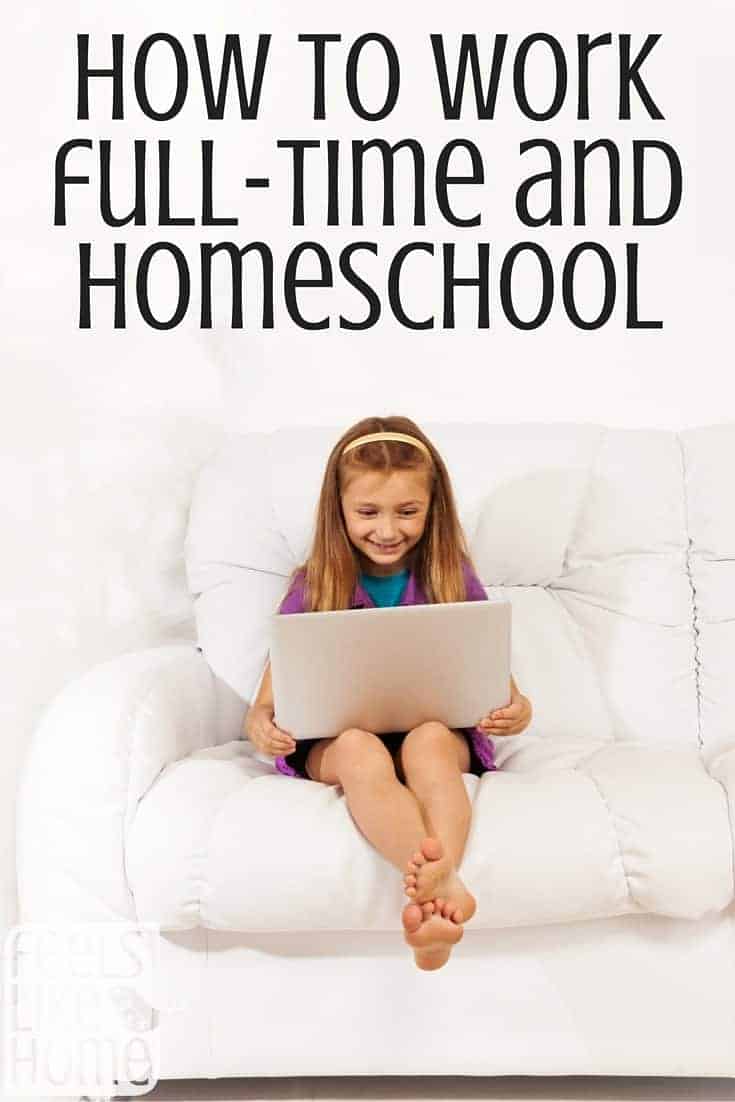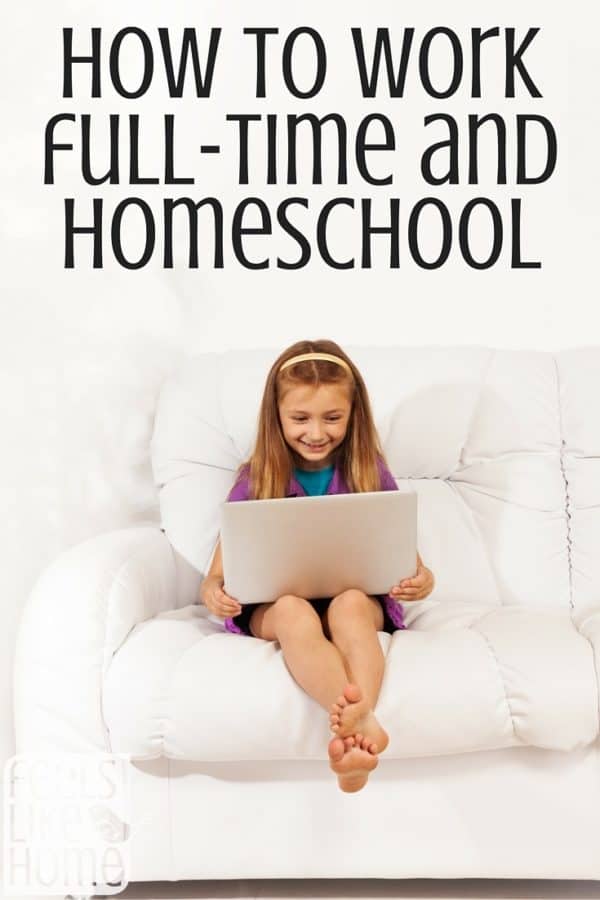 Pin
I have worked part-time since I quit teaching high school five years ago, but I never dreamed I would go back to full-time.
Like, ever.
Well!
God has a way of working things out, and a perfect opportunity came along from an employer that I liked very much.
At the same time, we have been homeschooling since preschool, so continuing to do so after I accepted this full-time position was a given. Whatever my job situation was, we would continue to homeschool.
I have been working full-time for two months, and while it has not been easy to continue to homeschool, we are making it work. Here are my tips.
How do you work full-time and homeschool?
The short answer is that you need a lot of support, and you have to fit in school every chance you get.
You need a lot of support!
My kids are pretty little, 8 and almost 5, so being alone all day is not an option.
We have an awesome homeschooled teen who watches the girls two days a week, and a local mom watches them a third.
I have a flexible schedule and work from home in the evenings of the last two days of the week, giving us time to participate in a homeschool co-op and MOPS/MomsNext group during those two mornings.
You can't homeschool and work without having support.
You need someone to watch (or at least watch out for) your kids while you're at work. It's not a normal situation, and a lot of people won't understand why you don't just send your kids to school during the day. You have to find caretakers who will support your homeschooling lifestyle. Bonus if they'll help your kids with schoolwork on a regular basis.
You will have to enlist your husband. Grace, my 8-year-old, is just on the cusp between working independently and needing a lot of help, so we still try to support her as much as possible. My husband doesn't feel confident enough to teach any subjects, but he does read with her and takes on projects for me. I can give the two of them an assignment while I'm working downstairs, and he will help her to figure it out.
You may also need to hire someone to clean your house, as most of your free time is going to be spent schooling. We are saving up for a cruise in 2016, so this is not a reality for us right now, and we are living in a lot of dirt. There isn't time for me to clean, and I (almost) don't allow it to bother me.
You have to fit in school every chance you get!
I'm not kidding when I say we fit in school every chance we get. I probably have a unique situation, where my boss allows me to work from home with a flexible schedule two days a week. I love that. But even if you're stuck in an office five days a week, you can still make homeschooling work.
You may have to change your approach. I don't think it's possible to do a "school at home" approach and work full-time. I just don't see how the timing would work out. We school using a blend of Charlotte Mason and delight driven philosophies, bordering on unschooling at times (that all seems impossible together, but we pull bits and pieces from each).I'll post an explanation of our curriculum choices for third grade soon, but in the meantime, we do a lot of reading and discussing books, a few textbooks, and a lot of field trips.
A LOT of field trips. I think we've done one a week so far this school year. We try to make use of our Fridays when I work from home, but we also do weekends. Joe and I will take an occasional vacation day from work to get in a field trip on a non-busy weekday. (That's what we did with the White House, which I will also post about soon.)
You may have to change your expectations. You cannot expect to work in five big chunks of time each week. You simply won't have those available. We fit in school whenever we can, during evenings and weekends and on the two days when I work from home. I am ecstatic if we touch schoolwork four days a week and content if we get in three days.
You may have to school year round. The law in my state (Pennsylvania) says that we have to do 180 days schooldays a year. That's 3-4 days per week for 50 weeks. We are diligent about our school activities throughout the year; we even do school in the mornings when we're on vacation.
The great thing about our way of doing school is that it isn't boring or dry. We are reading great books and doing fun activities, and it doesn't feel like something to dread. It's fun and engaging, and it's something that Grace looks forward to doing with me.
You may have to get creative. I count educational trips and activities as school days. Science museum, the zoo, the White House, the library, science lectures, whatever. Regular schools count these field trips as school days. Why shouldn't we? I also count homeschool co-op as a school day because my daughters are learning good stuff while we're there.
You have to fit in school every chance you get. Grace is in Girl Scouts and church clubs two nights a week, so those nights are out for big chunks of schoolwork. But! We can do a chapter of a book at night after scouts. We can read Life of Fred while we're waiting at the doctor's. We can do some handwriting practice while we're waiting for dinner to cook. It's all about being creative with your small blocks of time and getting work done as you can do it.
I thought homeschooling was hard when I was working part-time. Homeschooling now is much trickier.
If you are a working mom and homeschooling your kids, I applaud you. You are doing really tough work!
It is tough, but it can be done.
Are you working and homeschooling your kids? Join the discussion below. I'd love to connect with you.