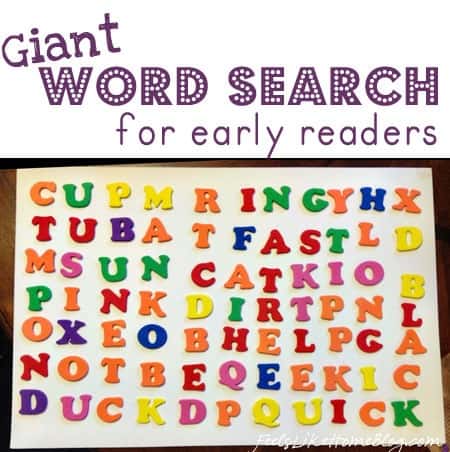 I may have mentioned a time or seven before that Grace hates worksheets.
Really, who among us would say, "Oooh! Can I do some workbook pages?!" No one that I know. I like puzzle books, but I don't think reading skill workbooks really reach the level of mental exercise that a good puzzle book would.
I digress.
Grace is getting better at reading, but she needs to practice her phonics skills - decoding and spelling especially.
My friend Allie shared her 3D Word Search on No Time for Flashcards, and I knew it would be a success with Grace. We've used our word search differently than Allie and her son used theirs, so I've included instructions below.
Materials:
I forgot to take a picture of the materials, but I used a giant piece of fun foam (the biggest piece they had), foam letter stickers, and glue.
See where this box says it contains foam alphabet stickers? Well, Darice, you lied. The box was full of alphabet foam shapes, but they were not stickers.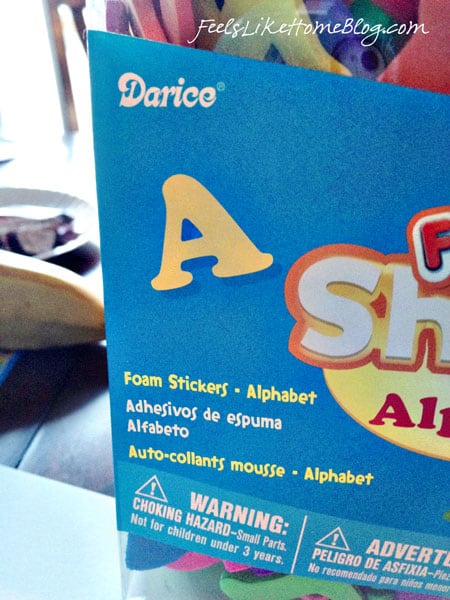 Instructions:
1. Make a list of words to start with. I made a list of some of Grace's current and former spelling words from Logic of English.

2. Find letters to make each of the words you choose. If you wanted to make your word search easier, you could make all the letters of each word the same color. (To see an example of that, visit Allie's post linked above.)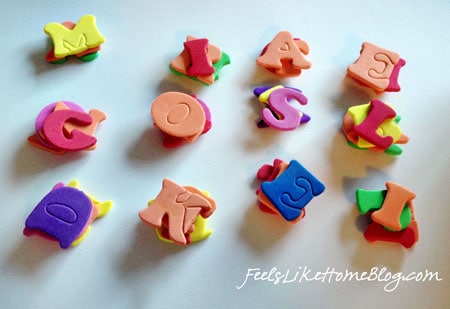 3. Lay out the words from your list. I noticed that I had a LOT of extra space, so I started adding in words that Grace might recognize in between and around the other words. I kept all the words either horizontal or vertical, nothing diagonal.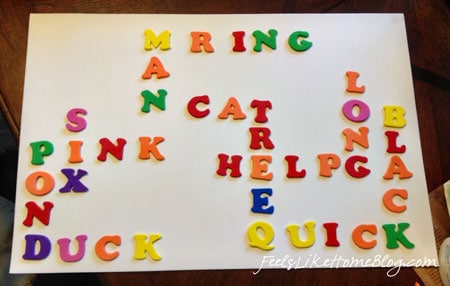 4. Once you've filled in as many words as you can (or care to), fill in the rest of the word search with random letters. I tried not to be tricky and make partial words. I just filled in letters.
Try to keep your lines straighter than I did. Every time we get this out, Grace says, "Mom, why's there a big space right here?" Argh!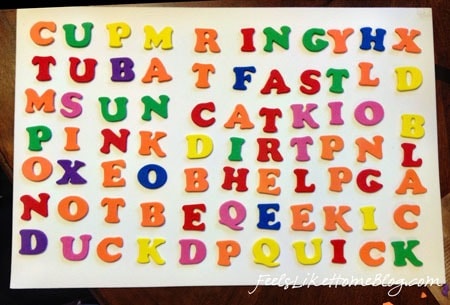 5. Make a list of words for your child to find. Grace got bored with word searching long before she finished this list, so I changed my approach.
Instead of using a list of words, I ask Grace if she can find any words. She always comes up with a few. When she's found all the words she can (or feels like), I ask her to find a certain word. Sometimes, I use a theme like cat, bat, duck (animals), and sometimes, I don't.
She finds it, and I ask her to find another and another until she's had enough.
This has become one of Grace's favorite ways to start our school time. We use it almost every day.
When I think she's memorized all the words (or it becomes too easy), I'll make another one.
For more reading & writing tips, check out the Reading & Writing Index.