These 29 Bible verses about trusting God's timing and plan for your life will help to calm worry and stress and leave you with peace and comfort. These scripture truths will help you to have faith in hard times.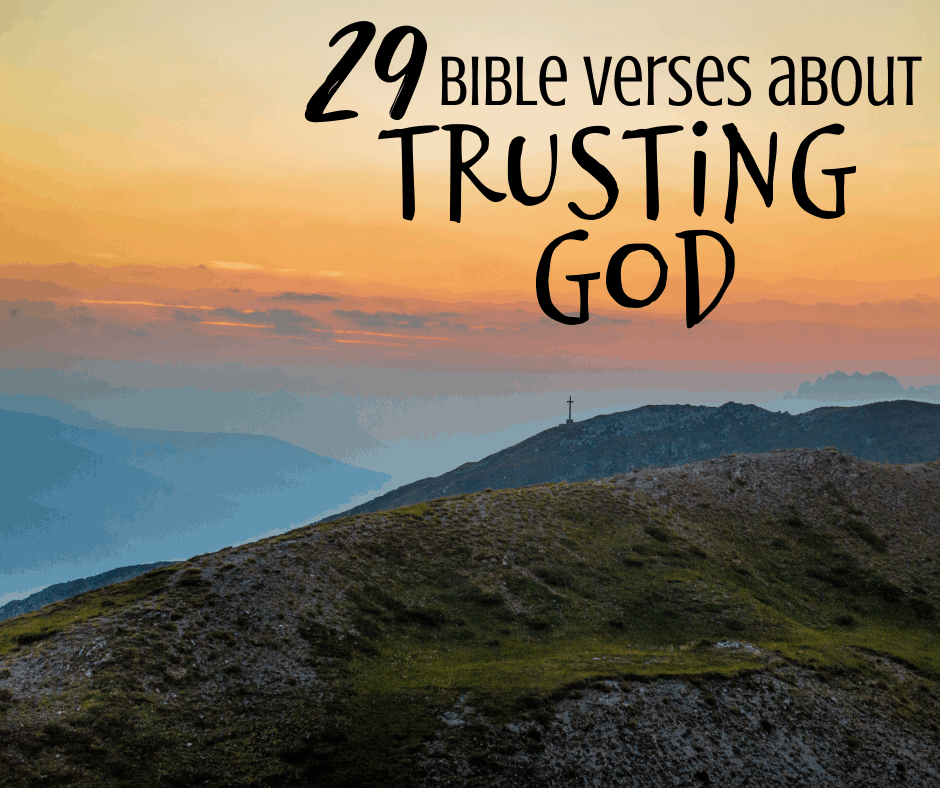 I don't know about you, but I tend to be a worrier. I think you are a worrier, too, and that's why you're here. For what it's worth, I think that because most people are worriers, and you are not alone.
I remember very clearly a conversation with a friend that took place outside of the high school where we both taught at the time. It went something like this:
Alison: "I am a champion worrier. I wish people could pay me to worry about their problems for them. I would be rich."
Me: "Yeah, I know how that feels. I would pay you to worry for me if it meant I didn't have to do it myself."
It was all very tongue-in-cheek, but the point is that we both felt like worry was consuming our thought lives - and subsequently, our actual lives.
It doesn't have to be that way. In fact, the Bible says that it shouldn't be that way:
Finally, brothers and sisters, whatever is true, whatever is noble, whatever is right, whatever is pure, whatever is lovely, whatever is admirable—if anything is excellent or praiseworthy—think about such things.

Philippians 4:8 (NIV)
For the Spirit God gave us does not make us timid, but gives us power, love and self-discipline.

2 Timothy 1:7 (NIV)
So if we are to think about whatever is excellent or praiseworthy and to do it in boldness... how? How do you change from constant worry and stress to boldness, power, and self-discipline?
You pray. Pray that God will take away the timid spirit and the worry. Pray that you will be able to trust Him completely and see His goodness.
Because that's what worry is all about, is it not? You are not trusting God to do what is best for you and your family. It's a trust issue, not a worry issue.
Read that again: worry is a trust issue. You are not trusting God to be faithful and good to you.
The only way to shed that feeling, that belief, is to pray, read scripture, and learn to trust Him more. That's it.
Let me also pause to say that if you worry is causing you to be paralyzed and unable to function in your life, you probably need to see a doctor and/or a therapist. Anxiety disorder is a real medical thing that needs to be treated with medication and talk therapy. I don't discount that at all. In fact, one of my children has an anxiety disorder that is treated with medical interventions. Don't be ashamed to get help if you need it.
For most of us though, worry is not a medical issue. It's a trust issue.
I want to help you to see that God loves you and will be there for you no matter what. You can trust Him to have your back and provide you whatever you need.
29 Bible Verses About Trusting God
You can receive a printable version of these verses by clicking the button below. The button doesn't work in all browsers though, so if you try and can't get it to click, leave a comment below and I'll email the PDF to you.
Trust in the Lord with all your heart, and lean not on your own understanding;

Proverbs 3:5 (NIV)
"Be still, and know that I am God! I will be honored by every nation. I will be honored throughout the world."

Psalm 46:10 (NLT)
These are two of my very favorite scriptures, and ones that has popped into my brain unexplained and unexpected (except really, is it unexplained or unexpected?) on several occasions when I was really panicked. I remember one time, when I was a brand new Christian, and God spoke these verses into my heart. When I say that, I don't mean that I heard them out loud, but it was miraculous all the same. I was going over and over and over something distressing, and all of a sudden, I thought these two Bible verses verbatim - even though I'd never studied or memorized them. I had an instant sense of peace and calm, and I knew that God had just spoken to me. I looked up the verses online and they been favorites ever since.
The Lord is my strength and shield. I trust him with all my heart. He helps me, and my heart is filled with joy. I burst out in songs of thanksgiving.

Psalm 28:7 (NLT)
Okay, so maybe you aren't bursting out in songs of thanksgiving yet, but keep praying. You'll get there.
That verse reminds me of a Corrie ten Boom passage that I quoted in A Grateful Heart. In one of her books, Corrie recounts her imprisonment in a Nazi concentration camp. She and her sister, Betsie, were shuffled from one camp to another, and in the most recent camp, they found overcrowded barracks full of fleas. Betsie reminds Corrie that the Bible says to give thanks in all circumstances, not just the pretty ones. They end up praying to thank God for the camp, for the overcrowding, and even for the fleas right there in the middle of the madness.
If Corrie and Betsie ten Boom can be thankful for a Nazi concentration camp, surely you can be thankful for whatever is plaguing you right now. Give it a try. Pray this minute and thank God for the trial you're in, and ask Him to help you to see the good in it.
Commit everything you do to the Lord. Trust Him and He will help you.

Psalm 37:5 (NLT)
We put our hope in the Lord. He is our help and our shield. In him our hearts rejoice, for we trust in his holy name. Let your unfailing love surround us, Lord, for our hope is in you alone.

Psalm 33:20-22 (NLT)
You will keep in perfect peace all who trust in you, all whose thoughts are fixed on you! Trust in the Lord always, for the Lord God is the eternal Rock.

Isaiah 26:3-4 (NLT)
God has come to save me. I will trust in him and not be afraid. The Lord God is my strength and my song; he has given me victory.

Isaiah 12:2 (NLT)
The Lord is a shelter for the oppressed, a refuge in times of trouble. Those who know your name trust in you, for you, O Lord, do not abandon those who search for you.

Psalm 9: 9-10 (NLT)
But when I am afraid, I will put my trust in you. I praise God for what he has promised. I trust in God, so why should I be afraid? What can mere mortals do to me?

Psalm 56: 3-4 (NLT)
But blessed are those who trust in the Lord and have made the Lord their hope and confidence. They are like trees planted along a riverbank, with roots that reach deep into the water. Such trees are not bothered by the heat or worried by long months of drought. Their leaves stay green, and they never stop producing fruit.

Jeremiah 17:7-8 (NLT)
Fearing people is a dangerous trap, but trusting the Lord means safety.

Proverbs 29:25 (NLT)
"That is why I tell you not to worry about everyday life—whether you have enough food and drink, or enough clothes to wear. Isn't life more than food, and your body more than clothing? Look at the birds. They don't plant or harvest or store food in barns, for your heavenly Father feeds them. And aren't you far more valuable to him than they are? Can all your worries add a single moment to your life?"

Jesus speaking in Matthew 6: 25-27 (NLT)
This is a scripture that I have prayed many times. When I quit my teaching job and gave up more than ⅔ of our household income, we barely scraped by. During that time, I returned over and over to these verses. God feeds and clothes the birds, and they don't worry about their next meal. Surely, I thought, He would do the same for me and my little family, and He always did. One time, we had to count spare change to purchase a Christmas gift for a family member, but we always had enough to get by.
Jesus Christ is the same yesterday, today, and forever.

Hebrews 13:8 (NLT)
I pray that God, the source of hope, will fill you completely with joy and peace because you trust in him. Then you will overflow with confident hope through the power of the Holy Spirit.

Romans 15:13 (NLT)
And we know that God causes everything to work together for the good of those who love God and are called according to his purpose for them.

Romans 8:28 (NLT)
This verse is often quoted as a platitude when times are hard, and thus it has lost some of its potency, I think. But it is true. Whatever bad things happen, you can trust that God will use them for good.
My favorite Bible story is the story of Joseph from the book of Genesis. Joseph is sold into slavery by his jealous brothers, and he lives as a slave in a faraway land. Eventually, his owner's wife tries to seduce him, and when he resists her, she has him thrown in jail. He lives in jail for years before his fame brings him in front of the pharoah (or king) of Egypt. Eventually, he is raised up to the second in command of the entire country, and he saves those jealous brothers of his from starvation when there is a famine. He tells them this:
You intended to harm me, but God intended it all for good. He brought me to this position so I could save the lives of many people.

Genesis 50:20 (NLT)
You can trust God. Whatever is in your life, whether by God's hand or by the actions of people, can be used by God for good.
Praise the Lord! How joyful are those who fear the Lord and delight in obeying his commands.

They do not fear bad news; they confidently trust the Lord to care for them.

Psalm 112: 1 & 7 (NLT)
This is my command—be strong and courageous! Do not be afraid or discouraged. For the Lord your God is with you wherever you go.

Joshua 1:9 (NLT)
But overhearing what they said, Jesus told the ruler of the synagogue, "Do not fear, only believe."

Mark 5:36 (ESV)
You will keep in perfect peace all who trust in you, all whose thoughts are fixed on you!

Isaiah 26:3 (NLT)
Take delight in the Lord, and he will give you your heart's desires. Commit everything you do to the Lord. Trust him, and he will help you.

Psalm 37:4-5 (NLT)
And it is impossible to please God without faith. Anyone who wants to come to him must believe that God exists and that he rewards those who sincerely seek him.

Hebrews 11:6 (NLT)
Don't take this verse to mean that God is displeased with you if your faith is weak. If you believe in Jesus Christ but you are having trouble believing that He can work in this situation, pray like this:
The father instantly cried out, "I do believe, but help me overcome my unbelief!"

Mark 9:24 (NLT)
God is faithful, and He will help you if you ask.
Don't be afraid, for I am with you. Don't be discouraged, for I am your God. I will strengthen you and help you. I will hold you up with my victorious right hand.

Isaiah 41:10 (NLT)
Don't worry about anything; instead, pray about everything. Tell God what you need, and thank him for all he has done. Then you will experience God's peace, which exceeds anything we can understand. His peace will guard your hearts and minds as you live in Christ Jesus.

Philippians 4:6-7 (NLT)
"Don't let your hearts be troubled. Trust in God, and trust also in me."

Jesus speaking in John 14:1 (NLT)
Whatever is on your heart right now is real and painful, I know. But what I hope you have come to understand is that God knows, too.
Jesus walked this earth in human form so that He would know the troubles that humans face. You can trust in Him to help you through this thing.
"I have told you all this so that you may have peace in me. Here on earth you will have many trials and sorrows. But take heart, because I have overcome the world."

Jesus speaking in John 16:33 (NLT)
Believe that He has the best in store for you, and trust in His words. You've got this.
While you're here, check out these other posts with encouraging and helpful Bible verses, explained in plain English:
You can receive a printable version of these verses by clicking the button below. The button doesn't work in all browsers though, so if you try and can't get it to click, leave a comment below and I'll email the PDF to you.