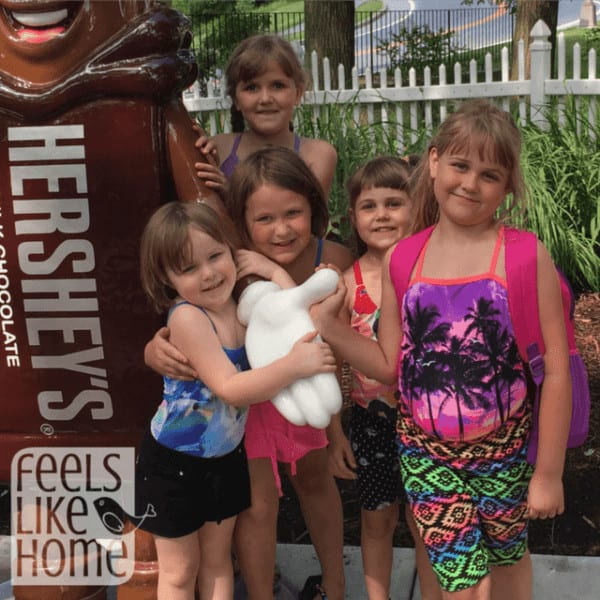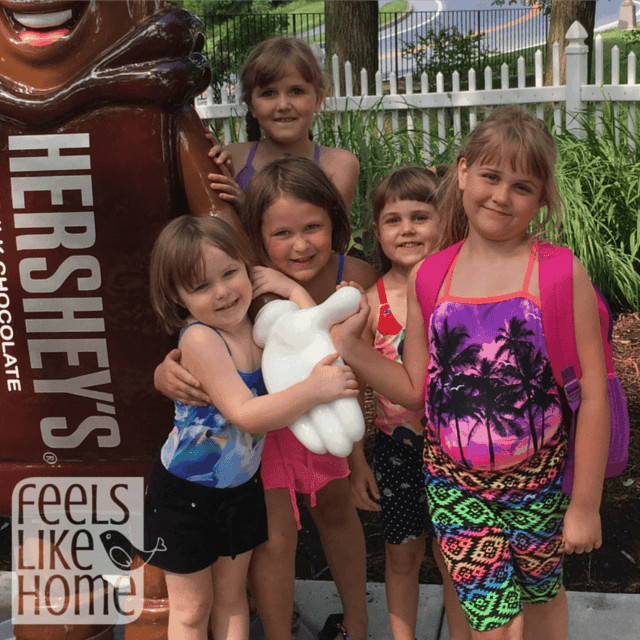 Last week, we had Grace's birthday party at Hersheypark. Instead of inviting 8 kids to our house, we let Grace invite 3 friends to join us at Hersheypark. We spent the same amount of money, and we had 12 hours all together walking our legs off in the park. It was a superlative birthday.
My kids and I (and sometimes Joe) visit Hersheypark pretty much once a week all summer long. If you follow me on Instagram or Facebook, you already knew this because you see tons of Hersheypark photos.
Recently, I've gotten some comments asking for tips to make the most of a Hersheypark season pass or even a single visit, so I thought I'd share a post with all of you.
I imagine these tips are probably true for most amusement parks, so even if you don't live nearby, you might be able to get some useful info as well.
This is not a sponsored post. Everything we've done in Hersheypark has been on our own dime. I've never been paid or comped for any visits.
Planning Your Visit
If you can, plan your visit for midweek. Tuesday, Wednesday, and Thursday are the least busy days in the park, and you will have considerably shorter lines. Evenings are also good, but if you want to enjoy a full day, the middle of the week is your best bet. Stay away from Fridays and Saturdays if you can. They're very busy.
Pack a bag. It might be slightly annoying to carry around a bag (I bring the stroller for that very reason), but it is so much easier to bring the essentials if you have a bag to put them in. Make sure you have plenty of sunscreen (there are lots of shady spots in the park, but you will absolutely get a sunburn if you're not wearing enough sunscreen). We like to use spray sunscreen for our bodies and a stick sunscreen for our faces.
Use wetbags or pouches in your main bag. These smaller bags keep your essentials easily accessible without having to dig through the whole bag. My kids know that our snacks are always in the ladybug bag, and our sunscreen is always in the orange bag. They can always find exactly what they need when they need it.
Put snacks in your bag. I know Hersheypark's rule is no outside food or drink, but snacks are a must if you have young kids. Security has passed me through the line with snacks on nearly every visit, so I have to think they're okay with a few things for the kiddos. My snacks of choice are packaged applesauce (like GoGoSqueeze), granola bars, and fruit snacks. They give the kids a little boost to get them from one meal to the next. (We have never attempted to bring entire meals into the park. That's definitely against the rules.)
Wear the most comfortable shoes you own. No, really. You are going to walk a couple of miles in the park, and you don't want to do it in uncomfortable shoes or with a blister. I wear a pair of Teva sandals.
Season Passes
If you're going to visit Hersheypark more than twice this year, consider buying season passes. We buy ours in September for the following year, saving $25 per pass at the early bird rate. That's a savings of $100 for our family of four!
Season pass holders save 15% in most shops and eateries in the park, so show your pass every time you spend money. You can even save on 99¢ drink refills. More on that below.
Show your season pass when parking to get free parking, and also show it to get entrance to the season pass holder parking area. It's right next to the ticketing building, and a very short walk to the entrance. (This works best if you arrive before 11 am. By then, the closest spaces are filled and you might consider parking close to the tram stop and riding the tram in to the park.)
Arrive early to the park. Season pass holders can enter Hersheypark at 9am, a full hour before the general public. The whole park isn't open at that time, but there are enough rides to keep you busy for the hour. Plus, you can be at the end of the open area at 10 for a long head start on everyone else (if you're going to ride Laff Track or other coasters, this head start will save you a lot of wait time in ride lines).
Eating in the Park
During your first visit of the year, buy a meal plan for everyone in your group. They cost $14 per person, and you can buy them at Guest Services at the top of the hill just inside the main gate. A meal plan gives you a meal at almost any eatery in the park, plus a souvenir cup. The souvenir cup is normally $9, so you are basically getting it for free.
Use your souvenir cup all day long. You can get 99¢ drink refills in your cup, but you can get water for free. I usually get a Mountain Dew refill with my meal, then switch to water for the rest of the day. You can get free ice water at every eatery in the park, but it's usually in a small cup without a lid. Getting water in your souvenir cup gives you a nice big drink that will last a lot longer.
If you have a special dietary need, there are lots of allergen friendly eateries throughout the park. If you ask the staff about your particular need, they will tell you what they sell that suits plus often know what nearby eateries have, too. There's also a specialty allergen-friendly spot called The Outpost in the big food area in the center of the park. Everything there is gluten-free, nut-free, and shellfish-free.
Speaking of gluten, be careful of the french fries in the park if you're gluten-free. A lot of the french fries are breaded and not gluten-free. The Nathan's in the boardwalk has amazing fries that are safe. Definitely check them out if you like thick cut fries.
If you want a sandwich-free meal, think about the Spring Creek Smokehouse. It's located near the Trailblazer and offers all kinds of BBQ food. It's Joe's favorite place to eat in the park; he recommends the turkey leg with green beans (you can get that with your meal plan above, too).
Check out my other tips for Hersheypark: