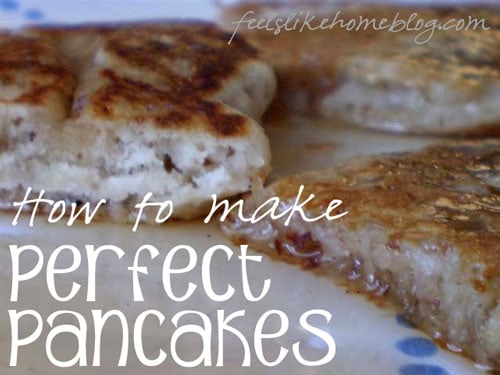 I have a confession: Before last Thursday, I was convinced that I couldn't cook pancakes.
I was totally ashamed. It didn't matter whether I used a mix or made pancakes from scratch; they always came out the same - too thick and dry in the center. I didn't like to eat them, and I never talked about my failing.
I really like pancakes. I like the pancakes that Joe makes, and I like the ones I get when we're out. McDonald's has great pancakes, and so does the Summit Restaurant where I like to eat with my parents.
Last Thursday, Grace asked me to make her a pancake. An extra-large bag of pancake mix taunted me in the pantry , a formidable opponent. With a sigh, I heaved it up onto the counter.
Following the instructions precisely, I measured out the mix and the water, wisked them together. The resulting liquid had the consistency of cake batter. Looking for a little extra nutrition, I chopped a handful of pecans and tossed them into the batter with a few large spoonfuls of applesauce.
I preheated a skillet on the stove on medium-low heat. I tossed in a skiff of real butter, waited for it to melt, and then used my cupcake scoop to put a dollop of batter into the skillet.
The pancake puffed up high, exactly what I was dreading.
I made a few more pancakes, and then realized that the batter was getting thicker with each scoop.
I think it was because I had the batter sitting in a stainless steel mixing bowl on the stove, but that's just a guess.
Anyway, I added a scoopful of water to my batter, whisked it again, and went back to making pancakes.
All of a sudden, my pancakes were coming out just how I like them! They were thin and light and moist. I almost couldn't believe it.
The difference between thick pancakes and thin pancakes is more water in the batter.
I took a picture so that you could see the difference. There was a huge difference.
Both Grace and I preferred the thin pancakes, but I imagine that some people like the thick ones better. Now you know how to get both results!