I am so excited to be one of fifty Whirlpool Moms featured in featured in a test-drive program. During the next two months, I'll be testing the Whirlpool Duet washer and dryer and sharing my experiences with you.
I read recently that front loading washers can develop a musty, moldy odor.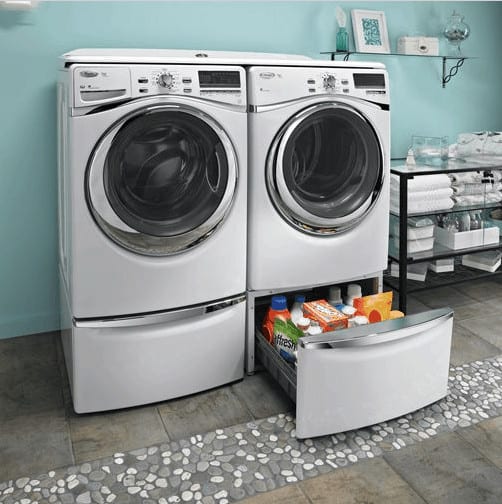 Pin
I deal with enough odors: cat pee, man sweat, formula, and mud, just to name a few. I do not need to deal with washing machine funk in addition to all of that. (Who does?)
1. Clean your front loading washing machine
I mentioned last month that my washer gave me a warning that it was time to clean it. I took that message very seriously.
Cleaning my Whirlpool Duet washer is really, really simple.
Buy Affresh washing machine cleaner. Open the package and place it inside the drum.
Close the washing machine door and turn it on the Clean Washer cycle.
Come back when it's all done to clean hairballs and other gunk out of the seal.
That's really it.
If you have a front loading machine, you should have a Clean Machine cycle. Check your owner's manual.
If your washing machine isn't magic or you don't want to use Affresh (or can't find them in the store), you might have to get a little more involved, using bleach or vinegar.
2. Keep the machine dry!
It seems strange to talk about keeping your washing machine dry, doesn't it?
That's exactly what you need to do.
The door on your front loading washing machine fits very tightly. It seals. Leave the door ajar, even halfway open, to allow adequate airflow in the drum. A constantly wet drum makes mold and mildew.
Along the same lines, leave the soap dispenser open to dry out, too.
3. Use less detergent
Experiment with your machine to see exactly how much detergent you need to get your clothes clean. Chances are, it's much less than the package suggests.
Excess detergent causes build up in the drum and cause stink.
4. Use hot water
Our front loading washing machines use so little water that they may not totally rinse out excess detergent and other residues. I know it isn't energy conscious, but hot water will help get rid of whatever is lingering in your machine.
If you do one load a week in hot water (your towels or linens, maybe?), you will reduce the gunk that's building up in there.
5. Clean the seal
You know that big rubber thing around the door of your washer? If it's anything like mine, it gathers all of the gross things that enter your washing machine.
I've found cat hairballs in there. Markers. Soggy wet dust bunnies. A pencil. Baby socks. All kinds of horrible, disgusting things.
Sometimes, I hope that Joe will clean it, but he doesn't even know it's there.
Anyway, you have to reach in there and clean it out. That stuff stays wet if you don't, and that causes mold.
6. Remove your clothes promptly
Am I the only person who forgets to remove their laundry from the washer? Even with the pleasant tune my washing machine plays, I often forget to take the wet clothes out.
Guess what.
Leaving wet clothes in the washing machine causes the washer to get stinky.
My Whirlpool Duet washer has a Fan Fresh cycle that's designed to keep odors at bay. It can even dry very small loads of 2-3 light items. If you aren't so blessed, make sure you get the clothes out when they're done.
What do you do to prevent odors in your front loading washing machine?
I wrote this review while participating in a test-drive campaign by Mom Central Consulting on behalf of Whirlpool and received a complimentary Whirlpool Duet washer and dryer to facilitate my review.