How to make a DIY fruit fly trap in your kitchen - This easy kitchen hack uses vinegar and a secret ingredient to get rid of gnats for good.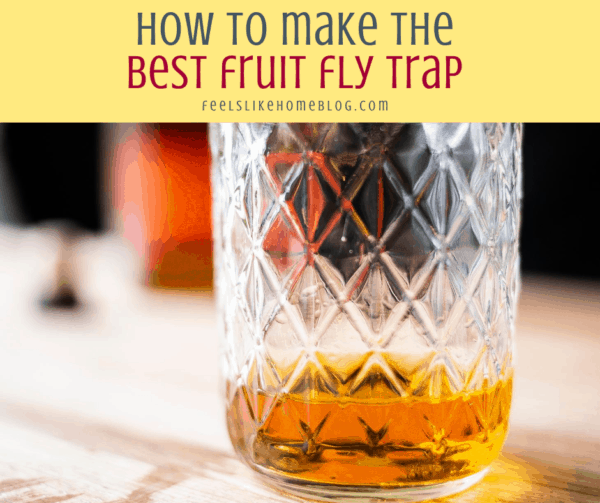 One of my first words was gubba! I was then - and continue to be - irrationally afraid of all things that creep and crawl: spiders, flies, and all of the assorted insects that inhabit my space. I can't handle sharing my space with them.
I put on a good front most of the time, but I'm still afraid. I may not scream or do the spider dance in front of my child or in front of a classroom of students, but I still hate the bugs.
My little sister exploits my fear of bugs. I spent most of my childhood dodging fake spiders that had been planted to scare me. I just thought I'd share so you would know where I'm coming from here.
Sometime in the last month or so, my kitchen became inhabited by fruit flies.
By inhabited, I mean infected infested overrun totally and completely overwhelmed by drosophila.
It started out as a couple of fruit flies on some overripe tomatoes. And then, someone (meaning my husband) left his produce scraps in a bucket on the counter, and the flies really thrived.
For a while, I thought the flies had left. Joe and I both made a concerted effort to keep the kitchen uber clean, and the flies almost went away. But then, someone (again, Mr. Feels Like Home) left his used coffee grounds in the (uncovered) compost bucket on the kitchen counter.
Kerpow! Instant thriving fruit fly colony.
I refused to cook because the tiny flying insects buzzing around the kitchen seriously. grossed. me. out.
That, as you might imagine, led to some marital tension.
Joe cleaned the kitchen, but the flies did not go away this time.
I became desperate. I remembered reading that vinegar would trap fruit flies. A woman I know used 2 tablespoons of red wine vinegar with ½ teaspoon of clear Dawn dishwashing liquid.
Needing my measuring cup to make reuben casserole and not wanting to wash it, I just poured a little red wine vinegar into a bowl and followed it with a splash of the dish soap on my kitchen counter.
I was bummed because it didn't appear to be working. I stood in the kitchen, smelling red wine vinegar, for about an hour. No fruit flies fell victim to my trap.
But then, I walked away. When I came back a few hours later, the bottom of my vinegar bowl was loaded with dead fruit flies. Yes!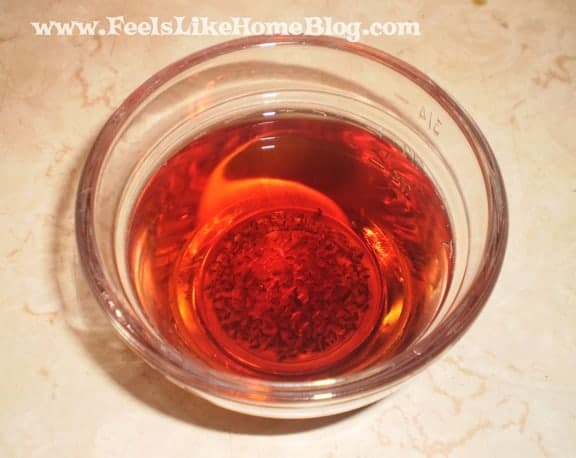 Sorry for the disgusting photo, but I wanted to show you that it really works.
My sister bought my husband a compost bucket that has a tight-fitting lid, and he does use that, but still the little buggers come back whenever we have fresh fruit sitting on the counter longer than overnight.
The bowl method above stopped working (do flies learn?!?), so I had to find a new method.
I discovered that you can use apple cider vinegar just as reliably as red wine vinegar which I was glad to see because apple cider vinegar is cheaper.
So here's the method that has been the most reliable to me:
Get a wide mouth mason jar, a ring, and a lid. You can get a small pack of them for not too much money on Amazon, or you can just use any old jar like a mayonnaise jar or peanut butter jar. It's important that you have the lid though.
Take a nail and punch 4 holes in the lid. Just 4, and don't make them too big. Remember that fruit flies are tiny little creatures!
Splash about 2 inches of vinegar into the jar and a squirt or two of dish soap. The idea is that the vinegar's scent lures the flies into your trap, and the dish soap makes their wings too heavy to fly back out.
Screw the lid on the jar and leave it near to your fruit or compost. The flies will get into the jar and not be able to find their way back out.
Bam, dead fruit flies!