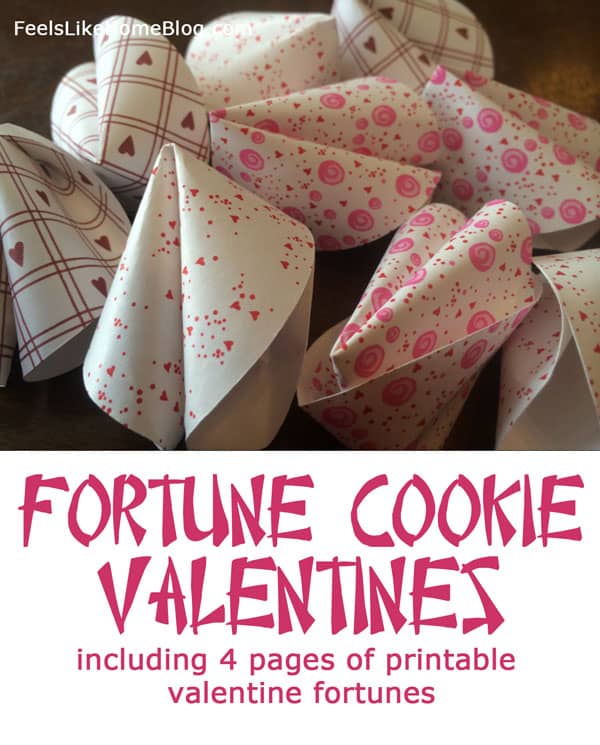 These cute fortunate cookie Valentines include pun-filled messages for kids to exchange with their friends. Grab the free printable sayings and get started today!
I was looking at punny (you know, full of puns) Valentines a few days ago, and I had a brilliant thought.
My paper fortune cookies would make awesome Valentines.
"I am fortune-ate to have a Valentine like you."
"You will soon get a kiss from your Valentine."
So of course, I made a bunch.
The paper fortune cookie tutorial below is an abbreviated version of the paper fortune cookie tutorial I wrote last month, so if you want more detailed instructions, head over there.
How to Make Fortune Cookie Valentines
Materials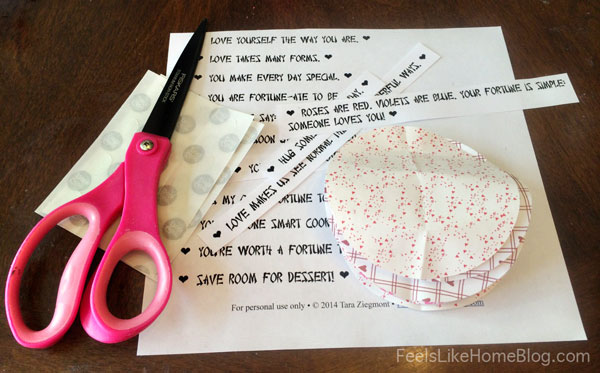 Pretty paper – My first set of fortune cookies (the ones from last month) were made with cardstock. It's much easier to make these with thinner paper. Go for patterned paper that feels like plain old printer paper if you can.
Glue dots or double-sided tape - One glue dot or piece of tape per cookie
Fortunes - You have to have something to write on the slips of paper in the cookies. You can write them out by hand if you want to (but why?), or you can get my printable below and use that. Saying it's 4 pages is sort of a misnomer. There are actually 2 pages of fortunes that are all different (1 page of Bible verses about love, and a second page of kid-friendly lovey fortunes without Bible verses). Then there is one full page of John 3:16 fortunes and one full page of No cookie is as sweet as you, Valentine fortunes. (I did that in case you want to print a classroom set of fortunes and have them all be the same.)
You can grab all the fortune cookie Valentine fortunes by clicking the red button below.
Instructions
1. Cut the circles. My circles have a diameter of 3 ½ inches, but I have made them both bigger and smaller. Find a saucer, bowl, Tupperware, or some other round object with a diameter of approximately 3 ½ inches and trace it over and over and over.
I will be honest. I resized the fortune cookie circles to fit 9 on a 12x12 piece of paper and cut them with my Silhouette machine.
2. Fold one of the circles in half, but don't crease it. Hold it shut at the edge where the two sides meet.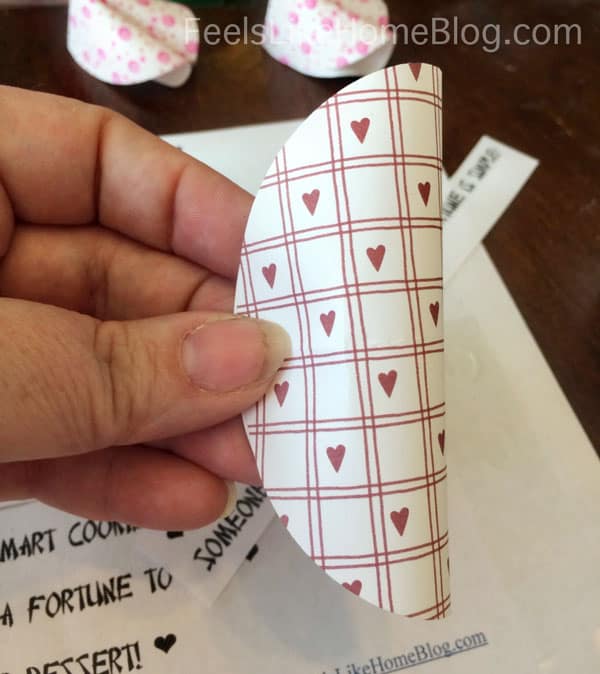 3. Using your other hand, grab the two "corners" – the places where you would have creased it if you were creasing it. While you're still holding the edges from above, use your thumb and ring finger to gently pinch the top and bottom corners together and pushing the center backwards with your pointer finger.
It sounds much more difficult than it is. Just do what it looks like in this photo: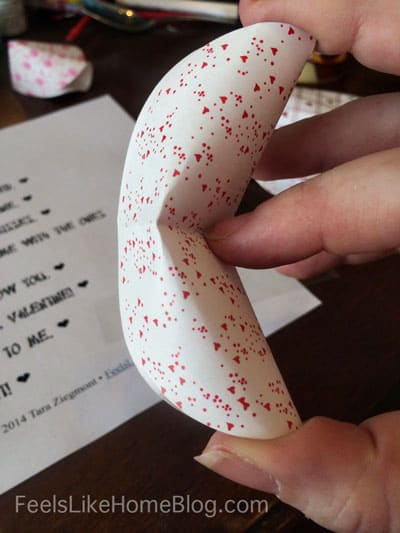 4. Crease the center a little on the outside.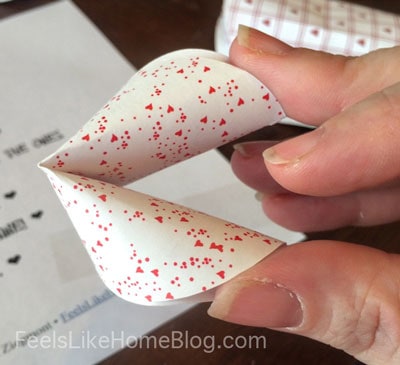 5. Now unfold the whole thing, fold the fortune as needed, and tuck the fortune inside. Try to have the words hidden inside. It's easy to do if you fold the fortune in half once or twice.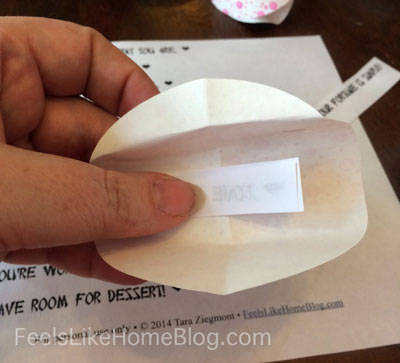 6. Add a glue dot between the two ends of the cookie to hold them together. This is what will keep the cookie in the cookie shape.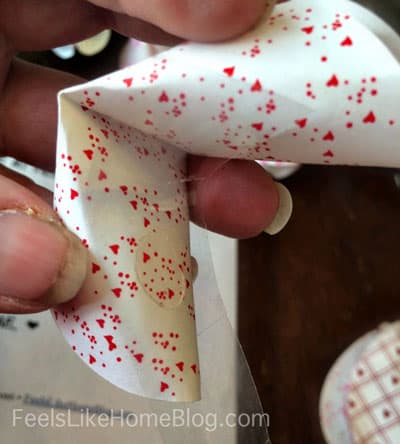 That's it. Your paper fortune cookies are done. Now repeat three or four dozen times and put them all in a pretty bowl or in a bag for your little cherub to take to school and hand out to her friends.
You can grab all the fortune cookie Valentine fortunes by clicking the red button below.