Wondering what to do with leftover holiday ham? Here's how to use it for a healthy dinner, lunch, brunch, or breakfast. These casserole recipes are quick, easy, and simple. Some low carb ideas and some with potato.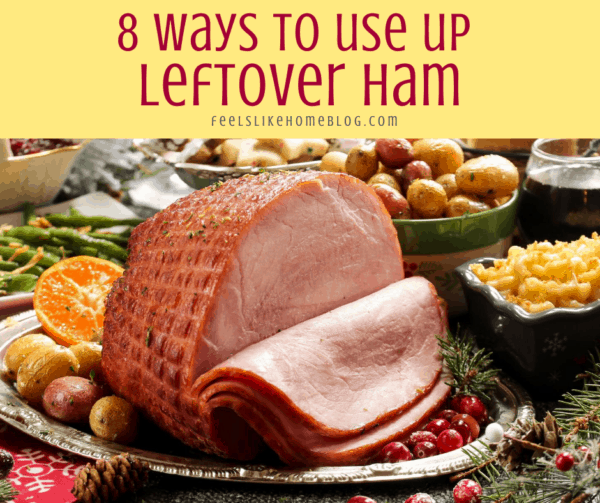 I like big family feasts. I like to be in my own home, work like mad to prepare foods, treat everyone, and then eat the leftovers for a week.
It's how I roll.
The last two Easters, we've gone to visit my cousins and grandparents near Pittsburgh, and we've eaten at a restaurant. Not my favorite, but I don't think a lot of other people enjoy the entertaining the whole gang bit like I do.
When you eat at a restaurant, you have no leftovers. That's the worst part.
The other worst part is that everyone gets together for an hour. You kiss each other's cheeks in the parking lot, give hugs all around, go in, get seated, and eat. Then everyone stands up, hugs again, and leaves. There are no games. There is no visiting. It's like a transaction, get in, eat, and get out. I kind of hate it.
If you are lucky enough to have family come to your house for dinner, you probably have some ham leftover. I wanted to put together some recipes that you could use to repurpose that ham, just in case you're sick of ham sandwiches by now.
One of my picky eater kids LOVES ham steaks, so we try to cut some of our leftover ham into thick slices and freeze them for later dinners. As for the rest, Joe cuts it up into bite sized pieces and makes one of the recipes below.
8 Ways to Use Up Leftover Ham
If I had to choose, I think I would pick #2, the ham and cauliflower casserole over all the others, even though the ham & cheese omelet roll is my traditional, old reliable recipe. That ham and cauliflower, while supremely unhealthy, is a home run in terms of cheesy flavor.
Whether your leftover ham is from Easter, Christmas, or just another Sunday, you can't go wrong with any of these delicious recipes. Stop back and let me know which ones you've tried!