Trying to think of things to do on Mother's Day? Why not create a new Mother's Day Tradition based on those from around the world? Creative and unique ideas to celebrate Mother's Day and make it a special day for mom.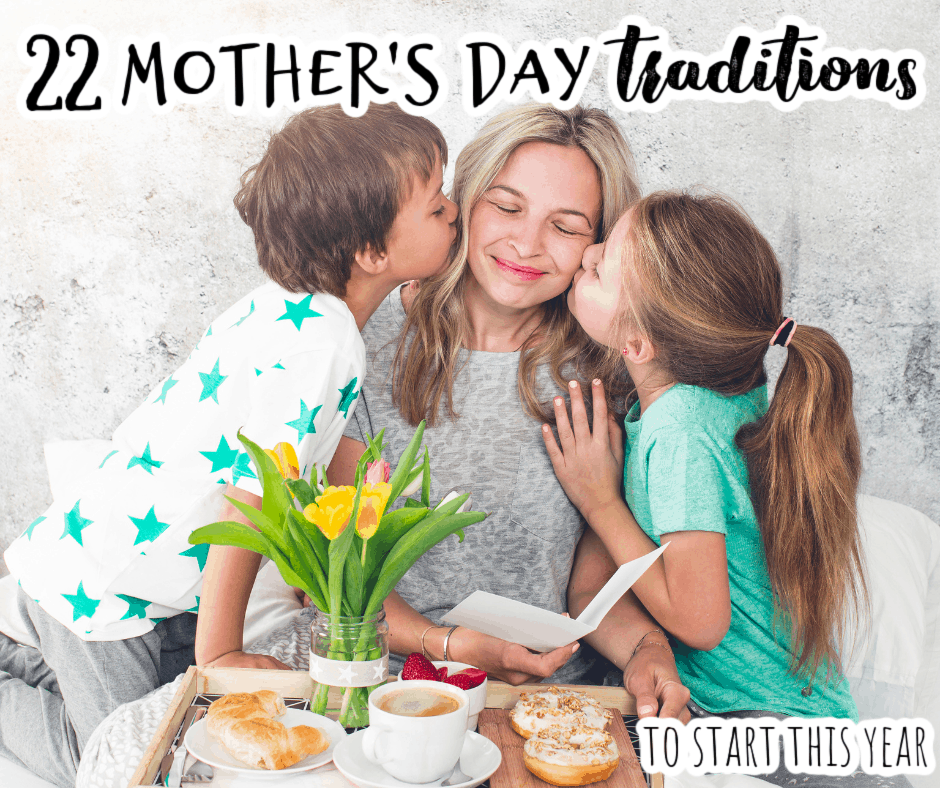 My mother passed away in July of 2013, and celebrating my mother-in-law in the years since has been bittersweet. I loved her, but the holiday just wasn't the same without my own mom.
My mother-in-law passed away in 2020, and now, I am looking forward to Mother's Day in a whole new way. I can't explain it, but I can now own the day without the shadow of my own mom's death. It's bizarre and liberating to take control of a day that has been for other people my entire life.
That said, Mother's Day can be daunting because we moms want to do something but we often don't know what. We are great at coming up with ideas for Father's Day and our kids' birthdays and all the other special people in our lives, but when it comes to doing things for ourselves? Not so much.
With you in mind, I have created the following list of Mother's Day traditions from around the world. Of course, not everyone in each country celebrates the way I describe, but they are activities that are traditional in each place. I started with my own traditions and they are my favorite although in no way any more or less important than the others on the list.
22 Mother's Day Traditions to Start This Year
Mother's Day in the United States
I came up with the idea to have my kids do Mother's Day interviews in the spring of 2013. I printed out interview questions, and my husband asked the kids the questions, recorded their answers, slipped them into page protectors, and presented me with two ½" binders, one for each kid. Those two binders are my most prized possessions, and if there was ever a fire, they are the only things I would grab before I ran out of the house. (I have saved all the handmade "You're the Best Mom Ever!" cards and pictures they've given me in there, too.) I love to look back at their answers, and my girls enjoy looking at them too.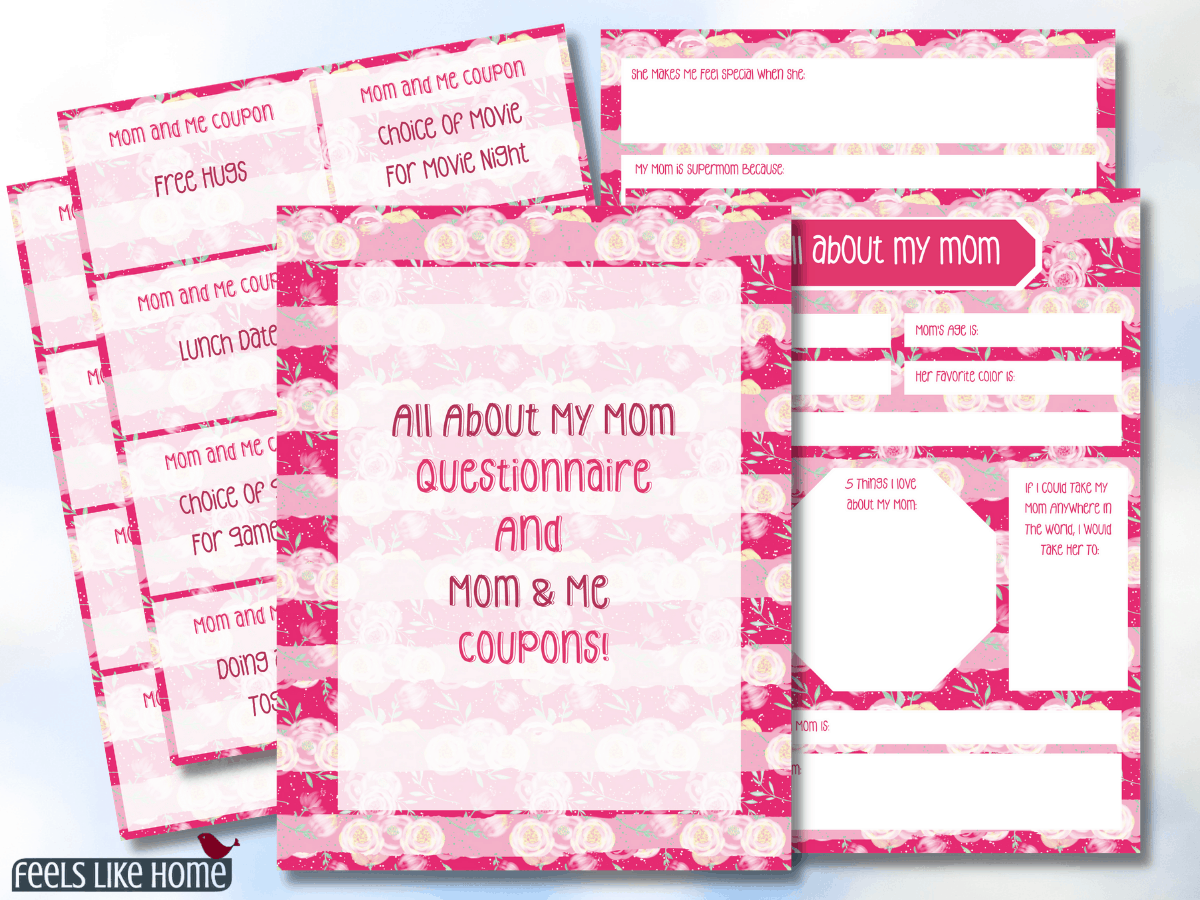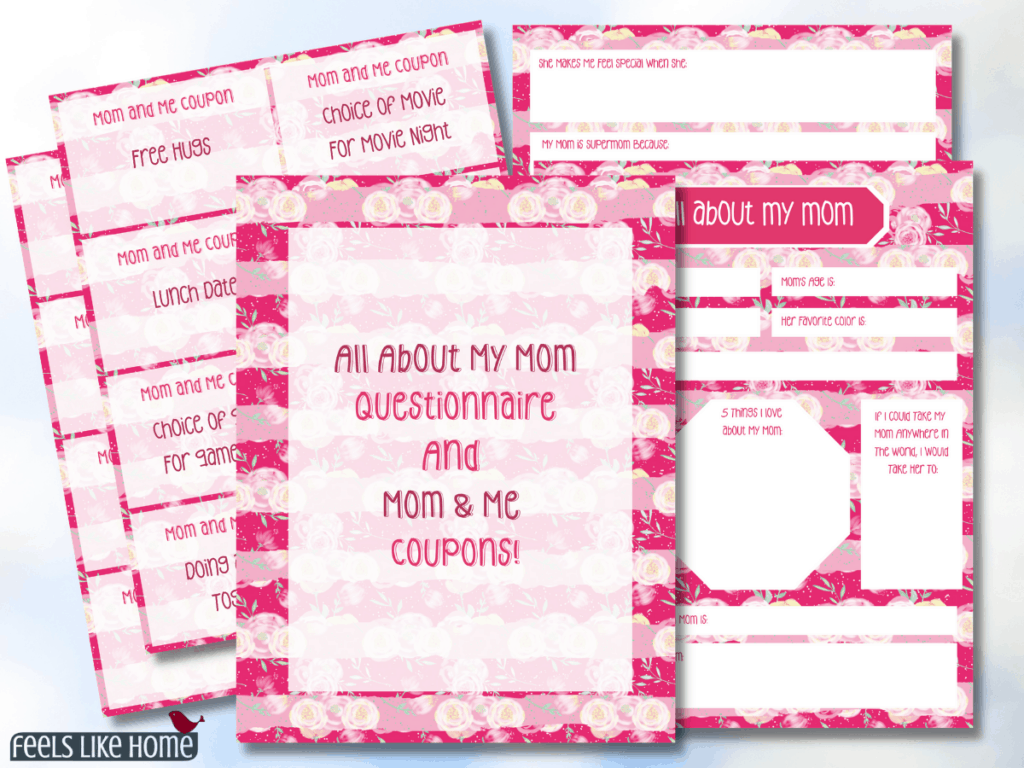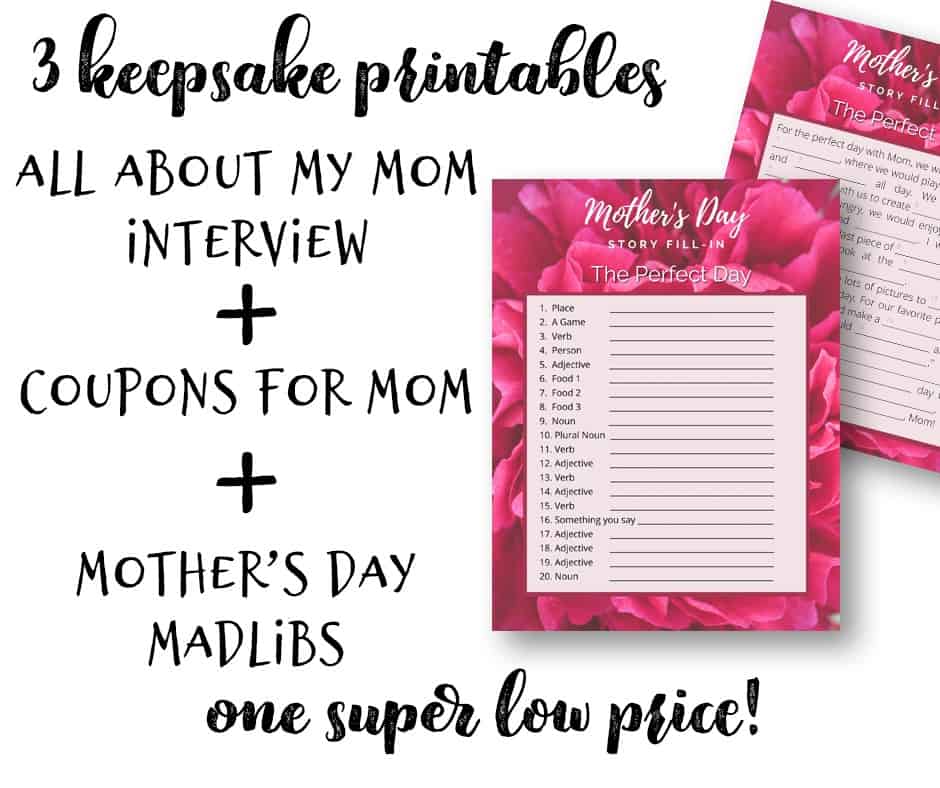 Carnations for Mother's Day in Japan
In Japan, a version of Mother's Day was created after World War II to comfort the mothers who lost their sons during the war. Every year in March, carnations are presented to symbolize the endurance and sweetness of mothers in Japanese culture. White is the most common carnation color used today, but originally red carnations were given to living mothers and white ones displayed for mothers that passed on.
Kids Put on Plays for Mother's Day in Mexico
There's a fascinating history behind La Dia de la Madre in Mexico. When Mexican women began to choose to have fewer children and started to venture into the professional world, the magazine El Hogar together with the Association of Catholic Ladies wrote an article about traditional Mexican values and the ties of motherhood. Soon after the article's publication, Mexico celebrated its first Mother's Day on the 10th of May, 1922 and has continued to do so every year since.
Each year, the 10th of May is one of Mexico's busiest days. Restaurants are packed as everyone goes out for lunch or dinner to celebrate Mom. Reservations are made weeks in advance. Many families gather together to have lunch and listen to music. Even the youngest kids get involved by staging small plays for their mothers and presenting gifts, flowers, or candies.
Kids Make a Meal for Mother's Day in Ethiopia
There's a festival that takes place in early fall in Ethiopia, after the rainy season ends, called the Antrosht Festival. Once the weather has cleared, family members gather together in their homes for celebrations and a large meal. Traditionally, sons bring the meat while daughters supply the cheese and vegetables. The family prepares a meat hash all together and celebrate by dancing and singing.
Mother's Day in the United Kingdom
In the 1700s, Mothering Sunday was marked on the fourth Sunday of Lent by house servants who returned home to their mothers to spend time together. The custom began even earlier as adult children returned to their home church on that day, even if they had moved far away. In today's UK culture, the church hands out daffodils to all the young children to give to their mothers while the older daughters bake fruitcakes for Mom.
Family Reunions for Mother's Day in India
In India, there is a festival called Durga Puja which lasts 10 days and happens in October to celebrate the Hindu goddess of mothers, Durga. The celebration dates back to the 16th century and is a time for family reunions and religious ceremonies. Families spend weeks preparing for the festival by decorating their homes, gathering gifts, and preparing food.
Homemade Cakes for Mother's Day in France
After World War I, the French government began to award medals to mothers of large families. The medal was awarded as a form of gratitude for helping to rebuild the population. After the end of World War II, it was declared by the government that the last Sunday in May would be declared the Day of Mothers. Traditionally, mothers are gifted a cake in the shape of a flower.
Stories, Poems, Gifts, and Flowers for Mother's Week in Peru
Peru probably has the best Mother's Day celebration of all with Mother's Week! Yes, in Peru they don't just celebrate mothers for a day; they celebrate for a whole week. Throughout the week, parties, trips, lunches, and dinners are all organized by families – giving mom a much needed break. It gets even better: mothers can visit exhibitions, festivals, and museums for free during Mother's Week, and children recite stories and poetry for their moms, presenting them with gifts and flowers. Peru is unique in another way when it comes to celebrating mothers, as Peruvians honor mothers that have passed on by visiting the graves of the deceased and presenting balloons and flowers.
That's all I needed to know. I'm moving to Peru.
Mothering Cake for Mother's Day in Ireland
Ireland celebrates Mother's Day much like the United Kingdom does. The holiday falls on the fourth Sunday of Lent, Mothering Sunday. As in the United Kingdom, many adult children live and work far from home, but they return home and usually bring with them a mothering cake to honor their moms.
Special Meals and Homemade Cards for Mother's Day in Russia
Mother's Day was celebrated on the 8th of March during the Soviet Union. After the Soviet Union collapsed in 1998, Mother's Day began to be observed on the last Sunday of November with big celebrations in which children of all ages prepare special meals for their mothers and present handmade cards and crafts with special messages. (It sounds like exactly what happens in the US, doesn't it?)
Hymn to the Mothers for Mother's Day in the Dominican Republic
In the Dominican Republic, Mother's Day is a large festive occasion. Family members travel from far away to spend quality time with and honor generations of their mothers with a song called Hymn to the Mothers. They also celebrate by drinking, eating, and dancing on the last Sunday in May.
Mother's Day in Australia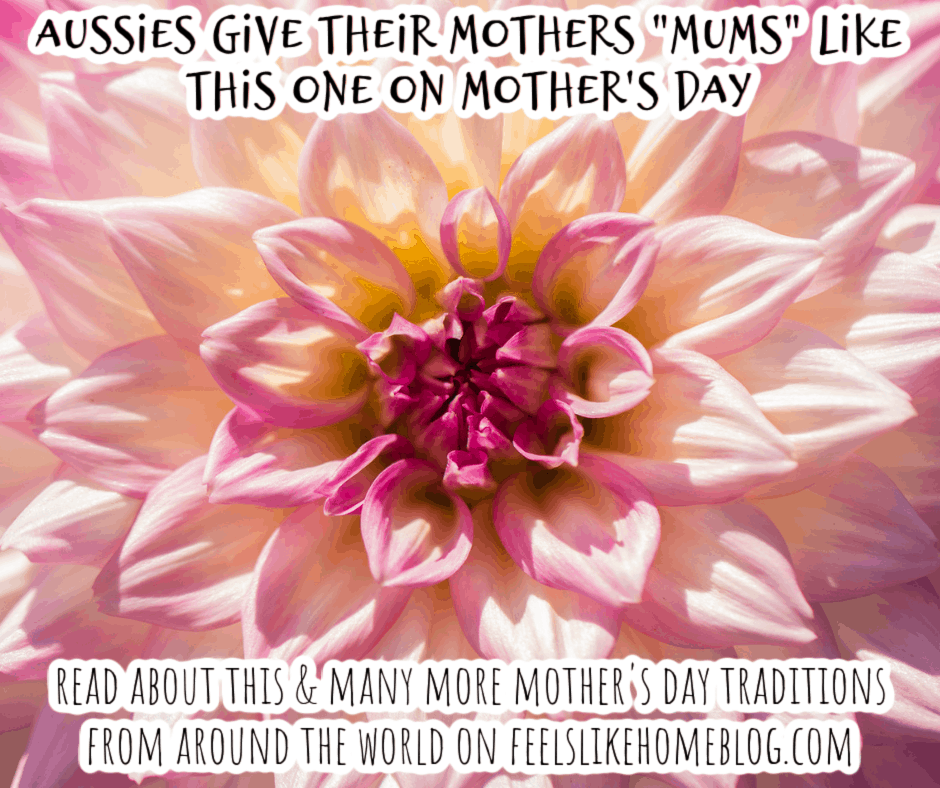 Traditional flowers, called chrysanthemums, are given to mothers on Mother's Day in Australia. These beautiful flowers bloom during autumn in both hemispheres and are called mums for short, the same name Aussies use for mothers. Carnations are another favorite, with Aussies wearing white carnations when their mothers are deceased and colored carnations when they're still living.
Mother's Day in Poland
Mother's Day in Poland dates back to Krakow in 1923 and is known as Dzień Matki. Following World War II, the celebration took off on the 26th of May. Mother's Day is celebrated in schools with special events, where kids can present their mothers with decorated sheets of paper called laurki that feature special messages and flowers. In Poland, Mother's Day is an official government holiday, so eating out and shopping with your mother aren't options. All the festivities happen at home, usually include family gatherings and giving cakes and flowers to moms.
Start a new Mother's Day Tradition
If none of the traditions above strike your fancy, how about one of these:
Sleep in. Most of the items on the list above and below cost money, but this one is absolutely free. Arrange ahead of time for your husband to feed and take the kids out of the house as soon as they wake up. They could go for a walk, head out to the park, or go to Grandma's house, whatever it takes to keep them out and quiet. Make sure all of your alarms are turned off, and just sleep until you wake up. You might not get the chance until next Mother's Day, so enjoy it!
Breakfast in bed. My kids and husband do this for me every year. They always make me a simple omelet with mushrooms and cheddar cheese (just the way I like it), and they usually include bacon and my favorite drink, Crystal Light Peach Iced Tea. It's a simple gesture, but it makes me feel so loved and cared for. Suggest it to your kids and/or husband this year.
Have a picnic. All you need for a picnic is food and a blanket. Some of our favorite picnics have been take out pizza in the front yard and fast food at the state park. You could, of course, pack a healthier lunch or ask your husband to pack one, but that step isn't strictly necessary to have a nice picnic.
Take a mini vacation - I'm all about the family travels, and I always have been. I so look forward to taking time out and spending a few days and nights in a new place. Whether you spend the night in a fancy hotel with an indoor pool or at a campground with lots of trees, take the time to explore the landscape and see the sights. It will be fun for the whole family and would become a cherished tradition for many years ahead.
Paint night - Follow a YouTube tutorial like this one to paint a pretty canvas either by yourself (relaxing and fun) or with your whole family (chaotic and interesting and maybe fun, but lots of pretty keepsakes to treasure)?
Handmade gifts - Give your family this extensive list of handmade Mother's Day gifts and tell them which one you want this year. Or choose one of these butterfly gifts and give them that list instead.
Plant a garden together - Where I live (in southern Pennsylvania), our average last frost is right before Mother's Day, so we always plant our garden that weekend or the weekend before. Wouldn't Mother's Day be a great excuse to get your hands in the dirt and spend some quality time with Mother Nature?
Take a video. My Mother's Day questionnaire above is awesome, but if you want a video of your kids saying the answers out loud, you could do that too. Reliving their little voices and seeing their baby faces would be a priceless keepsake for the rest of your life. And bonus, the files would be backed up in the cloud, so you wouldn't have to worry about a paper book getting destroyed.
What is Mother's Day like for you?
Share your traditions for Mother's Day in the comments, including what country you're from. I would love to hear all about your celebration!