Do you have an icing decorator at home? It's a plastic tube with a handle and interchangeable tips that fit the end.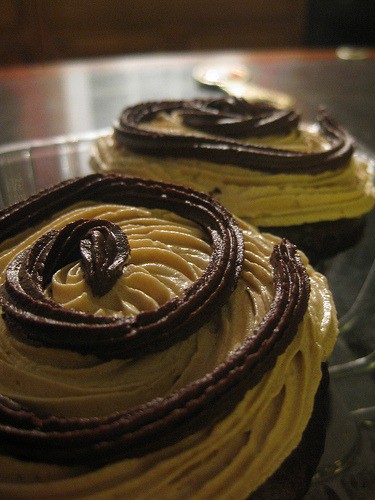 Pin
Of course, an icing decorator is primarily used for decorating cakes, cupcakes, and cookies. When you use one, a large cookie looks as if it's come from a fancy store at the mall and a simple cake looks like it was made in a bakery.
As you might have guessed, cakes and cookies aren't the only use for this versatile kitchen gadget!
10 Uses for an Icing Decorator
Deviled eggs. After you mash up the egg yolks and mix them with mayo and mustard, fill your decorator with the yolk mixture. It is quick and easy to pipe the filling back into the egg whites.
Filled cupcakes. I love to do this; it makes the cupcakes into homemade Twinkies. As soon as the cupcakes come out of the oven, fill the decorator with frosting. Using a long tip, pipe a healthy amount of frosting into the center of each hot cupcake. Yum!
Fill cannoli shells and manicotti noodles. This one is self explanatory, I think. You'll need a long tip, as with the cupcakes above.
Stuffed squash blossoms. I have always wanted to try these, but I've never taken the plunge. I've always been afraid that removing the squash blossoms from my plants would lead to fewer squash fruits, and I love zucchini! At any rate, the decorator would make them much easier to stuff.

Whipped cream makes a pretty garnish for any dessert. I already mentioned cakes and cookies in the intro above, but there is not a dessert in the world that doesn't look prettier with some little Cool Whip shapes piped on top. Pudding, jello, trifles, cobblers. Everything looks better with a little whipped cream garnish.
Sour cream to garnish any dip. As with the Cool Whip garnish, most dips look better with a sour cream garnish. I like to add sour cream to cowboy caviar and my favorite taco dip.
Make cupcakes into a cake. Have you ever seen those fancy pull-apart cupcake cakes like this monkey? You set the cupcakes close to each other, then use a decorator to frost them as a single cake. The frosting will hold the cupcakes together, but they're easy to pull apart when you're ready.
Fudge rosettes. In the microwave, melt a bag of semisweet chocolate chips in 30-second intervals. When finished, add one container of chocolate frosting and mix well. Microwave for another 10 to 20 seconds and mix again. Fill your decorator and use it to pipe small rosettes onto a piece of wax paper. Allow the rosettes to cool until set. Instant fudge! (And, by the way, you can try lots of variations of chips and frosting. Mint chips with chocolate frosting. Peanut butter chips with chocolate frosting. White chocolate chips with orange frosting. Experiment!)
Brownie cake. This seems like it's cheating since I already mentioned cookies and cakes, but it's a great idea. Cook a brownie mix as directed. When it's mostly cooled, top with your favorite pie filling, and then pipe Cool Whip rosettes on top using the decorator. The best combination, in my opinion, is cherry pie filling with a fudge brownie.
Cheese straws. These are simple and quick. You can find lots of recipes online, but this is my favorite. Mix 12 ounces of shredded sharp cheddar cheese, ½ teaspoon cayenne pepper, ¾ teaspoon salt and 2 sticks of butter. Gradually add in 2 ½ cups of flour and mix until a thick dough forms. Fill the decorator with dough and press out long sticks on a cookie sheet. Bake the straws for 15 minutes at 350. You don't want them to brown, just get crispy.
What do you use your decorator for?
Have you seen the rest of the series?