Printable Christ-Centered Easter basket scavenger hunt for Easter morning - This treasure hunt for kids, tweens, or teens uses the main points of the Bible's Easter story of Jesus as clues. Awesome Christian fun in riddles. Easy clues using both indoor and outdoor spots.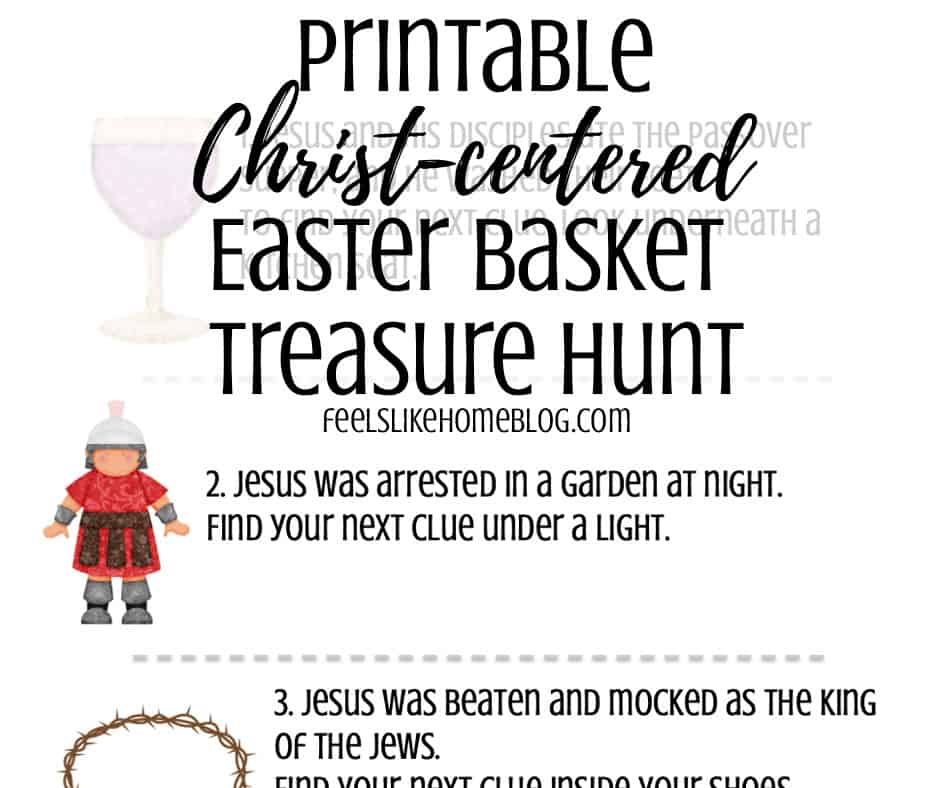 I didn't know what to call this Easter basket scavenger hunt. The clues follow the basic Easter story with Jesus washing the disciples' feet, getting arrested in the garden, being beaten and mocked, and so on. So it is Christ-centered. I debated about calling it religious or Christian but ended up with Christ-centered.
I created this other Easter basket scavenger hunt in 2016 and changed the clues around for my kids in 2017, but I wanted something fresh this year. Even though they're now 7 and 10, they still talk about it and look forward to their Easter morning hunt, so dropping it is definitely not an option.
Click here to purchase the scavenger hunt!
As with the other hunts, you will need to print out these clues the night before Easter, cut them, and put them in the appropriate places after your kids are in bed. For the very last clue, you will also have to write in the location of the Easter baskets so they know where to find them at the end.
How to Create the Scavenger Hunt
Save and print out the clues I put together.
Cut the clues apart.
Get a bunch of plastic Easter eggs.
Put the first clue in a plastic Easter egg. Leave the clue-filled egg somewhere your kids will find it. I'm thinking we'll put ours on the couch.
Clue 2 – Under a chair in the kitchen.
Clue 3 – Under a light - An Easter egg wouldn't fit under a lamp, but maybe you could tape it to the lamp shade or just set it next to a lamp.
Clue 4 – In a shoe
Clue 5 – In the freezer
Clue 6 – At the top of the slide
Clue 7 – Outside the front door
Clue 8 – "In the room with the broom" so where ever you keep the broom. Ours is in the kitchen.
Clue 9 – A place where you put your toys away
Clue 10 – Under a kid's bed
Clue 11 – In the clothes dryer
Easter basket clue – In the shower
Easter basket – Where ever you want. I'm putting ours in the basement this year, but I've also put them in the car and in the shower before.
Because this requires only about 15 minutes of prep, you could print these out and have them ready to go even the night before Easter.
You sort of have to wait until the last minute anyway. You couldn't hardly put the eggs and clues out before the night before!
I'd love to hear if you used these clues and how your kids liked them!