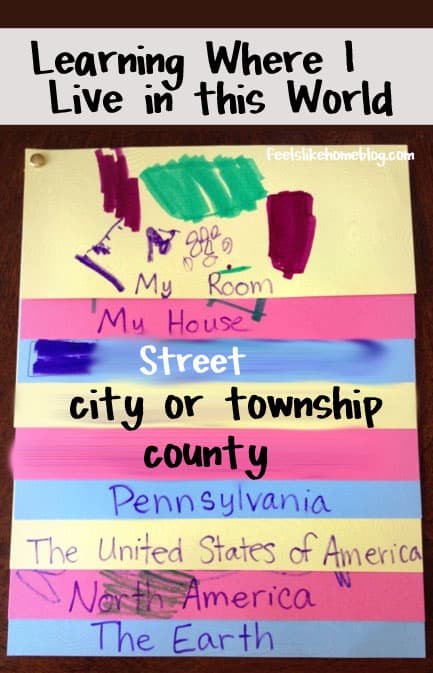 Pin
We're still doing school. I've been in a panic for a month or so over our last two Calvert first grade assessments (because they meant we still had two months' worth of instruction left for the school year that just ended for everyone else, and this is 100% my fault), but I realized this past week that Grace could do everything in them without any further instruction.
So. We've been doing a test every other day to get them done and sent in. (There were 4 math tests and 2 reading tests).
I'm still going through the teacher's guides for all the subjects and pulling out activities that I think are good for her. It's less than 25% of the stuff, but there are some great activities and lessons in there.
There was a story in the Calvert reader about maps. The little girl showed her house and her street and her city and state (which was Kansas) on different maps. She showed where Kansas is on a US map, then where North America was on a globe. (There was no explanation of the US versus North America, but I corrected that in our project.)
I wasn't sure that Grace understood the concepts in the story, so I put together a very simple activity to help her.
I did something like this when I taught astronomy, but we extended it to the solar system, galactic arm, galaxy, local group, and the universe. I had my students use concentric circles.
In planning this out, I was too lazy to draw and cut out a bunch of circles, so I made rectangles instead.
Guess what.
It didn't matter. Grace understood the concept perfectly from rectangles.
If you wanted a more concrete example of how each place fits into the next, you could cut your rectangles into squares and have the same effect as the circles. I didn't do that because I knew Grace would need more space to draw than a 3-inch square would offer.
Materials
Cardstock or heavy construction paper

Markers
A pencil
Scissors
A brass fastener (They're called brads in the craft store, but you can buy the same things labeled as brass fasteners at the office supply store for a lot less money.)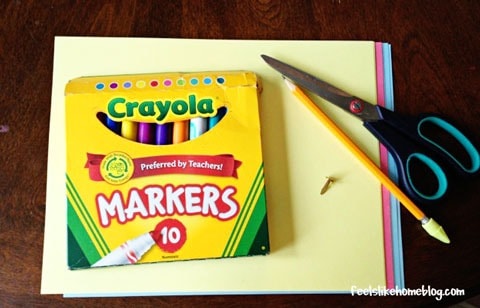 Pin
How to Make It
Write My Room at the bottom of the first piece of cardstock. On the next, write My House or your house or apartment number. Repeat with your street, city or township, county, state, country, continent, and then The Earth. (Of course, adjust this for where you live. If you're in an apartment complex, you may want to add a page for that. If you're not in the US, I'm sure your categories will almost all be different.) You get the idea.
Fan out your pages so that you can just see the titles at the bottom.

Carefully, flip the stack of cardstock over without shifting any of them. Draw a pencil line where the bottom one (labeled The Earth) lies on the second one. Pull the second one out without shifting anything, and draw a line where The Earth lies on the next one and the next and the next. You want all the pages to have the same top, so they all need to be cut in line with the shortest layer (which is The Earth).

Notice that your shortest layer (My Room) is fairly small. It's supposed to be this way.

Have your child illustrate each layer. I have no idea what this mess is, but Grace said it was her room.

I had Grace do the pictures backwards (The Earth first and My Room last), and her attention was waning by the time we got to the end. She was clearly not taking her time on this; it could probably be your house as easily as ours. I should've split the pages into two groups and had her draw half of the pictures one day and the rest the next day.

She asked me to draw the outline of Pennsylvania for her. I marked where Old Grandma lives and where we live. I recommend marking lots of people so that it makes the area more real to your kids.

She also asked me to draw the United States. As with above, I marked places where we know people to make the spaces more real to her. Grace has a puzzle of the 50 states, and I think that's where she noticed "the boot next to Texas" as well as Texas itself. For some reason, they've made an impression.

Before I realized I was making a mistake, I showed Grace a picture of North America and asked her to draw it on her paper. She was completely overwhelmed by this request and intentionally scribbled all over the place. Afterward, she wouldn't let me start over with a new paper.
Because these are large and abstract places, I recommend sketching them for your kids. It's not that I wanted this project to be perfect, but I did want it to make sense as a series of spaces. The scribbles below don't fit into that series at all.

Okay, I'll admit that I'm glad I didn't sketch this one for her. I actually asked if she wanted me to, and she said no way. I love how she identified places she's heard of as well as places that exist in her imagination. I was also impressed that she recognized the relative sizes of the real places (or maybe that was a coincidence).

After the pictures are all done, use a hole punch or a pin to make a little hole in the corner where all the pages fit together. I used a pin because I was too lazy to hunt for my hole punch. It worked.

Finished! Don't beat a dead horse, but you may want to go over with your child that the places fit together. Many rooms make up a house. Many houses make up a street. Many streets make up a city. And so on. It would probably be best to have that conversation the next day or even ask your child how the pages fit together and let her explain it to you.