Everyone needs to know this quick kitchen hack. It's the easiest way to clean up broken eggs! Doing this one simple things makes cleaning them a breeze.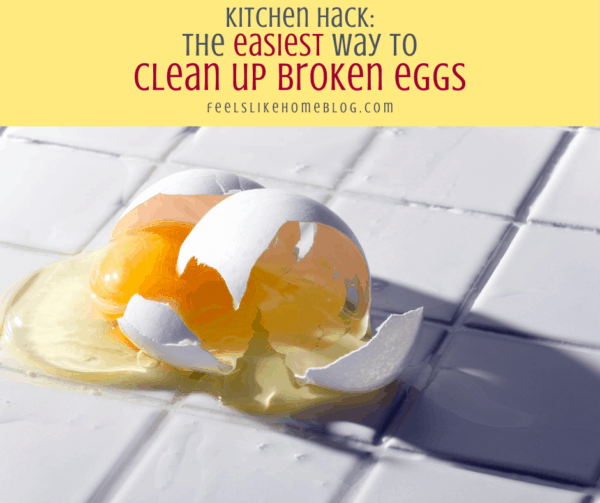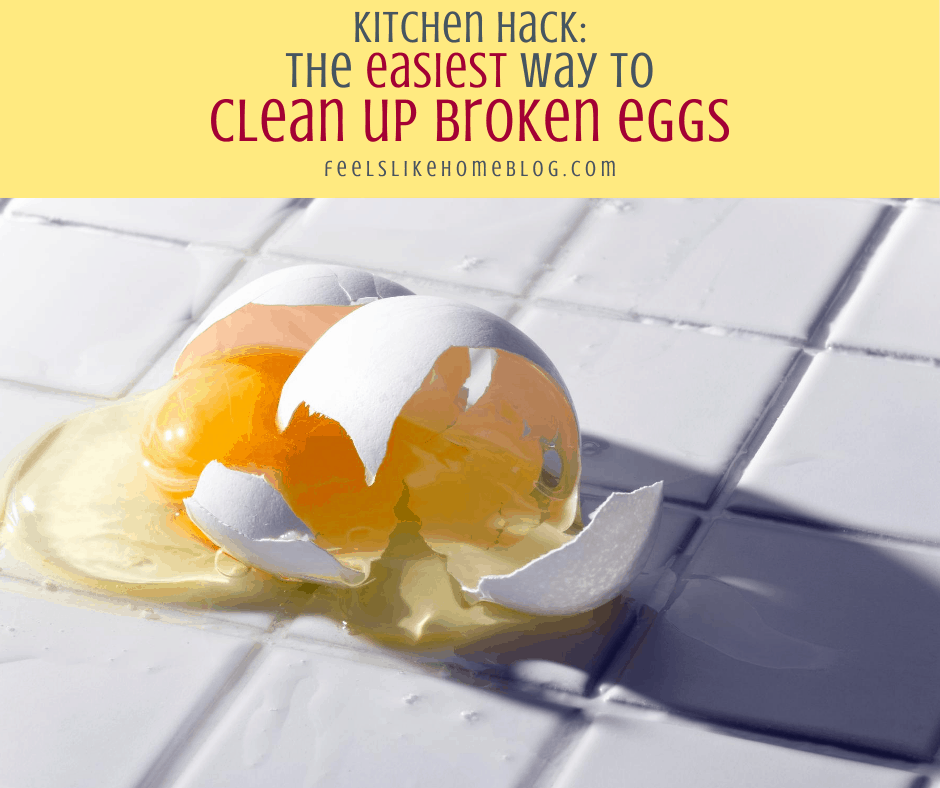 On Sunday, two-year-old Grace and I baked double chocolate candy corn cookies, and they were amazing.
Before Grace decided to throw handfuls of flour and cocoa powder around the kitchen, she was being a very nice helper. I like when she helps, and I encourage her to do so. (Here are some tips for getting small children involved in the kitchen.)
I always crack my eggs into a bowl. We buy local, free range eggs, and you never know when one of them might be strange inside. I don't want that bad egg to ruin my whole batch of cookies, so I break the eggs into a bowl and then dump the bowl into my batter.
As soon as I got the eggs out, Grace said, My do the eggs!
I cracked the first egg myself, showing her what to do. I narrated the whole thing, giving simple and clear instructions.
"Are you ready to do one yourself?"
Yes! She exclaimed.
I handed her an egg, and I reminded her of the steps.
Grace was so excited. I could see it all over her face. She was excited and proud of herself.
She tap-tap-tapped the egg on the side of the bowl, turned it over, and tried to pry it apart. Nothing happened.
Grace held the egg up, and she inspected it. She brought it down hard on the side of the bowl, splitting it neatly in half. The only problem was that the whack and split happened so fast that the egg ran down the outside of the bowl, between her Learning Tower and the counter, and splattered onto the floor.
The shells fell neatly into the bowl.
That's really an amazing feat, if you think about it. Not a drop of egg white or yolk in the bowl, just the shell.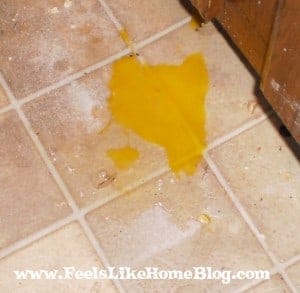 The only problem was that it left a puddle of slimy eggs on my kitchen floor amongst the sugar and other assorted ingredients she had spilled.
Feeling resourceful, I grabbed the salt from our spice cabinet and poured it all over the raw eggs. Within a few seconds, the egg congealed, as I knew it would. I was able to wipe it up easily, without a bunch of stretching liquid mess.
What happens is that the salt absorbs the water from the egg, as salt does. (This is why you get thirsty after eating salty foods: salt absorbs water.)
Once all the water is absorbed, you are left with a jello-like pile of protein, and this is much easier to clean up than a watery puddle of goo. You can just wipe it up with a paper towel, and your floor is as good as new.