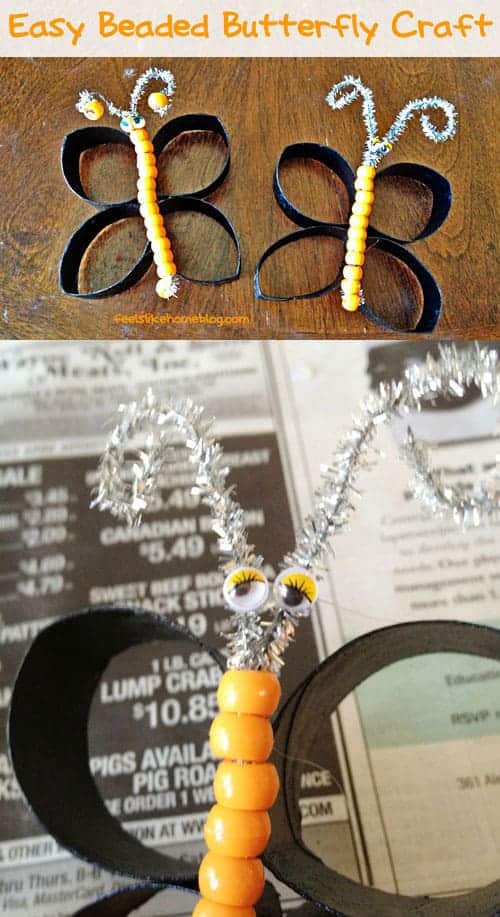 Pin
We keep a plastic grocery bag stuffed full of empty toilet paper rolls on the doorknob of the closet in our bathroom.
Once, Joe threw the whole bag away, and I grumbled for days. He hasn't made that mistake again.
Because we have all the empty toilet paper rolls that we want, we make all kinds of toilet paper roll crafts. They're convenient little recyclables.
Back in March, Grace wrote a story about an orange and black butterfly. It is hanging in our art gallery, formerly known as the doors of the china cabinet. (Because of her difficulties with the physical act of writing, she generally dictates to me.)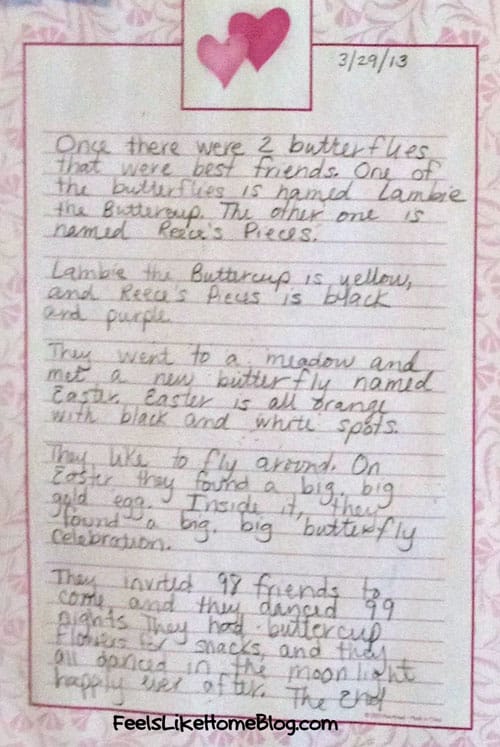 Pin
And of course, the story was illustrated with oil pastels. She loves pastels of all kinds.
Sorry that I cut off Lambie the Buttercup in my photo below. I'm not sure what I was thinking there.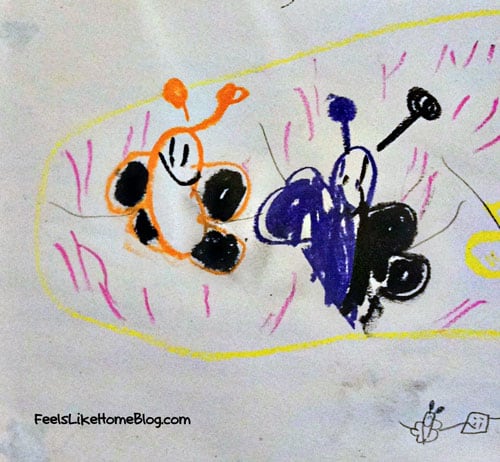 Pin
Even without Lambie the Buttercup, you get the idea. The specialist of the special butterflies was Easter, a fabulous orange and black and white one.
Coincidentally, it is monarch butterfly time in Pennsylvania, and we love hunting for caterpillars on my mom's milkweed plants and at the park. We also love finding their chrysalises and waiting for the butterflies emerge. August is a fun month.
So. Orange and black butterflies are on our minds right now. When we received some fun supplies from craftprojectideas.com, we knew what we were going to make.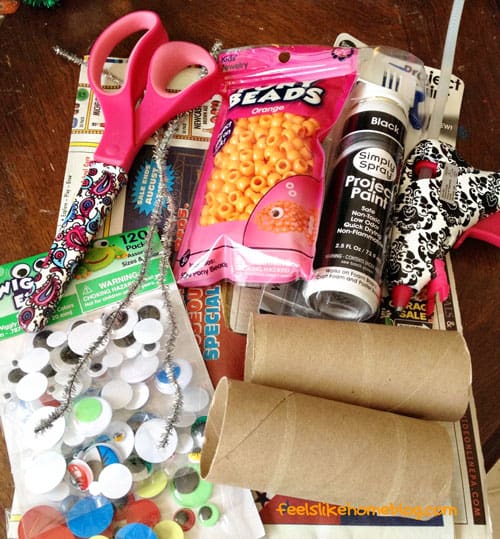 Pin
Here's what you need to create these easy beaded butterflies:
One toilet paper roll for each butterfly
Paint (We got this spray paint in our package, and I tried to use it, but that was a miserable failure. Use whatever paint you prefer.)
One pipe cleaner for each butterfly
Orange beads
An assortment of googly eyes
Hot glue or glue dots
Newspaper to cover your work surface
Scissors
Pen or marker
How to make the butterflies:
1. Smash the toilet paper tubes.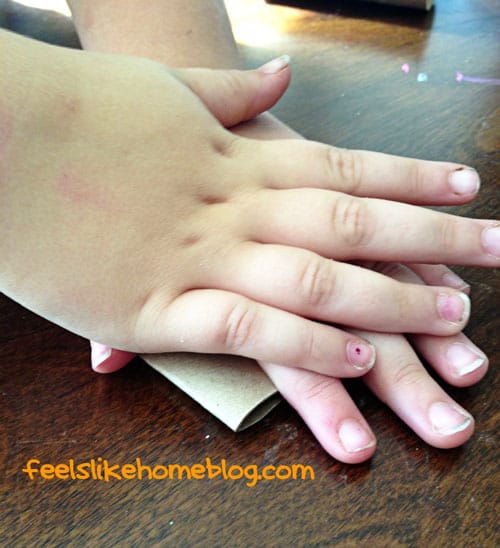 Pin
2. Cut each tube into 4 equal segments. My 4 equal segments left a little scrap, so I just cut that off.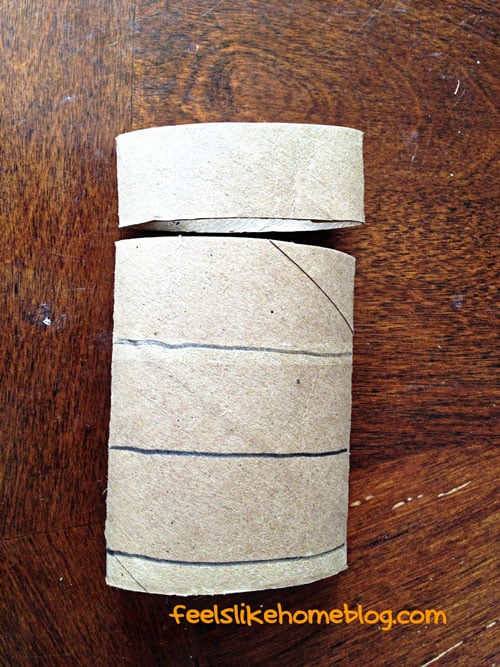 Pin
3. The rings will make your butterfly's wings. They need to be painted. As I said above, paint them however you like, inside and outside. We painted ours all black.
Now you have to wait for the paint to dry. We went outside and played in the Slip N Slide for a few hours.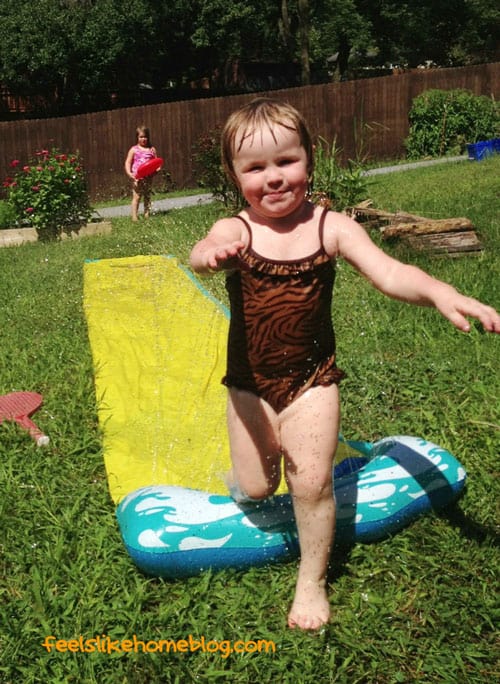 Pin
4. Fold the pipe cleaner in half and thread a bead down one side to the middle. I should've taken a picture of this, but the girls were working too quickly. Put the two ends of the pipe cleaner back together and thread the rest of the beads on. The bead you strung in the center will prevent the other beads from falling off the bottom of the butterfly's body. Make sure you leave enough space at the top for the butterfly's eyes and antennae.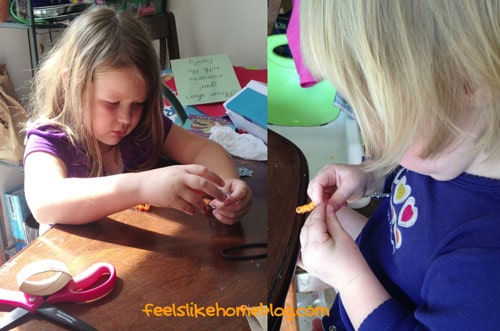 Pin
5. While the kids are beading, hot glue the wings together. I stuck mine together, estimated where they touched, and put a dot of hot glue there. It worked. While you're working, try to elongate the bottom two rings. A butterfly's wings are usually bigger and fuller on top and smaller and tapered on the bottom.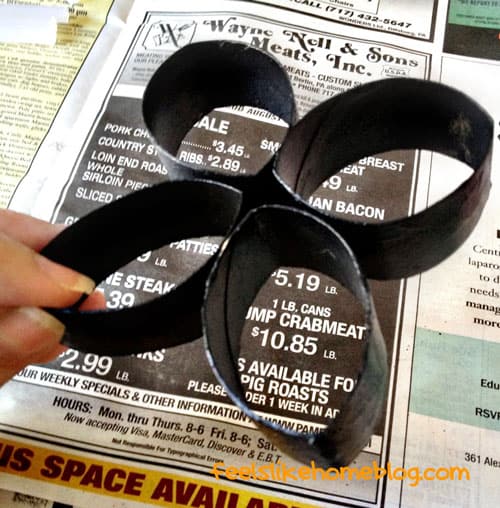 Pin
6. Apply a thick line of glue along the back of the beads and quickly stick it to the wings. I laid ours facedown as the glue dried so that it wouldn't drip down the wings.
See how the bottom bead is preventing the rest from falling off?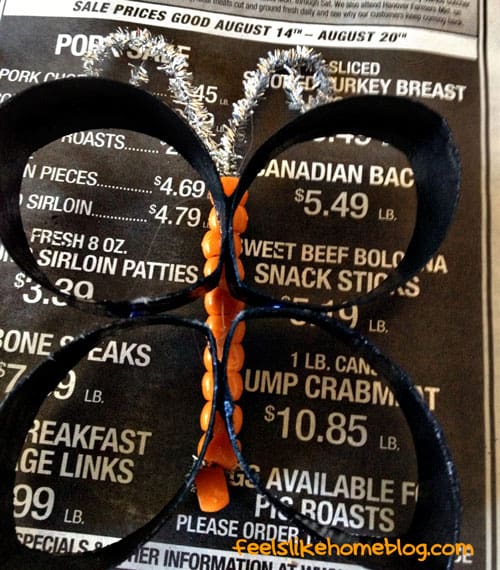 Pin
7. Glue a pair of googly eyes onto the pipe cleaner above the beads. Grace actually glued hers to the top bead. Either way works nicely. Curl the antennae however you like.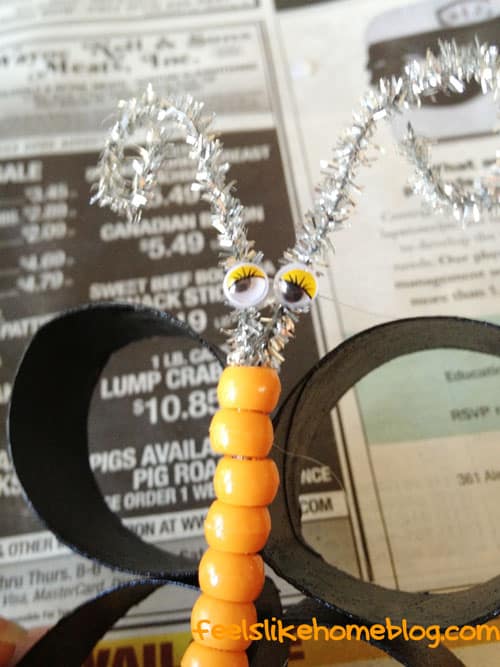 Pin
That's it! These butterflies are surprisingly durable. They've been flying all over my dining room for over a week. The girls love them!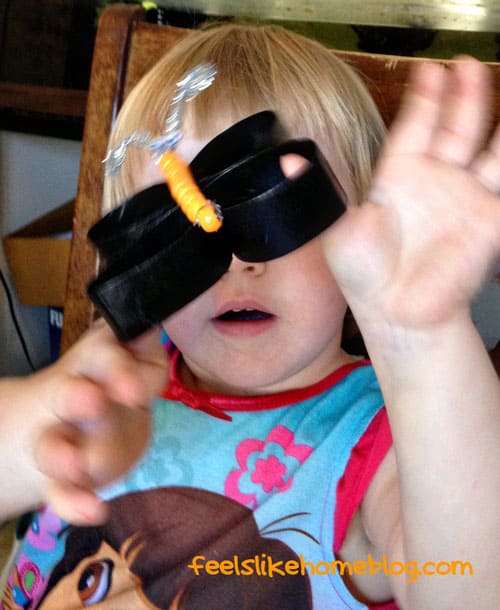 Pin
Learn Something About Butterflies
This is a great time to learn about monarch butterflies. Many science centers, children's museums, and nature centers have hatching butterflies that you can check out.
Check out the Amazing Monarch Butterfly DVD we reviewed a while back.
Get one of those Butterfly Garden kits where you can get teeny tiny caterpillars and watch them grow and metamorphose. We've done that before. It's very cool. This site has a long list of facts about painted lady butterflies (those are what you get in the kit). There's a really nice printable journal you can print out from this site and fill in as your butterflies grow.
Read some books! Some of our favorites are:
Make and monitor a butterfly feeder.
Watch this cool video on pollination.
And of course, you could always write a story or poem about butterflies or do some online research and write your findings in your science journal.
This post is not sponsored, but I did receive the beads, spray paint, and googly eyes from craftprojectideas.com.