Another day, another crafty ornament with Grace.
This one was impromptu. Joe totally made it up while surrounded by mounds of pom poms that were left over from another ornament, so it's not on the Ornaments to Make With a Preschooler list.
Pin
Pom Pom Stuffed Christmas Ornaments
Materials
Small glass ball ornaments (we used 4-inch size)
Pom poms
A pencil or chopstick (or other thin but not sharp tool)
Glitter (optional)
Instructions
Carefully remove the top from a glass ball ornament. Be very careful. The ornaments are thin glass, and it is easy to break them. Ask my husband.
Help your child to stuff pom poms in the ball.

Use a pencil or chopstick to move the pom poms around to your liking.
Continue until the glass ball is full.
Replace the ornament's cap.
Done!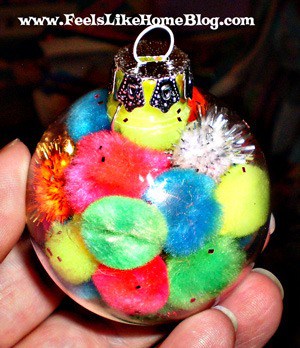 Pin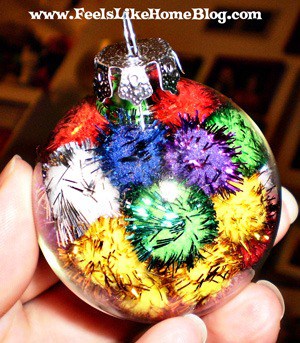 Pin
A note about crafting with a preschooler
**Be careful when doing this project. One of our ornaments had a sharp, glass spur inside the opening. I used an emery board to file it away before allowing Grace to stick her finger into the ball.
I really like these ornaments. They're lightweight (unlike our styrofoam ones), so they actually hang on Grace's little Christmas tree.
They also came together very quickly, so Grace didn't lose interest before the ornament was finished.
For the second ornament, I sorted the sparkly pom poms and gave her only those. Grace didn't mind one bit, she just kept on stuffing them into the ornament.