The best quick & easy authentic Italian meatball recipe, made healthy with beef, Italian breadcrumbs, and seasonings and baked in the oven. Serve with your favorite spaghetti sauce.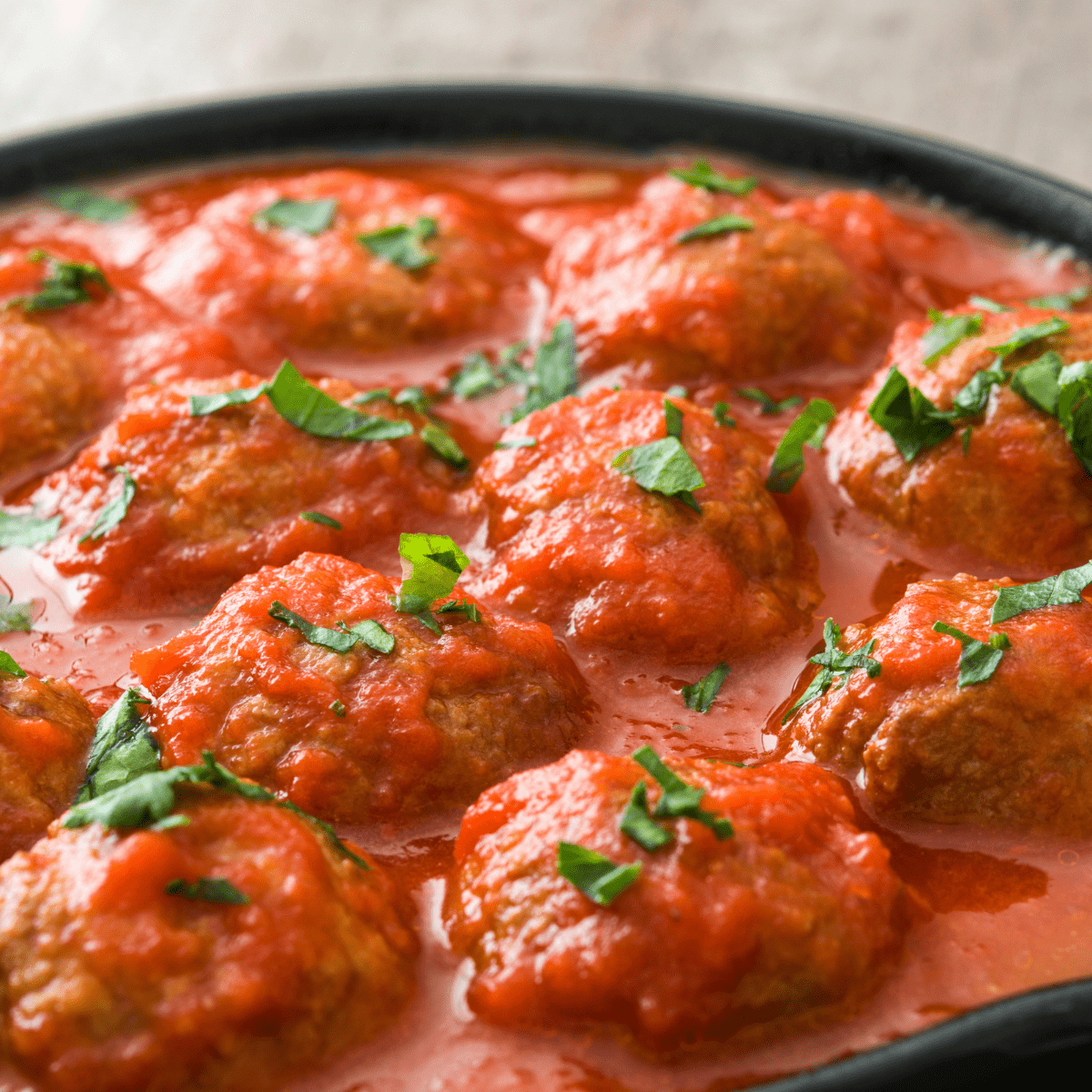 I realized recently that I have posted nary a recipe since my bariatric surgery in April 2017. It's not that we stopped eating, nor that we have stopped trying new recipes.
I just haven't been as into food since my surgery, if that makes any sense. I haven't thought about it as much. I just show up to the meal, and I eat, and then I leave the table and leave the food behind.
Except, with the flare up of my food addiction over the last six months, I sort of obsessed about some foods night and day, but those were always pre-made foods like chocolate chip cookies and not recipes to be shared.
So basically, I haven't thought much about recipes for a long time.
But things have slowly been changing for me. In my work with Overeaters Anonymous, I have to send my sponsor my food plan for tomorrow every night before bedtime, so Joe and I are forced to plan out supper before the day (or the evening) of the meal. I eat the same thing every day for breakfast and snacks, and my lunch is always leftovers from the supper the night before, but the new supper has to be planned ahead.
We're also using a new recipe binder system which you can see below. It is working quite well, and I am eager to share it in case it will help some of you.
Quick & Easy Homemade Cheesy Meatballs
Back to this recipe. Joe decided to make homemade meatballs because he was sick and tired of eating chicken and seafood, something I never ever thought I would hear him say.
I am still very cognizant of my total caloric intake each day, staying under 1200 if possible, and definitely under 1300. (If you remember, I used to stay under 1000 per day, but I am exercising a lot more now and find it difficult to stay that low. Also, my OA sponsor encouraged me to eat the way I will eat for life rather than "dieting" by eating a lower amount of calories just to lose weight.)
The 1200-1300 calorie diet, which I will follow for life, is the reason we eat so much seafood and chicken. Those are leaner and have fewer calories as a rule, so I try to eat them most often. But some beef and pork are okay too, and I was excited to try something new with Joe.
Joe made these cheesy homemade meatballs from scratch. They do have some breadcrumbs in them, but a very small amount, so I didn't feel it was a big deal in my low carb plan. (I try to stay under 50 grams of carbs per day.) Also, he used gluten-free breadcrumbs because that's what we had. You could use regular or gluten-free, but you should try to use Italian flavored breadcrumbs as they will give the meatballs a nicer flavor overall.
Joe baked our meatballs which filled the house with the very best Italian aroma. I sat with him in the kitchen while he was finishing up the supper, and I was starving from the delicious smells in there.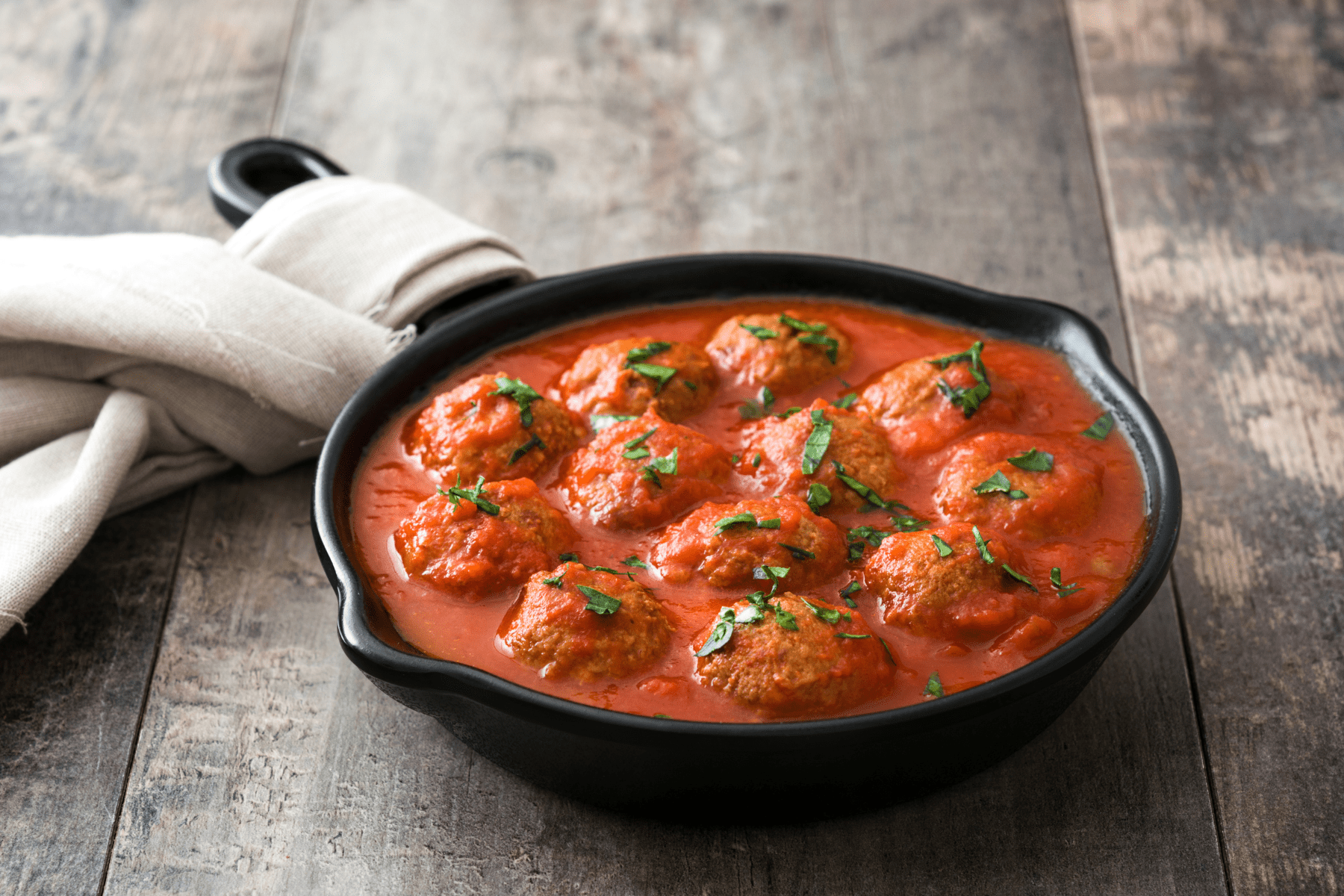 How to make quick & easy homemade meatballs
Preheat the oven to 350º.
Prepare the meat mixture. Whisk together the breadcrumbs and milk to make a slurry. Use your hands to mix the beef with the egg, Parmesan, salt, pepper, garlic, parsley, and bread crumb mixture in a large bowl until well blended.
Prepare the meatballs. Use a small scoop to make 18 meatballs from the meat mixture. It's important to use a scoop so that all the meatballs are the same size and will thus cook evenly in the oven. Place the meatballs on a baking sheet with a rim (to catch any juices that might leak out from the meat).
Bake the meatballs for 25 minutes or until the centers are no longer pink.
I loved these meatballs, and even our pickiest eater ate 5 at one sitting.
Check out these other yummy recipes while you're here:
Recipe