Not sure what to do on Father's Day to celebrate your dad in a safe and fun way? Look no further than this mega list of fun activities you will both enjoy whether you are vaccinated or your state still has strict pandemic restrictions. Here are 27 great ways for kids, teens, and adults to spend time with their fathers.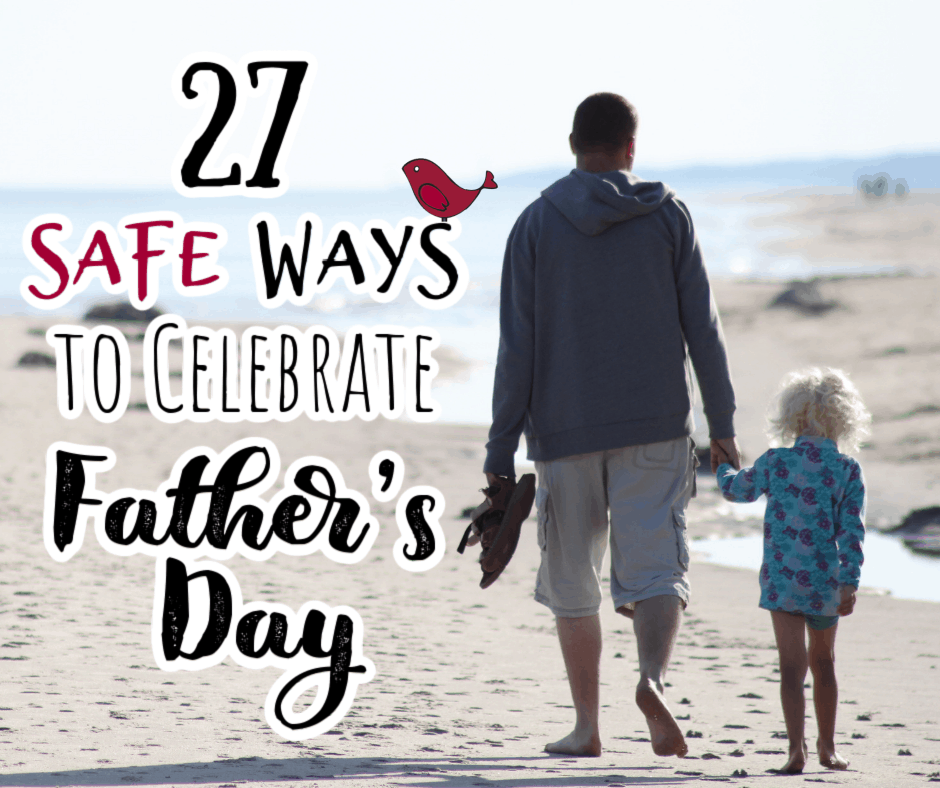 Given that life still feels a bit like an episode of the Twilight Zone, it's crucial to exercise more caution when celebrating dad's special day this year.  However, that certainly doesn't mean you have to skimp on the fun.  Read on to learn 27 safe ways to celebrate Dad this Father's Day – and I promise that the whole family will enjoy every single one! 
Social Distancing on Father's Day – Is It Necessary?
It may be tempting to return to your pre-COVID lifestyle for Father's Day, especially if you've had the vaccine. But it's probably not the best time to invite your Uncle Lenny's third cousin twice removed and his six children to a family reunion BBQ.
There are still millions of people in the U.S. who haven't received a vaccine for countless reasons. Whatever those may be, it's wise to exercise caution. If your husband or father hasn't received the vaccine and is in any way immunocompromised, social distancing (and probably staying home) is still the best route to take.
Safe Ways to Celebrate Dad on Father's Day
There are endless possibilities to celebrate Father's Day safely this year, and I've organized them into indoor and outdoor categories to make finding the perfect activity or gift even easier.
Before you decide how to celebrate, make sure you print out my free Father's Day kid interviews. They're super fun for dads and grandpas!
If you're looking for homemade gifts for Father's Day, check out this link. They contain dozens of DIY ideas!
Ways to Celebrate Dad Outdoors
Go on a Hike
If your family loves spending time in nature like ours does, a hike is an excellent Father's Day activity that gets everyone off the couch and into the wild. Check out the nearest local wildlife preserve or local trails near you, if possible. Who knows what you'll see?
Bonus: my kids LOVE to have picnics at our state park. See the new item below.
Have a Picnic
Whip up some of Dad's favorite foods and take him on a picnic to the local park (or even just the backyard). Having an outdoor picnic is a relaxing way to enjoy the sunshine, and dads will appreciate the special touch of the meal being all about them.
Putting together a bona fide picnic basket really stresses me out though, so we always get fast food to outfit our picnic, and I give you blanket permission to do the same. I pack a big waterproof blanket just in case a picnic table is not available. Then we get a pizza or burgers or tacos and head to the state park. Everyone sits together and eats together as near to the car as is reasonable, and then we put our trash back in the car before going out on a hike.
Play a round of mini golf
This has been my family's tradition for at least 8 years. We have always gone out to a restaurant and then played a round of mini golf. It's fun for everyone except my teen (who hates mini golf and requires a ton of encouragement), and it is a great way to get out in the sunshine on a nice summer afternoon.
Organize a Drive-By Parade
I personally feel that a parade should be held in my honor on a weekly basis, but I suppose we'll focus on ways to celebrate fathers for now. This is an excellent option for multiple family members to gather together in a socially distanced way to celebrate Dad. Make some signs, honk your horns, and treat Dad to a drive-by family parade just for being awesome.
Go Fishing
Give your husband or dad an extra opportunity to sit by the lake and rehash the glory days with a Father's Day fishing trip. You could easily pair this activity with a picnic afterward so that everyone can hear the tales of the one that got away.
Build Something Together
Even if the father in your life isn't the handiest with a hammer, building something together can be an excellent bonding experience. It could be an activity as simple as making a birdhouse together and finding a place to hang it outside.
Camp Out in the Backyard
Make this ordinary Father's Day extraordinary by camping in your own backyard. The possibilities are endless with this one. Celebrate Dad by roasting hot dogs, making s'mores, and telling your favorite stories around the fire. My family bought a fire pit at Sears about 8 years ago, and we use it all through the spring, summer, and fall. We LOVE our backyard campfires, so even if you're not sold on sleeping in a tent in the backyard, give a campfire a try. And the best part of the whole shebang? Indoor bathrooms.
Play Outdoor Games
Ignite a little friendly fatherly competition by playing outdoor games on Father's Day. If you're playing on teams and have enough people, make it parents versus kids or girls versus boys. Our favorite outdoor family games include cornhole, horseshoes, bocce ball (get the LED ones that light up!), lawn darts (they're not what they used to be), and ring toss.
Ride Bikes Together
Going on a bike ride is the perfect Father's Day outdoor activity. Hit up the biking trails at your local park, or simply cruise around the neighborhood. Bike riding is an easy activity that you can do as a family, and it burns calories too!
Indoor Ways to Celebrate Dad
Breakfast in Bed
Although breakfast in bed is traditionally a go-to for Mother's Day, fathers everywhere will undoubtedly appreciate this royal treatment as well. Enlist your children's help making Dad's favorite breakfast food paired with a steaming cup of coffee, although you may want to be the one to carry the tray. Head over here for a list of great breakfast in bed ideas.
Father's Day Interviews
Many years ago, I found a Mother's Day interview that my kids filled out for me. I have saved every single one they've ever done, and I have them in page protectors in a ½" binder I keep on my nightstand. I love looking through them and treasure those notebooks more than anything else I own. My husband isn't nearly as sentimental as I am, but I made an All About My Dad interview a few years ago, and he enjoys his too. Do one with each kid and present them to him together. He'll love it.
Father's Day Coupons
Presenting Dad with a customized coupon book from the kids or spouse is a unique Father's Day gift he's sure to love. Give him a chuckle with these editable Manly Coupons from Etsy, or check out several free printable coupon options from The Joys of Boys.
Handmade Cards
Children of all ages will love creating personalized cards for Dad, and they're much more memorable than store-bought ones (not to mention cheaper!). All you need is multi-colored construction paper, markers, and anything else you can resurrect from the craft closet to spur the creative process.
Video Chat with Parents/Grandparents
One of the positive outcomes of the past year has been the surge of different video chat platforms, such as Google Meet, Zoom, and FaceTime. If you're separated from your spouse or dad on this Father's Day, host a video chat to remind him how much you love and appreciate him.
Have a Movie Night
Pay Dad back for all those Disney or chick flick movie nights when all he really wanted to watch was reruns of MASH. Make the experience as authentic as possible with these reusable popcorn buckets. They're adorable, dishwasher-safe, and come in a variety of designs.
Indoor Date Night
I'm going to get real for a second. We had monthly date nights for years thanks to a local church that had once monthly Friday fun nights that gave parents a chance to skip out and have an evening alone. Once our kids aged out of that program, date nights with my husband became few and far between. Children can do that to a marriage, you know? In these pandemic times, my family skips restaurants all together. This doesn't mean that you can't share dinner by candlelight, though. Put the kids to bed early or offer to buy or rent a new movie and present your husband with his favorite meal.
Attend a Virtual Concert
While your husband or father may not be able to crowd surf in person this year, virtual concerts have become increasingly available to the public (no mask required). Check websites like Billboard and GMA (Gospel Music Association) for upcoming performances he can enjoy from the comfort of his own recliner.
Have a Game Night
Our family may get a little too competitive when it comes to games of any kind, but that's what makes it fun, right? Make this game night memorable by having a few Father's Day gifts to give him if he wins (or as consolation prizes if he doesn't). Head over here for my DIY game night printables, my favorite games for families with pre-readers, families with elementary kids, and families with tweens and teens.
Create a Personalized Gift Basket
There's no need to spend a crazy amount of money for someone else to send your father or spouse a gift basket this year. Create your own! Assemble a variety of Dad's favorite snacks, cologne, and other personalized items for a truly original Father's Day gift.
Give a Gift Card for Virtual Shopping
Although spending several hours in Cabela's may not be possible this year, this doesn't mean Dad can't enjoy a bit of retail therapy. Present him with an array of gift cards to his stores and then distract the kids so that he can actually make use of them. Kids, I swear I just saw Bigfoot in our backyard!
Have a Watch Party
Watch parties have been all the rage for the past year, and while it's not the same as having Dad in the room with you, watching a movie or TV show as a virtual family is the next best thing. Check out all of the streaming platforms that offer virtual watch parties here.
Make Dad's Favorite Meal (Or Have It Delivered)
There's a reason that the saying, "A way to a man's heart is through his stomach," exists, and Father's Day is the ideal time to whip up Dad's favorite meal. I have shared over 350 of my own delicious recipes in this archive. If cooking isn't your forte, order that pasta dish he loves from the local Italian joint and present it as your own (I mean, have it delivered).   
Play a Virtual Game
If your husband or father is into the online gaming scene, why not join in the fun and challenge him to a round of online chess or MarioCart? Boost the level of engagement by video chatting as you're playing, which provides numerous opportunities to mess with his poker face.
Give a Homemade Gift
Helping your kids create handmade Father's Day gifts for Dad and Grandpa is a crowd-pleaser every time. Don't worry if the end product doesn't look exactly like the version on Pinterest. Let them do it their way, and he will be delighted with whatever they make!
Take an Online Cooking Class
If your husband or father enjoys learning new skills in the kitchen, an online cooking class can have delicious outcomes. Or, as I like to think of it, you're tricking him into making his own Father's Day meal. A wealth of virtual cooking resources have cropped up since COVID, and you can check out some of the best ones here.
At-Home Beer or Wine Tasting
Treat your husband or father to a touch of sophistication by organizing a beer or wine tasting from the comfort of home. Check out suggestions for foods and snacks to pair with wine and beer to have on hand. If you want to get really fancy, invest in a beer or wine tasting board.
Give Him Some Personal Time
As tempting as it can be to fill your husband or father's schedule with all things Father's Day-related, sometimes the best gift you can give him is some personal time (especially if you have children). There's nothing wrong with gifting Dad with a solitary hour or two to relax and decompress before breaking out the board games for some together time.
A final word on Father's Day
This Father's Day doesn't have to look like any Father's Day in the past (except maybe 2020 or 2021). If you aren't venturing out much, one of the at-home activities might be more your cup of tea, but that doesn't mean you have to forego the day all together. Pick something from the list above and just spend time with your husband or father. I'm pretty sure that time is what he wants most of all anyway.