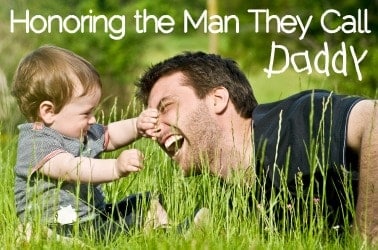 Last Tuesday, I shared 10 ways to respect your husband, a look at how I could show my husband that I respect him as a human being without losing my own personality or independence. It was my first post in the Honoring the Man They Call Daddy series, a joint project that I'm working on with the authors of The Finer Things in Life, Parenting Miracles, Life…Your Way, and Good Cheap Eats.
The hardest one for me? 5. Speak well of him to others. I struggle with it. More often that I'd like to admit.
Did you read the other posts in the series? They were all wonderful.
I was delighted to see Mandi's take on gifts of respect. Many of her gifts are the same as mine, but her explanations and stories are very different. Her post made so much sense and really touched me.
I really loved Jessie Lynn's post last week, too, because hers is actually a tangible gift. She (with her kids) wrote 150 compliments and things that she loves about her husband and gave it to him. Respect in a jar. Since Grace is writing now, I'm eager to do this with her.
Amy wasn't sure what gift to get for her husband, so she asked him. She was surprised by his answer, and I bet you will be, too. I know I was.
Jessica's gifts for a foodie dad are great suggestions for more tangible gifts. One of them was an eye opener for me. I never, ever thought of it (and why not?). I confessed in the comments of her post.
Tomorrow, part two of the series will begin when we all suggest food fit for a king. I can't wait to see what everyone comes up with!
© 2011 – 2018, Tara Ziegmont. All rights reserved.