I made a luscious chocolate cherry cheesecake for my church's Christmas dinner this past weekend. Of course, there was nary a morsel remaining.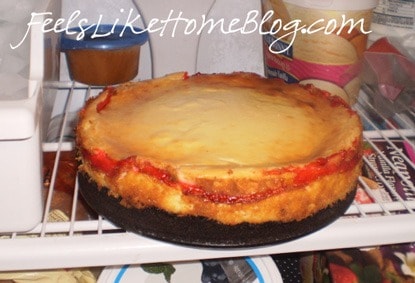 Pin
Not even the bottom of my springform pan.
When I realized that it was missing, I panicked. I went through the garbage bags in the dumpster. Joe and I, along with several other volunteers, searched through the church kitchen's cabinets.
The glass bottom of my pan was nowhere to be found. Someone in my church family apparently took it home by mistake.
I'm certain that whomever has my plate will eventually return it, but that doesn't help me to make the cheesecake I promised my sister for Christmas.
How to Make a Cheesecake Without a Springform Pan
Deep dish pie plates - This is probably the easiest solution. Double the crust portion of the recipe and split the batter into 2 deep dish pie plate. The cheesecake will be harder to get out of the pan, but it shouldn't totally fall apart if it's really well-chilled.
Ramekins - Ramekins are small, glazed porcelain or ceramic dishes in which you can bake individual-sized custards, souffles, and cheesecakes. To make cheesecakes in these, you would press the crust in the bottom, just like with a springform pan, and then spoon the filling in and cook as normal. You'd want to decrease the cooking time and check the cheesecakes frequently because you're using smaller dishes.
Muffin tins - You could use a regular-size muffin pan or one with larger cups. Use cupcake wrappers (make sure you get ones that match the size of your muffin pan - smaller and larger.) Rather than making the cheesecake crust as directed in the recipe, put a Nilla Wafer into the bottom of the cup. Top with the cheesecake batter and bake. As with the ramekins, keep an eye on these. They'll most likely take less time to bake than the larger cheesecake.
Chocolate Cherry Cheesecake Without a Springform Pan
Because this specific cheesecake is a little different from a normal one, there are a few things I wanted to say about it specifically.
You will probably need some extra cherry pie filling. Plan for a second can.
No matter what size and shape of your pan, make sure you put about half of the batter in the bottom of the dish, top with cherries, then add the rest of the batter.
If you're making mini cheesecakes, use a whole Oreo cookie instead of a Nilla Wafer.
This cheesecake doesn't rise much (unless you overbeat the batter), so you can fill the pan close to the top. It shouldn't overflow.
This post contains affiliate links.