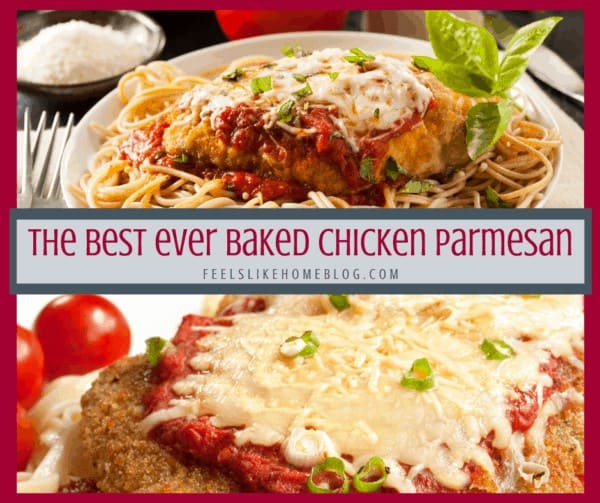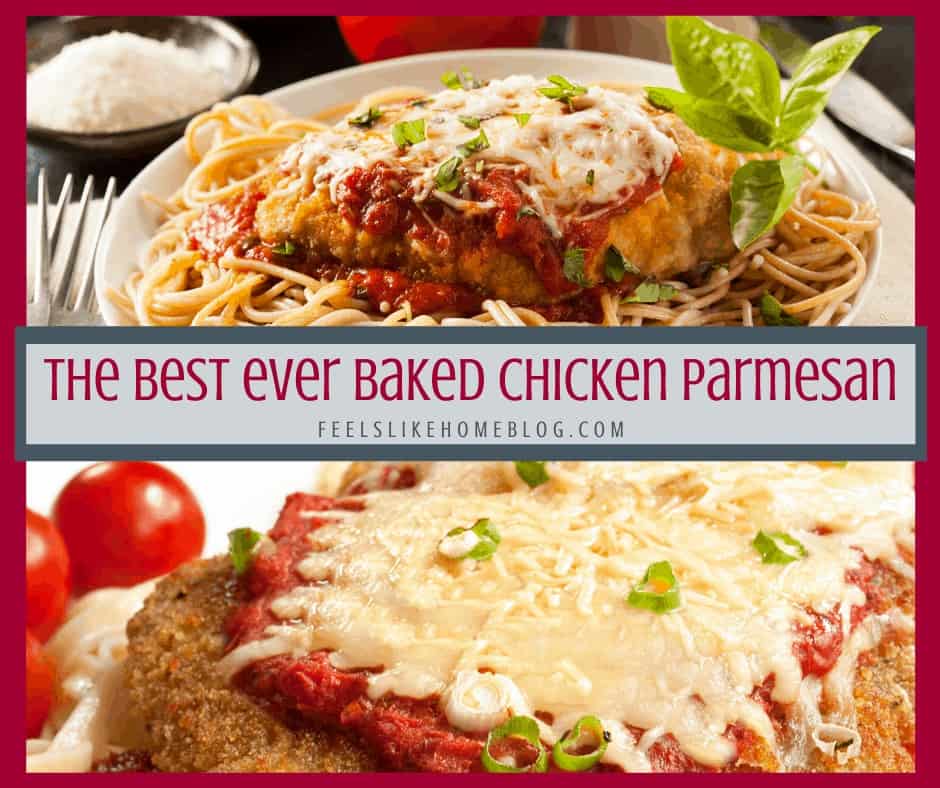 This delicious oven baked chicken Parmesan recipe is easy and doesn't require any frying. Because it's baked, this chicken Parmesan is healthy, quick, and easy. You can make this crispy baked Parmesan crusted chicken for dinner tonight in about thirty minutes.
How to Make Baked Chicken Parmesan
There are a lot of steps to making this recipe, but they are quick and easy and the whole dish takes less than an hour from start to finish.
Preheat the oven and spray a baking sheet with cooking spray.
Prepare the breading. Whisk together 2 eggs with salt and pepper and pour into a shallow dish. Then whisk together Italian breadcrumbs, Parmesan cheese, and garlic powder and pour into a second shallow dish.
Prepare the chicken. First, cut each breast in half horizontally (unless they are already thin).
Coat the chicken. For this step, you will lay a chicken breast in the egg mixture, coating both sides, then lay it in the breadcrumb mixture, again coating both sides. Place each chicken cutlet in a single layer on the baking sheet.
Bake the chicken at 400º for 15 minutes. Remove from the oven and flip each cutlet over. Return to the oven and cook another 10 minutes or until the thickest part of each chicken breast has reached 165º. (Eating undercooked chicken can make you sick.)
Cook the noodles. While the chicken cooks, prepare spaghetti or zucchini noodles. I wouldn't use sauce on the zucchini noodles at this point, but this blog post has great instructions on how to prepare and cook zoodles.
Heat the spaghetti sauce. Also while the chicken and noodles cook, heat spaghetti sauce in a saucepan on the stove. It should only take a couple of minutes over medium heat.
Assemble the parmigiana. When the chicken is done, remove from the oven. For each cutlet, spoon over ¼ cup of hot spaghetti sauce and sprinkle with ¼ cup of shredded mozzarella cheese.
Melt the cheese. Return the baking sheet to the oven and bake for 3 minutes at 400º to melt the cheese. Then turn on the broiler and broil for 1 minute to crisp the breadcrumbs and brown the cheese. Only 1 minute though or they will burn!
Serve. Serve one chicken cutlet alongside ½ cup of spaghetti or zucchini noodles and top the noodles with hot spaghetti sauce and additional Parmesan or mozzarella cheese. You can also add a sprinkle of garlic powder if you're so inclined.
My Granny's homemade spaghetti sauce recipe is amazing in this dish. If you've never made sauce before, you will find that it's pretty easy and pretty quick, and the flavor is out of this world. You will never want to eat store bought sauce again!
Recipe