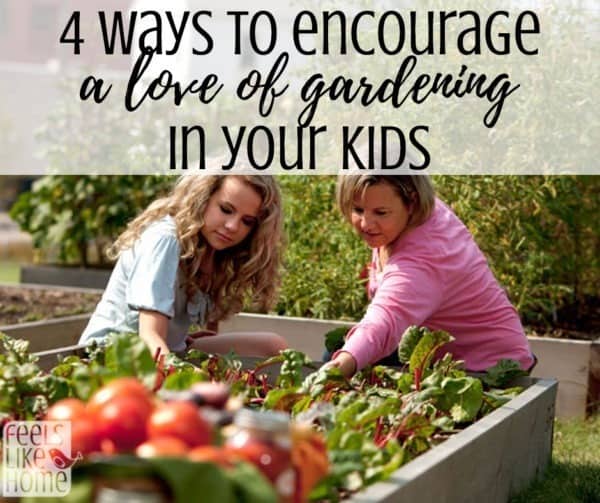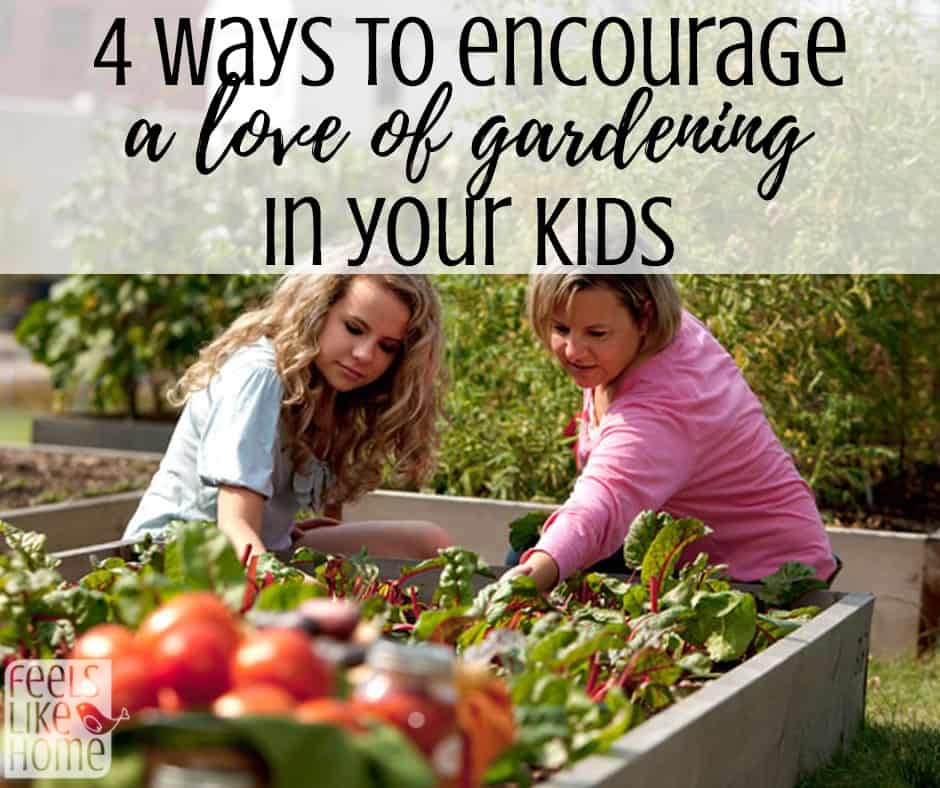 This article was contributed to Feels Like Home by Scott Jenkins. I love Scott and Jessica's parenting here; there's so much science and positivity and learning going on.

Scott helps out with the editing and some occasional writing for his wife's website Architypes.net. He shares more ideas about getting kids involved in the family garden here.
My wife and I bought our first home in the spring of 2003. The backyard was small and a mix of grass, clover and dandelions, but it got sun nearly all day long so I knew that with a little work I could replace the dandelions and clover with tomatoes and peas.
There was no time to waste. The spring planting season was already in full swing, and I didn't even have a plan yet. I set out clearing a patch and preparing the soil almost immediately.
My son William, just two years old at the time, peeked over the window sill and watched me use the loud gas-powered tiller to turn over the dirt and work in the compost.
When I was done, my wife Jessica brought him outside. She had been explaining to him that soon I would be planting seeds and that we would be growing carrots like Peter Cotton Tail.
At the moment, I didn't think much of it. I let him watch as I sowed the seeds and carefully patted the soil down on top of them. Jessica however wanted to get him involved. She was much better than me at entertaining young children, and she had a few ideas about how he could help.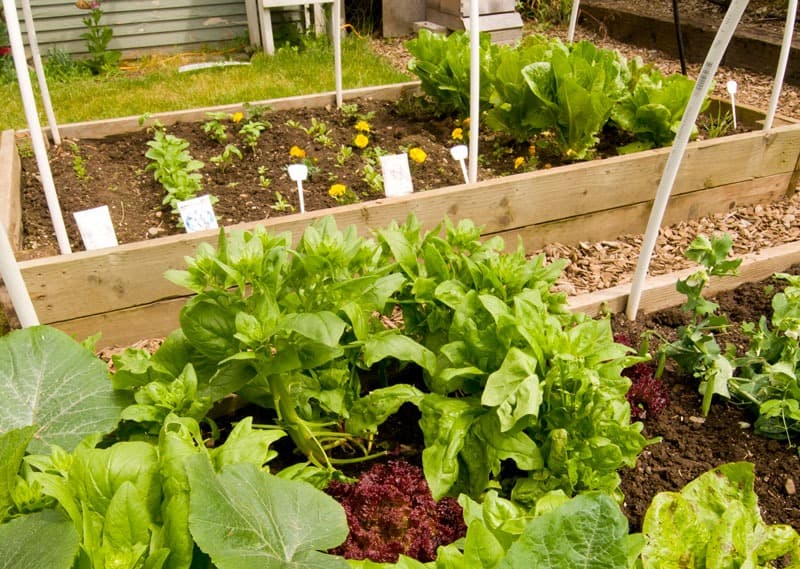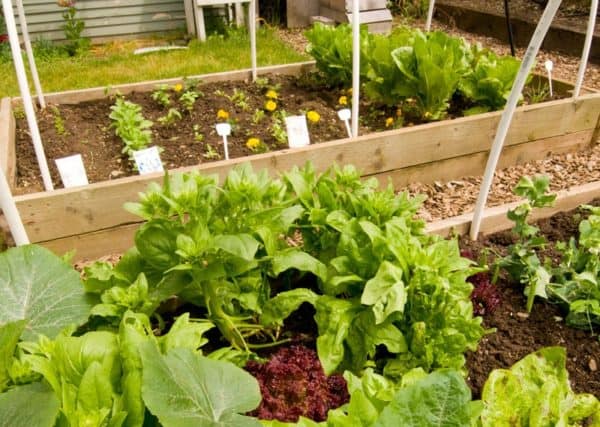 One of the best ideas was to let him have his own space in the garden to grow his own carrots. When she suggested it, he nearly leapt out her arms and sprinted over to me. Together we picked a small patch and made a border around it with some rocks that the tiller had turned up.
I showed him how to use the tip of his finger to press a hole in the earth, drop in a few seeds, and cover them back up. He haphazardly planted a whole pouch of seeds in no time flat. But after a few days of watering his patch he lost interest. He wasn't interested in waiting a couple of weeks for the seeds to sprout.
Jessica wasn't about to quit though. She had a few more ideas about how to keep him interested in working in the garden.
Here are a few of William's favorites: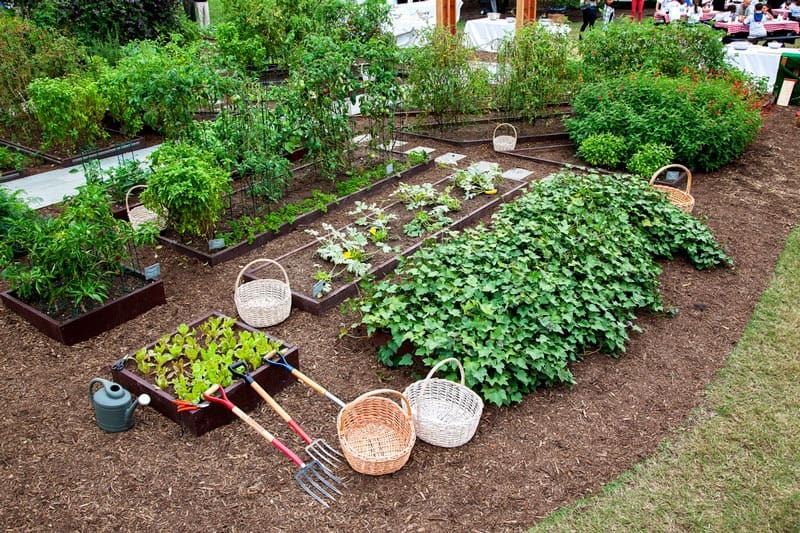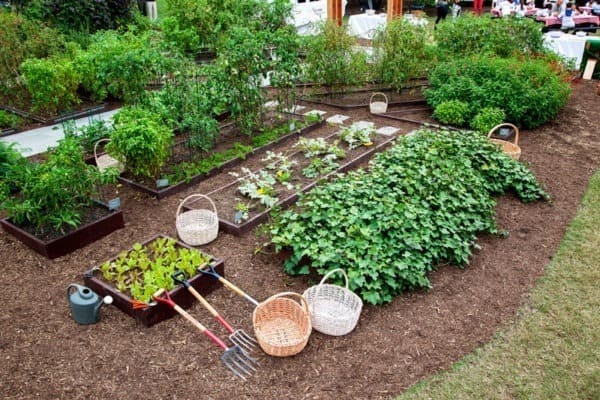 4 Ways To Help Kids Connect With Mother Nature Through a Love of Gardening
Decorate The Garden Bed
The rocks we used as a border were just dirty brown rocks. William loved to add color to the pages of his coloring books so we washed off the rocks and used acrylic paint to add color to those too.
By the time we were done I don't think two rocks were the same color. His small garden was now an eclectic mix of cool pastels and bright primary colors. His interest in the garden was back and he wanted to water it again, at least for the next few days.
Plant Seedlings Instead Of Seeds
An empty patch of dirt is boring to kids. Instead of only starting from seed, pick up a few seedlings from the garden center too. It gives them a head start and helps keep them interested.
Mix in some geraniums and French marigolds for some instant color too. Geraniums and French marigolds don't just look fantastic but their scent deters a lot of common garden pests too. They deter nematodes, leafhoppers, corn earworms, and quite a few other less common bugs.
Build A Scarecrow
You probably don't need a scarecrow but it's a cheap fun project for the kids that gets them excited about the garden again.
All you need are a few clothes from the giveaway pile, an old pillowcase for the head, and straw from the garden center. Stuff the clothes and head with the straw and mount it on a stick. Paint a face on the pillowcase and display your new friend proudly in the garden.
Start A Compost Pile
This isn't going to be an overwhelmingly fun project for your kids but it's an important lesson in how mother nature works to replenish the nutrients in the soil and how important it is to reduce waste around the home.
A compost pile creates a doorway to teach kids about the many different ways that God's creation works. Some of my favorite discussions have been how earthworms recycle nutrients and aerate the soil as well as how our old banana peels and eggs shells break down to improve the quality of it.
Studies have repeatedly shown how important it is for children to connect with nature and the out of doors, and a garden is an excellent way to do that. Sunshine, dirt, and even bugs are all helpful for their development and immune system and sense of well-being.
If you've never gardened before - and especially if you already have a garden - try one of the above to get your kids involved this year!