There is one dessert that I can almost never pass by. Actually, now that I write that out, there are a few I can't pass by. Peanut butter pie. Flan or crème caramel. Cheesecake. If all three on on a dessert menu, I am really stuck. Anyway. I joined a group called The Secret Recipe Club after my friend Mary Tweeted something about it. The idea is that you are assigned a food blog every month and you make a recipe from it. We really like to try new recipes and new foods, so I signed up. This month, I was assigned Eliot's Eats, a site that focuses on eating whole foods that were grown or raised locally. After looking through a few pages of recipes, the one that spoke to me most was for custard. The author explains that her grandmother used to give everyone custard when they were sick. I don't totally understand that tradition, as my mother always withheld milk and eggs when we were sick, but that's irrelevant. I love custard, so I knew this is the recipe we'd try. I'd never attempted to make custard before, and I was excited. I followed a link in the post and learned how to turn plain old custard into flan by boiling a cup of sugar and putting it into the dishes before the custard. Perfect! Also, Eliot's recipe calls for scalded milk. I had absolutely no idea what scalded milk was or how to prepare it. I searched for it on Swagbucks, and I learned that you heat the milk up to 180°F, just until it begins to get a frothy layer of bubbles around the edge.
The more I read about scalding milk, however, the more sources said that you only need to do it if you're using unpasteurized milk. I don't use unpasteurized milk, so I skipped the scalding step. My flan came out very nicely nonetheless.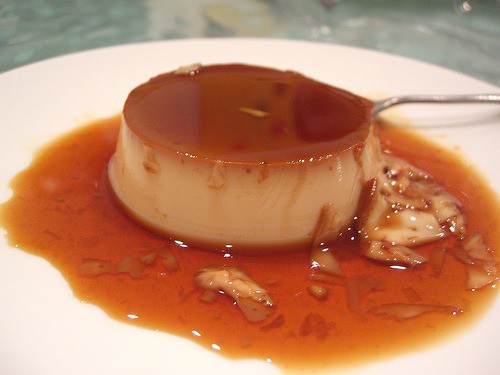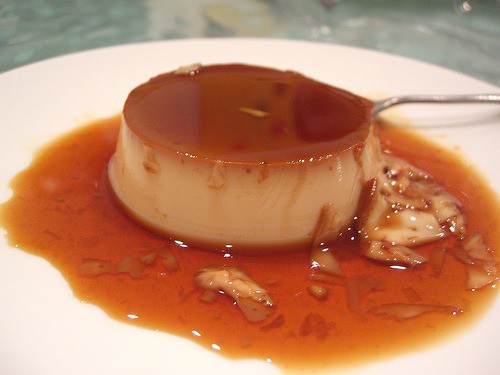 | | |
| --- | --- |
| | |
Boil a pot or tea kettle of water. You'll need it below.

Add the sugar and water to a small saucepan and bring it to a boil over medium heat until the sugar is dissolved.

Keep boiling until it turns into a nicely browned caramel sauce.

Divide the caramel sauce between 4 ramekins.

Swirl the caramel around so that it coats the bottom and halfway up the sides of the dishes.

Slowly beat milk and eggs together.

Add vanilla, sugar, and salt.

Stir until sugar is dissolved.

Sprinkle nutmeg on top of the caramel, then carefully pour the custard mixture into the ramekins.

Fill a baking dish about 1/3 full with the hot water you boiled earlier.

Set the custard cups into the dish of hot water. (The water should go about halfway up the sides of the custard cups.)

Bake at 350°F until a thin knife inserted in the center of the custard comes out clean, normally 40 minutes to one hour.

Refrigerate custards until ready to serve.

To serve, turn custard upside down onto a dish and remove ramekin. The caramel should make a thin layer on top, with caramel pouring down the sides of the custard. Serve chilled.
© 2011 – 2018, Tara Ziegmont. All rights reserved.