How to stay sane when you work at home. Stay at home moms and work from home moms are always on duty, and they need and deserve some time off. This post offers 3 ways that moms should take a break for themselves and recharge their batteries, making them better mothers, wives, and employees.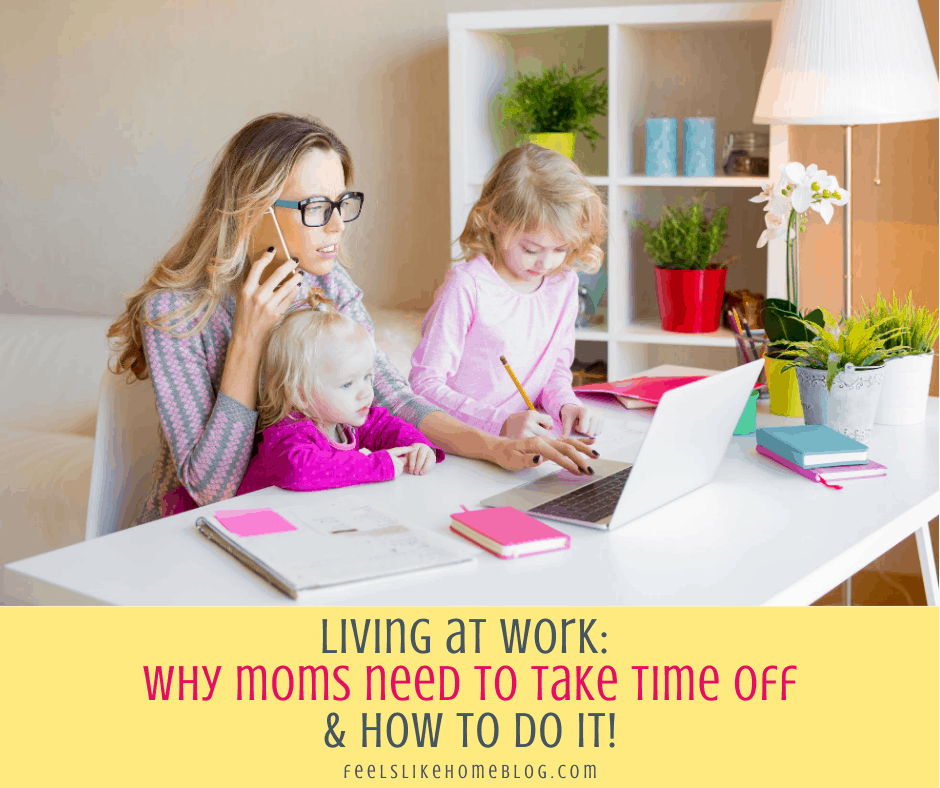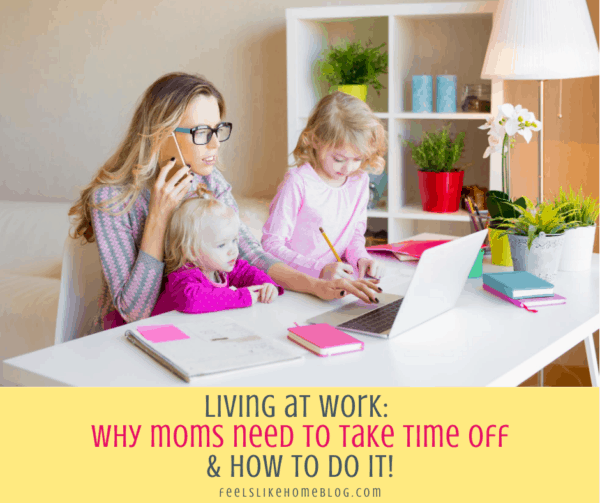 When was the last time you took a few minutes for yourself?
I'd like to introduce you to longtime reader Michelle. In this guest post, she encourages women to feel proud of the hard work they do as mothers, promoting respect for the career of motherhood.

"It's so nice to just sit down and relax for a moment and forget that in five minutes I have to get up, do the dishes, do the laundry, put the kids to bed, clean up this mess, and lay some clothes out for work tomorrow." ~From a cartoon by JoAnn Larsen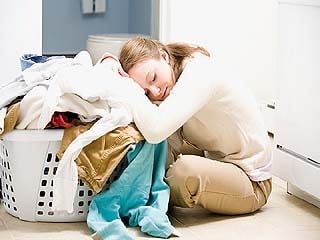 PinHow easy is it for you to relax when work is staring you in the face?
How do you get a break from the workplace when you live in it every day?
I think a major source of mothering stress is that we cannot get away from work unless we leave our own house.
Whether you work for a career or work only for your family, you are always on duty.
Unless you are wealthy enough to have hired help to maintain the house, maintain the yard, and maintain the vehicles, thus being truly able to put your feet up, the primary place you have to relax is the same place where all your responsibilities lie.
When you work outside the home, you get a lunch break; even if you pack in your lunch, you usually are not required to eat at your desk or in a lunch room. When you work from home, there is no such break. And when you are a mother, you can't look at the clock at 12:30 PM, pat your toddler on the head and say, "Sorry, dear, it's my lunch break; I'll be back to take care of you in an hour," and head out the door for a quick bite at Panera Bread.
When you're a mom, you don't get sick days, paid time off, or a two-week vacation from your duties. You are on-call 24/7. Your holidays are working holidays as you coordinate activities and deal with the stress (and the fun, too) of family get-togethers. A simple check-up at the doctor's office requires you to find someone to cover for you, and if you do not have extended family to help or friends nearby – or even if you do – it's not always a quick and easy thing to arrange; either the doctor has to be flexible with his schedule, or your family/friends do. Or else, you have to bring them along and manage that chaos.
If you are at home (whether you work at a career or not), you also have the societal – and, sometimes, spousal – belief that, because you are home all day, you have time to do things for yourself. When your husband comes home from work, he wants to relax with his family, and he has no idea why you are a bundle of nerves.
In today's world of work from home life, even working moms have this problem. Our kids are home (and often schooling), and we are home, and all the housework, mothering, and career work must get done in a 24 hour period. And let's not forget sleep, schoolwork, and eating! Our kids want to eat all. the. time!
Why don't mothers insist on their well-earned, well-deserved, and physically and emotionally necessary time off?
Probably because few of us think they need or deserve it. Moms are already off, right? No one gives us time off because we don't ask or insist on it; we also don't arrange for it. And that arranging can be a big headache, am I right?
Time off for moms is necessary.
Time off for moms is necessary.
Time off for moms is necessary.
You must take time off from your duties as wife, mom, and employee or you will burn out and be of use to no one. Here are the three kinds of time off that I think every mom needs.
Every mom needs to take these times for herself:
Time Alone
The first type of time off is the occasional few hours out.
I don't mean the time we spend in the grocery aisle closing our eyes for two-minutes and half-dozing-half-daydreaming as we relish the opportunity of having snuck out to do a family job sans kids.
I also don't mean going to a mother's group where we talk about being mothers, wives, and kids.
I mean something completely just for you. Even if it is just once a month, having even that little time to yourself will bring happiness to you and, by extension, happiness to your family.
Money doesn't have to be an issue. You could go to your local library or Barnes & Noble and read. Just grab a coffee. You could also get dressed up and meet your friends for a cocktail; it doesn't have to be a full meal out or even more than one cocktail, just being dressed up and on the town is so different from your daily life that that alone can do wonders for your psyche.
If you need ideas for taking some time out for yourself, check out 110 self care ideas for busy women. It's a free printable with, you guessed it, 110 ideas for things you can do just for yourself.
Date Night
The second type of time off is the occasional date with your husband.
I don't mean the one where you curl up in front of the TV and eventually pass out.
You and your husband still need to date. You need and deserve the same attention you received before children. You are, after all, still a woman, and he is still a man, even though you are now Mom and Dad. Take this time to reconnect and deepen your bond.
If you need ideas for date nights (both at-home dates and out on the town dates), check out the Healthy Marriage Toolkit. It has literally hundreds of ideas in an easy printable format.
Vacation Alone
Finally, you need to go on vacation.
Away.
Either with your spouse or without.
This is the most difficult one to do, both financially and logistically. The trick is to think outside the box. For instance, one thing I crave and enjoy is peace; no one pounding on the door when I'm in the bathroom, no shouting, no loud music, no problems to mediate, just peace and quiet.
I live in a remote area, and three miles down the road is a monastery. Literally, it is off the main road from which I live. One weekend last year, I left the children with my husband and stayed at one of their retreat houses by myself. I spent a weekend four minutes from my house in total isolation. How funny is that? Their fee is whatever you can afford. Monasteries all across the nation have retreat options, and most work on a "pay what you can afford" basis. Many also have retreat houses for couples (and sometimes even families), so if you are looking for time to reconnect with your spouse, this can be an inexpensive option.
In our troubled economy, some spa resorts are offering tremendous discounts and relatively inexpensive packages. A few years ago, I put aside five dollars every week to go on an overnight – yep, just one night – trip to my favorite spa, Mirbeau. I traveled mid-week and bought a discounted package. It was such a wonderful experience that I've done it every year since.
As tough as money is for our family, and as much scrimping as I do, I feel I am worthy of five dollars a week and asking my husband to come home early from work one night to meet the school bus when the kids get home. I look forward to my yearly "vacation" and love how I feel when I come back.
Why do we think vacations for ourselves are indulgent? Do businesses believe they are being indulgent to their employees by giving them days off and vacation time? Why do we and society treat the work we do differently?
I think it's time to change that perception.
In today's landscape where work at home, school at home, and live at home are the new normal, it is more important than ever for moms to take time out for themselves. By making time for alone time, date nights, and mini vacations, we can recharge our batteries and refresh our spirits. And that will make us better moms, wives, employees, and teachers. Try it today and let me know how it goes!