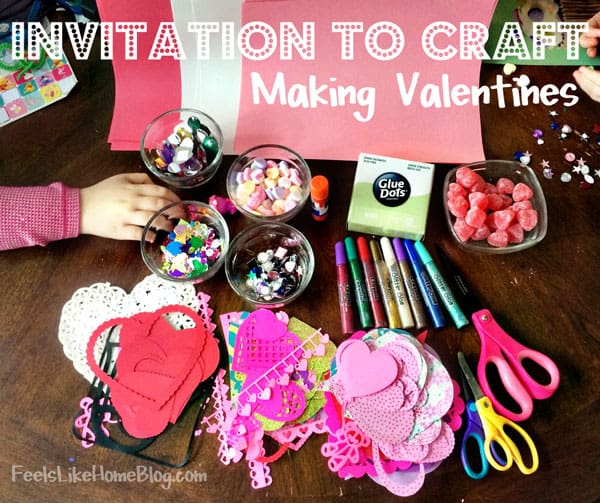 Pin
Most of the time, when you make a craft, you start with a project in mind and then work your materials to create it. Right?
No creativity is required (unless you designed your craft to begin with, but especially if you are copying a picture in a magazine or on a blog).
Sure, you use your scissor skills, and you may notice how the colors are complementary or analogous, but you haven't exercised your imagination.
Sometimes, that's important. Sometimes, you want to create a mailbox and a certain set of steps are required. You can't just give your kids a cardboard box and some paint and a knife and tell them to have fun and expect a mailbox when they're finished. If the product is important, you have to provide more direction, and there's not as much creative opportunity.
You understand what I'm saying, right?
I wanted this to be very open-ended. I wanted the materials to be enticing, to invite the kids to make some pretty or unique or interesting Valentine cards just because.
And that's exactly what happened.
The materials were so enticing that they saw me walking past with the jewels and sequins, heard me pouring jewels into glass bowls, and they followed me à la the Pied Piper into the dining room.
Here's what we did.
Invitation to Craft - Making Valentines
Materials we used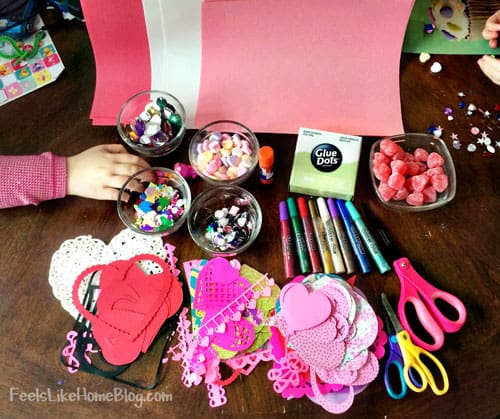 Pin
Colored construction paper or card stock - we used red, white, and pink
Heart doilies - These are so cheap at the craft store, I don't know why you'd bother making them yourself.
Assorted hearts and other love-y shapes cut from pretty patterned papers and cardstock - I cut these with my Silhouette machine, and it turns out that I cut about seven times more than I actually needed.
Decorations - I got out big jewels, little jewels, sequins, candy hearts, and gum drop hearts. You could use stickers, glitter, tissue paper, or no extra decorations at all.
Pens or markers (not in the picture because I didn't realize we'd need them until later) - I ended up with one ball point pen and a pack of metallic Sharpie markers (gold, silver, and bronze). (They're very cool. We use them for many things.)
Adhesive - I used a glue stick, glue dots, and glitter glue
Scissors
Feel free to use whatever materials you have available. The key is to have paper, paper hearts, and some decorations. For just Allie, I would have used only 1 or 2 decorations and no glitter glue.
I think there's a fine line between offering enough materials to entice them to get creative and offering so many that they're overwhelmed. My 3-year-old was overwhelmed. My 6-year-old picked carefully from the materials, and ended up using less than 5 jewels and sequins in total among all her cards.
How it all began
I asked the kids to leave me alone for ten minutes so that I could take pictures of the materials, but they were so eager to get started that they jumped right in. (Reference the materials photo above.)
Joe came, too. It was a family Valentine-making party.
All I said was, "Let's make some Valentine cards. You can make as many cards as you want and use whatever materials you want. I think maybe you should cut your paper in half to start so that your cards aren't so floppy, but you can use the whole paper, too, if you want to."
Of course, Grace dutifully cut her paper in half.
Pin
Allie just cut hers into shreds.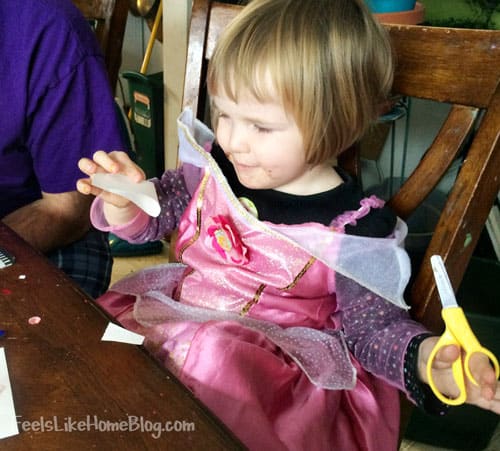 Pin
Grace chose hearts from the ones I'd precut. She spread them out all across the table and carefully chose the perfect ones. She especially liked the ones I cut from gold glitter paper, but she used a wide variety.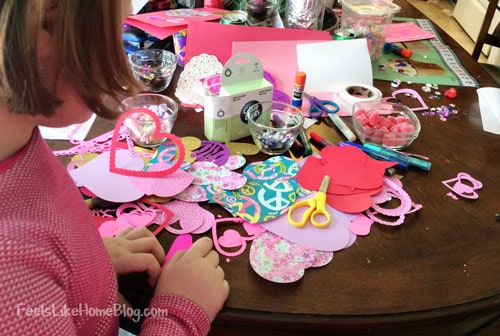 Pin
She planned and laid out and changed arrangements and planned more. She glued hearts on the fronts, insides, and backs.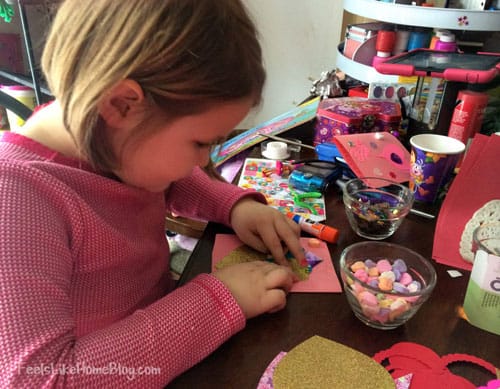 Pin
In short, she was very grown up about her crafting.
Allie, on the other hand, was very 3 about her crafting.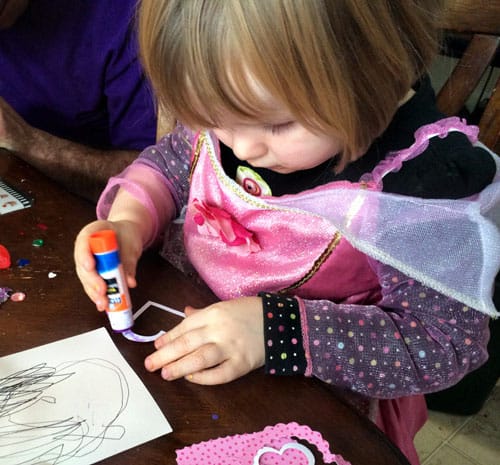 Pin
She too chose her hearts carefully, but she sprinkled them with fistfuls of jewels and sequins, got glue all over the table, scribbled on her cards with the pen, and glued one of her cards shut. She arranged hearts and then covered them up with bigger hearts.
She asked me to draw hearts with glitter glue, and then she covered up all my painfully crafted hearts with big paper ones.
She glued candy to everything.
She loved every minute.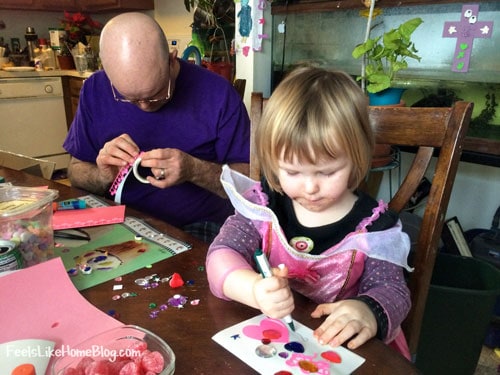 Pin
Joe, it should be noted, made one half of one card in the time it took the girls to make a dozen. He was painfully meticulous about his card making.
The whole process was -- intense. Allie was constantly grabbing fistfuls of little decorations and paper was flying everywhere.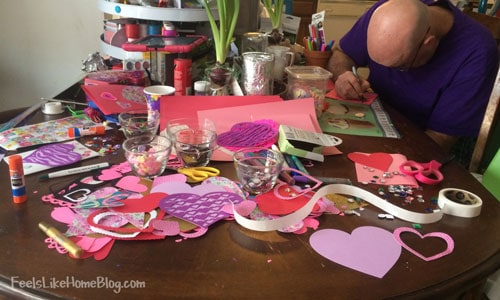 Pin
Intense, but fun. I was glad when it was over, but I was really glad that I did it the way that I did.
Each of the girls planned the card she would make for each member of the family. They made just the right card for just the right person, guided only by their imaginations.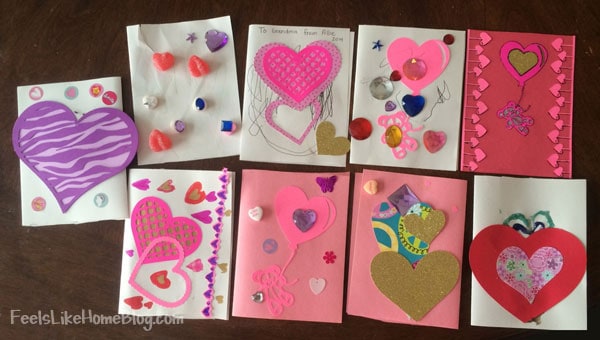 Pin
I love their Valentines, and I know the recipients will love them, too.
(Recipients - can you guess which one is yours? I'm not telling.)
How you can invite your kids to make Valentines
If the idea of providing a stack of materials to your kids scares you, remember these 2 things:
Don't make a sample Valentine. They'll just copy whatever you did. Make them come up with their own plans.
Don't give them any instructions. Kids are naturally creative, and they'll do it their own way.
If you're intimidated by the mess in my photos, do a pared down version:
Give them a few pieces of colored paper, a glue stick, a pair of scissors, and some metallic markers.
Cut out a few hearts ahead of time (or get foam or foil heart stickers) and give them a few extra pieces of construction or patterned paper.
Let them make Valentines.
Enlist their help in the clean-up.
That's it!