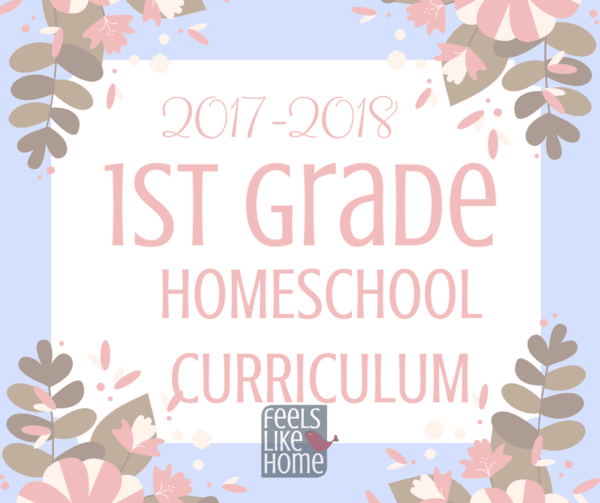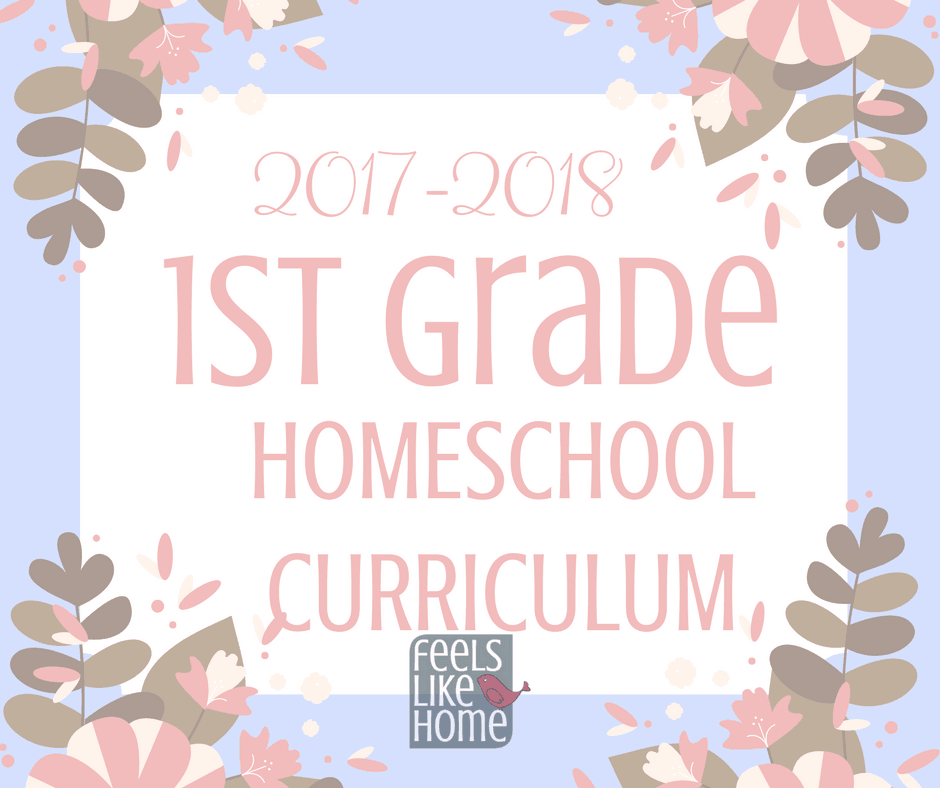 Every year, I spend hours and hours agonizing over what curricula to use with my kids. As I have said previously, we lean toward an unschooling model of homeschool, but we still do use some curricula and schedules. I guess this makes us more eclectic homeschoolers than unschoolers, but whatever. We just do what works.
First and foremost, we live the Brave Writer Lifestyle. This means that our home is a place of a lot of learning and all of the following elements (from the Brave Writer website):
Read alouds and audio books
Observing nature & nature journaling
Fun writing projects
Art appreciation
Movies & TV
Copywork
Dictation where I read and they write (mostly for the 5th grader this year)
Shakespeare
One on one time with Mom
Allowing the kids to dictate their writing to me
Lots and lots and lots of educational games (and some non-educational ones, too)
Writing all together
For my organization & planning resources, see this post.
For more homeschool curriculum ideas, visit my curriculum index.
1st Grade Homeschool Curriculum
Allie is officially in first grade this year, and she is eager to learn. She loves to "do school," and I appease her whenever possible. We didn't do a lot for kindergarten last year (at least, not until mid-year), so we are still working through some of the kindergarten resources that I posted back then.
Specifically, we are still progressing through these:
Singapore Math's Earlybird Kindergarten Mathematics. I thought set A would be too easy for her, so I went for set B. I think set B is now too easy for her (she breezes through 4-5 pages a day in under 5 minutes), but she wants to finish the book, so we are finishing the book.
All About Reading's Pre-Reading curriculum. We started with this last year and then jumped to AAR Level 1. We got through a few lessons, and it was going badly. We got stuck on lesson 4 for like two months. I mentioned this in a comment on the AAR blog, and one of their sweet representatives got in touch with me and helped me to work out the issue. Basically, Allie was having trouble with phonological awareness, specifically breaking out the parts of a word, letter sounds, and blending. She recommended that we go back and work through the entire Pre-Reading curriculum, so that's what we are doing. We're presently ⅔ of the way through it, and we do 3 lessons a day because, for the most part, it's pretty easy for Allie. We do have to repeat some lessons (sometimes 2-4 times on successive days), but she is getting the concepts for the most part.
For her official first grade (whatever that means to a homeschooler), we are doing the following:
Reading - About Reading Level 1 - This is all set up and ready for us to go. We also have the games book and the Ziggy the zebra puppet from Pre-Reading, so I think it is going to be really fun. Allie liked the games the first time around even though she couldn't really read any of the words.
Spelling - No spelling yet since she can't read.
Handwriting - Allie has already started using the Rhythm of Handwriting from The Logic of English. I was first introduced to the Rhythm of Handwriting when we reviewed The Logic of English with Grace several years ago. I love its simplicity and the fact that it doesn't require special paper the way Handwriting Without Tears does. Allie knows most of the letters now and can easily copy a piece of writing (we have done some copywork), but she forms a lot of the letters incorrectly. I want to work through this with her so that she gets the correct formation and writing is easier for her than it has been for Grace all these years.
Writing - As I have said many times before, there is much more to writing than handwriting. The writing process involves generating ideas and composing thoughts, and it can begin long before kids learn how to spell and write for themselves. To this end, we are using Brave Writer this year. Allie is working on projects from the Jot-It-Down project book which means she is retelling fairy tales right now. They are a riot. Here's the first one we did: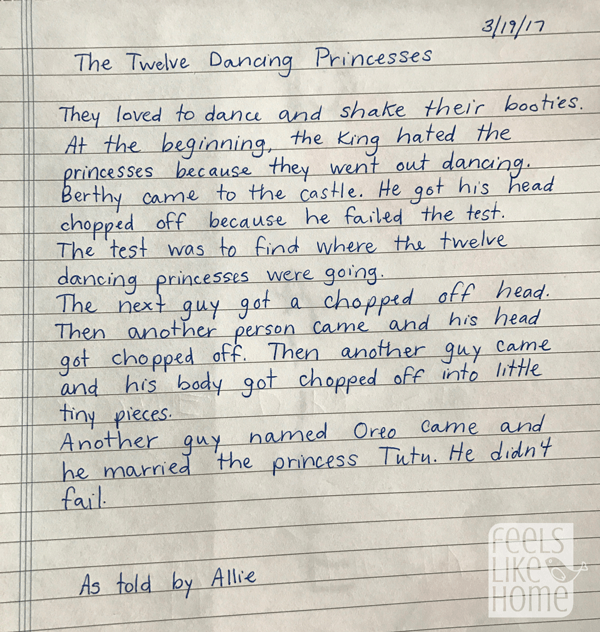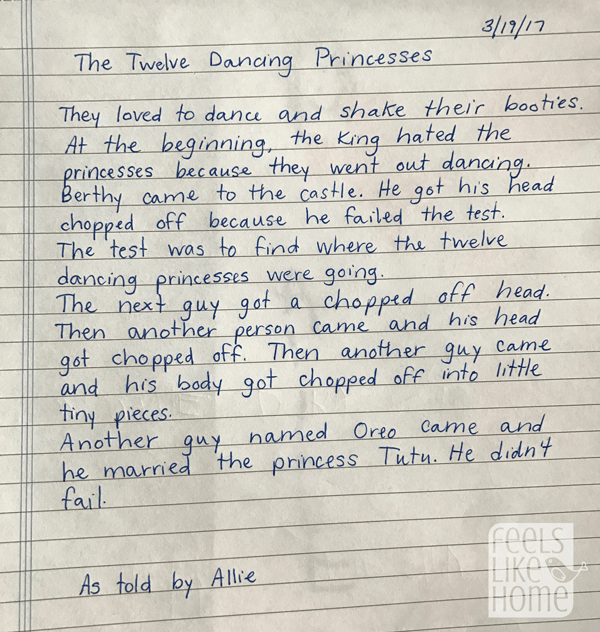 Math - I really like the Singapore Math method, and Allie really, really likes the Earlybird Kindergarten Math workbook that we have. I looked for the next level of that book which is simply called Primary Math. There are three versions and, after looking carefully at the scope and sequence for each one, I settled on the US version. Again, I went for Set B because I think Set A is going to be too easy for her. I got this set from Rainbow Resources because it was cheaper than anywhere else. We haven't started this yet but will as soon as she finishes the kindergarten book.
Music - Allie starts piano lessons in September, and she is very excited. She'll be using the books that Grace had when she first started, and I think getting her to practice every day will be no problem.
Art - I didn't realize how much Allie loves art until we received a copy of the First Grade art curriculum from Home Arts Studio. I had used Lindsay Volin's art programs with Grace way back when, but she grew out of them, and I hadn't given it another thought. She reached out to me to see if we'd like to do another review, and I said yes. The very day we received the box full of materials and the DVDs, Allie popped it into the DVD player and got to work on the first project. She was so excited to do it and totally made it her own with all kinds of modifications. She is excited to do the next one already, and I think we'll probably breeze through the whole DVD in less than a year.
We are also doing once weekly art lessons with the online Waldorfish curriculum. They are a little advanced for Allie; I had initially gotten them just for Grace. But after Grace did the first lesson and Allie saw it, Allie wanted to go along with it. So they're both doing it for now.
Science - As a former high school science teacher, I am very particular about our science curriculum. (I do not have time to create my own curricula from scratch. It's a great idea, and I know I could easily do it, but with working full time and blogging and finding time for actually doing homeschool, I just don't have time to do it myself.)
This year, we are trying out Science in the Beginning by Dr. Jay Wile. He is both well known and respected, and my decision ultimately was due to the fact that every single lesson revolves around an experiment. My kids are both very hands-on, so experiments are critical.
My husband has promised to do Science in the Beginning with the girls in the evenings when I have an appointment, but it hasn't happened yet. Hopefully it will.
We are also using Layers of Learning this year, so the girls are getting a double dose of science this year. I really really love Layers of Learning. I found it because I was looking for an experiential history curriculum, and this is history, science, geography, and art appreciation. The curriculum includes a little background information for each subject, a book list, and a very long list of hands-on activities that could possibly go with it.
I have paired up a Layers of Learning unit with each of our 6 terms this year. We'll read the books during Power Hour (our afternoon version of Morning Time) and do the activities in the evenings after work.
We also scored a free subscription to Mystery Science. If I can get the girls interested in it, we will dabble in that as well. I tried to do one lesson with them, but they weren't really into it.
History - See Layers of Learning in the Science section above.
Geography - See Layers of Learning in the Science section above.
Physical education - We go for a walk every day, plus Allie is in cheerleading, ballet, and tap dancing.
Bible - Allie is still doing the Beginner lessons of The Bible for All Ages curriculum when we have time to squeeze it in which is not very often at all.
Extras - We purchased Kids Cook Real Food last year and started working on it. The kids LOVED it. They would watch the lessons over and over, and I still hear Katie's terminology in the kitchen now almost a year later. We liked it so much that we bought the KCRF curriculum and recipes in book form earlier this year. If you consider nothing else from this list, go for Kids Cook Real Food! It's been a big win for our family, even for my reluctant learner.
Morning Time/Group Time - As I mentioned in my post on organization & planning, I am working through Pam Barnhill's Your Morning Basket Guide right now. I plan to add that into our day and call it Group Time since we'll most likely do it in the afternoon after my work day is finished. The purpose of Morning Time is to add things into your homeschool day that are good, true, and beautiful and that would otherwise get missed in a day full of academics. I am hoping to eventually add in all of the following on some kind of rotating basis:
This sounds like a whole lot, but I promise that it isn't. We spend maybe 30-45 minutes on Allie's independent work daily, and I expect that we'll spend about an hour on Group Time. So that's a max of 90 minutes to 2 hours daily on first grade. I think that's more than enough especially when you figure in piano practice, dance classes, cheerleading practice, our daily walks, and all the other extras she's involved in.