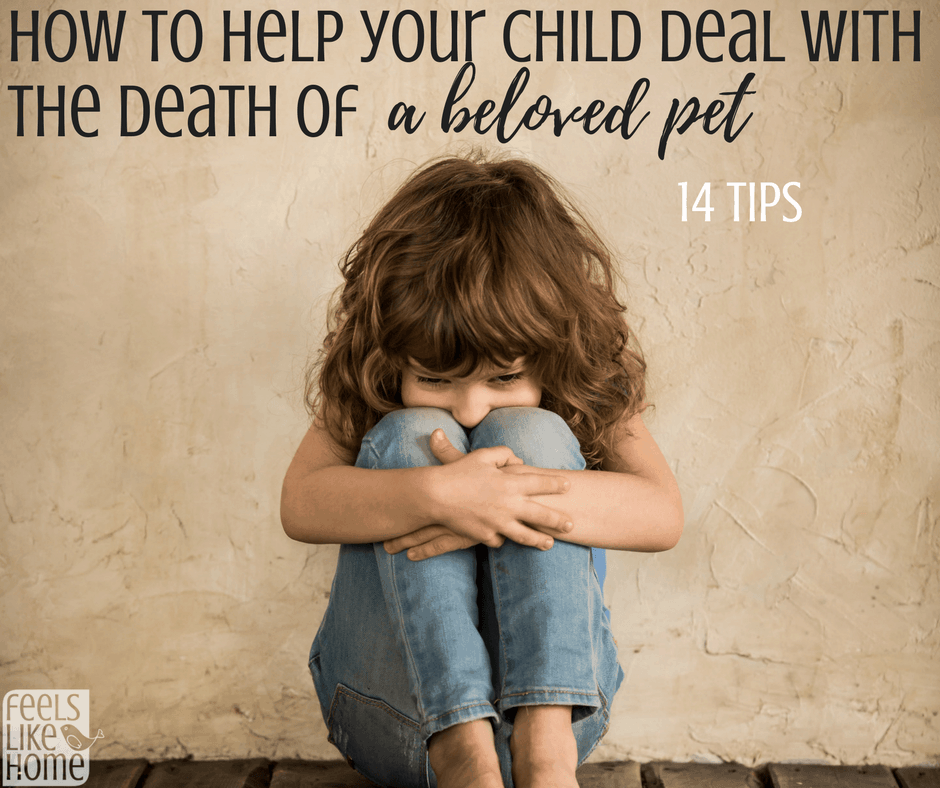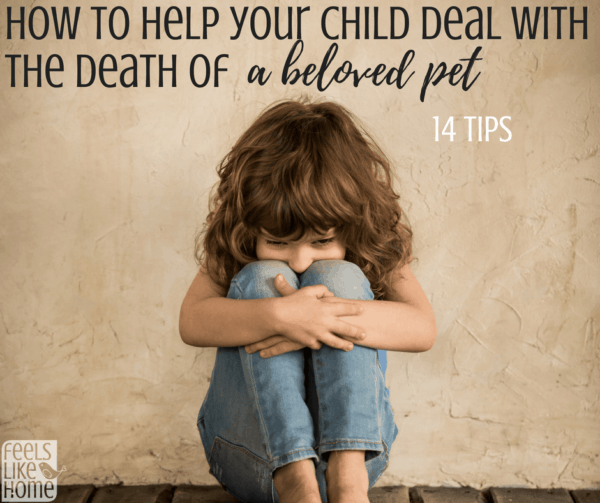 Pin
Last year in September, my beloved cat Sammy died. He was over 15 years old and had been with me since before I met my husband.
My kids both adored Sammy because he was gentle and friendly. The fact that his previous owner had had him declawed was a bonus for them as he never scratched them even when he deemed the kids to be too rough.
Sammy's death was difficult for all of us, but he was old and had lived a very long and very happy life with us, and we were able to appreciate that.
Every time I have lost a cat in my adult life, I have immediately gone out and replaced him with a kitten. Some people disagree with my methods, but I think it helps us immensely to refocus ourselves on a new joyous life instead of the big hole left in our hearts.
When Sammy died, we had a new kitten in 24 hours. Henry, the new kitten, was adorable, of course, but he was very shy and hid in the closet for three days. Afraid that this kitten was not going to be what we needed, a week later, I went back to the shelter and brought home a second kitten.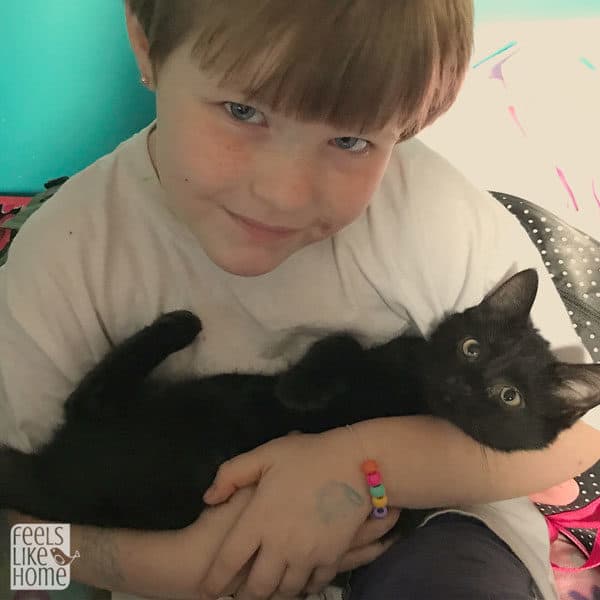 Pin
The second kitten, named Nittany after our college's mascot, was amazing. He was bold and outgoing and friendly. He wanted to be in the middle of the action, whatever anyone was doing. He loved being held upside down like a baby, having his belly scratched. He purred constantly, a loud rumbling purr. He wanted to be held most of the time, and the kids were overjoyed that they could pick him up, haul him around the house, and he never jumped down or ran away.
Nittany was an instant hit with our whole family (except for my husband who dislikes cats, but that is another story).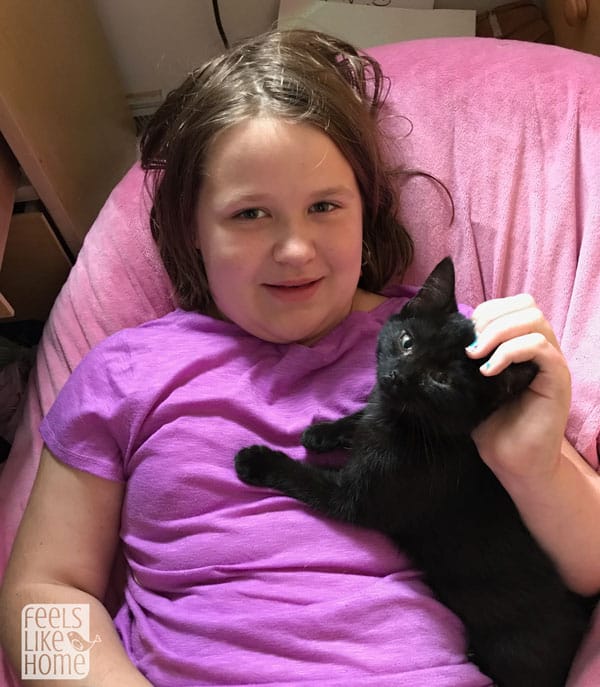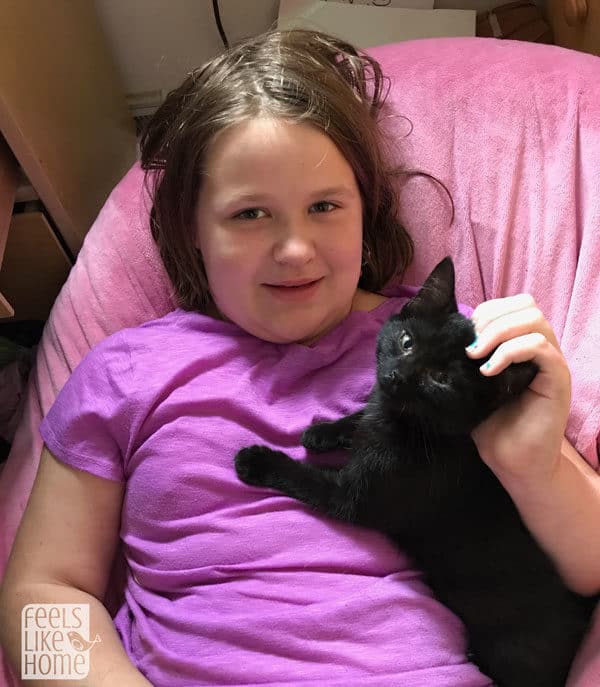 Pin
Nittany was mischievous as most kittens are. He somehow got under our dishwasher and scared the daylights out of my sister when she was cat-sitting. He climbed people's legs. He drank out of my water glass every time I set it down and taught all our other cats to do the same. He chewed all the Post-It notes on my desk and knocked the pens and pencils off onto the floor as he pranced around in all his glory.
The only problem with Nittany was that he died at 8 months old, just last week. It turns out that he had feline infectious peritonitis or FIP, an untreatable and fatal illness passed on from his mother in his early days.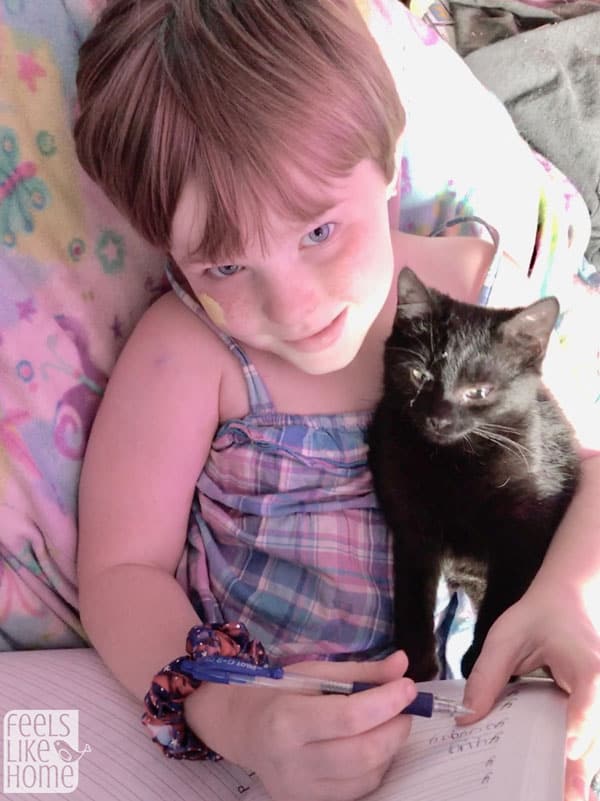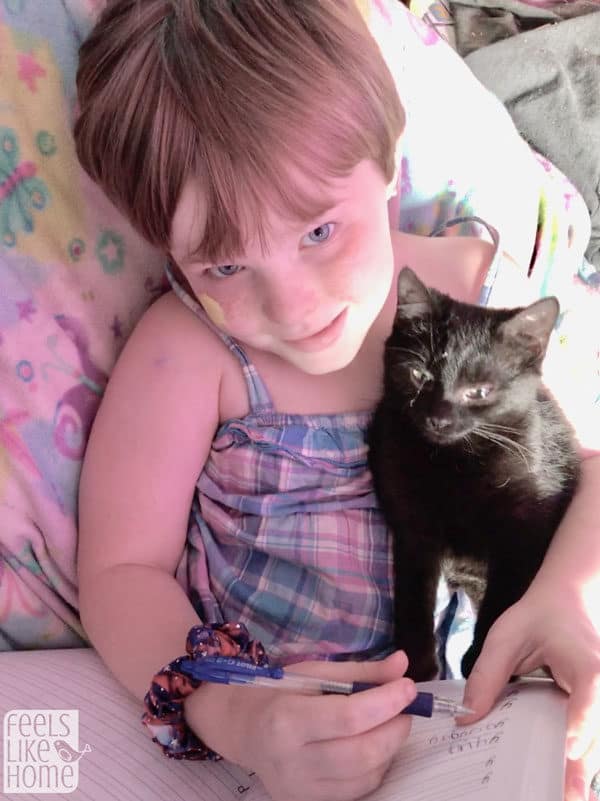 Pin
We had no warning at all. I took him to the vet because he had a snotty nose and was a little lethargic. I expected to bring him home with an antibiotic for his respiratory infection, but instead brought home an empty cat carrier and a set of Nittany's paw prints forever preserved in clay.
To say that my girls and I were devastated would be the understatement of the century. We have cried for days. Nittany had been a constant companion, a listening ear, an overflowing source of love and acceptance, and an eager playmate.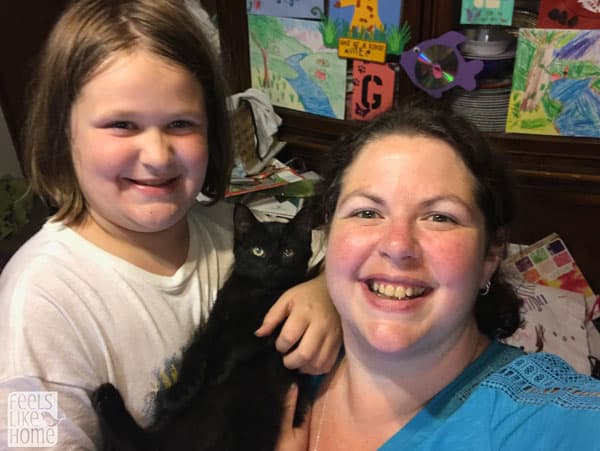 Pin
I could say the same thing about Nittany that I said about Sammy earlier, that I know he lived a very happy life with us, but it was different with Nittany. He was only with us for six months. 151 days. His time was painfully too short.
Nittany was our 5th cat, the bonus kitty that we didn't really want but felt we needed because Henry was so shy. Because we still have 4 cats, I made the incredibly difficult decision not to get a kitten this time. (I've always had 4 cats, and I like having 4 cats. I also wanted to have 4 children, but that is a matter for another blog post.)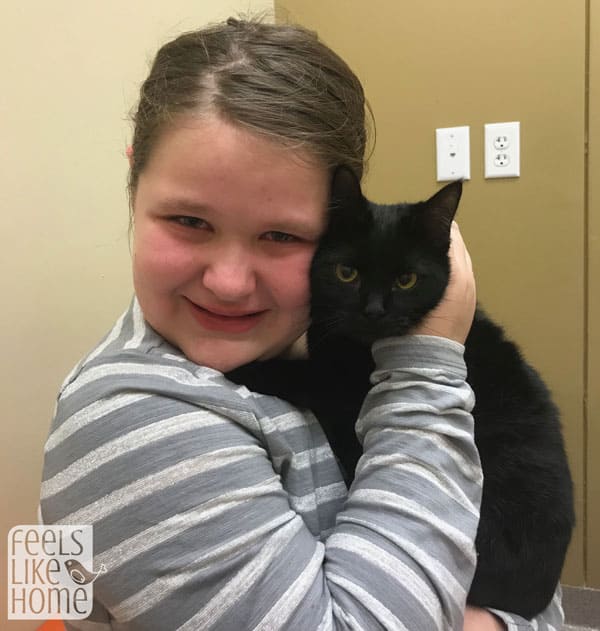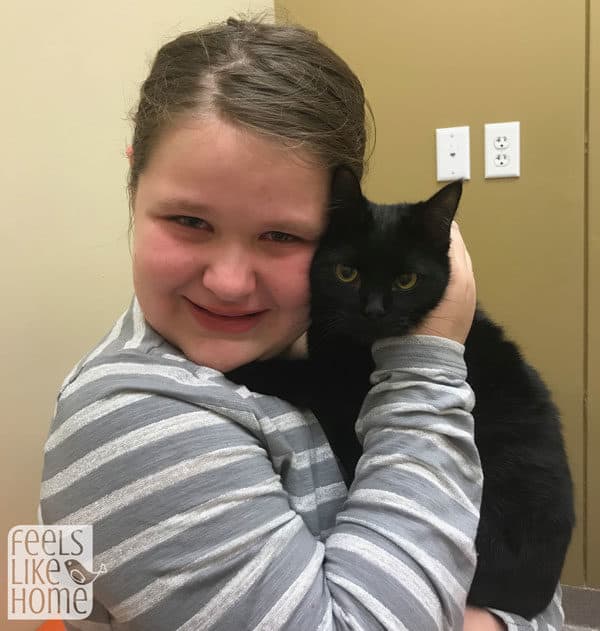 Pin
My girls are processing their grief in very different ways. 10-year-old Grace wanted to be with Nittany when the vet euthanized him. She caressed his head and cooed to him and alternately cried and wailed. 7-year-old Allie left the room and talked to the vet's receptionist about death and dying. She didn't want to see Nittany again at all.
In the days since Nittany's passing, Grace has mostly held it together, but she cries for hours at night. In a pattern I know so well, she puts on a strong face for the world, but she is hurting deeply inside, and that comes out only in the dark.
Allie has been very different from Grace. Allie is angry. She is not angry at Nittany; she is angry at the whole world. She has been violent, punching and kicking me and her sister and her dad. She asked me last night in the dark, "I feel like I have a hole in my heart, but I don't know why. Why do I feel so bad?" This afternoon, she laid in my office and wailed, "Why did he have to die? I miss him so much and I don't know what to do!" She is feeling intense feelings that she's never experienced before. I affirm her feelings, and the tears start flowing again. She cries about the unfairness and how much she hurts and how she doesn't understand the world.
I think one of the hardest things that a mother can do is to watch her children hurt. I am sad for myself and my kitty, but my heart breaks for my children. There is nothing I can do to assuage their pain (except maybe get a kitten, but I don't think that's prudent right now). I can just be there with them, talk to them, affirm what they're feeling, and help them ride out the terrible, horrible, awful, very bad stroke of luck we received.
Your kids, as they process the grief of losing a beloved pet, will likely not be the same as my kids. Hopefully you will not get punched in the face. You will see their grief manifest in different ways, but I promise you, it will come out. You will see it in their behavior, even if they don't cry much or don't want to talk about it.
Here are some ways to help your child feel the feelings and get through their grief.
Be honest and direct. If your child doesn't already know that her pet has died, you have to tell her in clear, direct, and honest language. Don't tell her that he want to sleep forever. That will make her afraid to go to sleep or make her think he's coming back. I know it's not Biblical, but we talk about our pets going to live with Jesus in heaven just like we talked about Grandma going to live with Jesus in heaven. (Side note, Grandma died when Allie was just 2, so she knows that Grandma is gone, but has no memory of her or when she passed. Just in case you were wondering when I said this was the first death that Allie has really processed.)
Answer her questions. When she asks about heaven or the death or the sickness or the injury, answer as honestly and directly as you can - but still be sensitive to the level of detail that is appropriate. Younger children don't need details, they need just the basics. Older ones can handle a bit more information. In our case, both of my kids thought that Nittany had water in his stomach (the vet said fluid in his belly), and they couldn't understand why that was a bad thing. We had to talk that through.
Frame a picture of her pet. The week before our Nittany died, my girls' photo with him appeared in the local newspaper. I had taken dozens of pictures of him with us because he was always close by, and I had a picture of each of my girls with him printed a local photo center. I gave those pictures to them in 4x6 frames and told them that they could put the frames up wherever they wanted.
Create a photo book together. Photo books are so quick and inexpensive these days. The process of choosing photos and assembling them into a photo book will be painful but also really helpful as she works out the grief she is feeling. Then she'll have that book full of happy memories to look at when she's missing her pet. We made one for our sweet Nittany, and I found codes on Swagbucks for free extra pages in the book plus 40% off, so the books (one for each girl) were very affordable.
Encourage her to talk about her pet, but don't force it. My therapist says the only way through grief is through it. You have to experience it and feel the feelings. Talking helps grief, whether you're talking about losing grandma or talking about losing a pet, but trying to force an unwilling kid to talk about pain is only going to make her shut you out more. Be there, be sympathetic, but don't push too hard.
When she does talk, validate her feelings. Use phrases like, "That must be so hard for you." and "It sounds like you're saying..." so that she will know you understand where she's coming from. Make her feel warm and supported and heard.
Don't minimize her feelings. It may be tempting to say, "But remember all the good times we had." when she's crying her eyes out, but that will give her the message that she shouldn't be sad right now. Let her be sad and lonely as long as she needs to be, and remind her of the good times at a less raw moment.
Read books about losing a pet. When Sammy died last year, I shared a list of 10 beautiful picture books on the loss of a pet. I bought a number of them then, and we have been reading them. My current favorite is Cat Heaven.
Have someone send a sympathy card. My vet's office sent us a sympathy card which was so thoughtful and unexpected, but it is so important. Even though your pet wasn't a human being, he was a huge part of your child's life. She has lost someone who was real and true and a source of unconditional love, and she is hurting. If your vet's office doesn't send a card, have a grandparent or friend send one. It will mean so much to your little one to know that her special friend - and her own pain - is seen by someone outside the family.
Allow her to tuck something away from her pet. Maybe she wants to keep the pet's blanket or ball or favorite toy in her sock drawer. Give her this, and allow her to keep the memento wherever she wants for as long as she wants. Our vet gave us a tiny vial of Nittany's hair which I gave to Allie. She has it tucked into her special drawer, and she takes it out every day and looks at it and cries. I'm sad for her, but I am glad that she's staying in touch with her feelings.
Buy a stuffed animal. My kids love Build-A-Bear Workshop and always have. I have been thinking about taking them there to make a cat that represents Nittany so that they'll have a permanent Nittany to hug and hold when they're lonely or missing him. I did this when my first kitten died, and it helped a lot.
Help them to say goodbye. The worst part of Nittany dying, for me, was the unexpectedness of it. We were caught completely unaware. But Grace and I did get to say goodbye as he slipped away so peacefully. Allie didn't, and I wonder if that's some of her trouble now. I helped her to write him a note that I tucked inside her baby book saying goodbye to him. It was a sweet and very sentimental note where she told him that she loved him and always would. It makes me cry just to think about it. Your little one may want to write a note or draw a picture, but a final word to her deceased pet may put her mind at ease. If you buried your pet, you could perhaps fold the note up and bury it nearby.
Have a special date. Do something special as a family. You could label it a celebration of your pet's life if you want to, but you don't have to. It could just be something fun and exciting you do together as you heal. I haven't thought of the right thing for us to do yet. I thought Build-A-Bear would be it, but the more I think about it, I think that will just be sad. Maybe we will go shopping and have some retail therapy. Or maybe we'll go to a movie. I'm not exactly sure, but I am planning something special for next weekend, a nice fun diversion to get our minds off of our missing buddy and onto some fun memories together.
Set a good example. Let your children see you cry and grieve for your special friend. It's okay. It's beneficial for them to see you experience strong feelings, deal with them in a positive and healthy way, and eventually move on. They will follow your example and work through their feelings and come through it on the other side stronger human beings.
Saying goodbye to a beloved friend is never easy, whether he was a part of your life for six months or sixteen years. It hurts.
It is totally normal for kids, like adults, to mourn for varying lengths of time. Some may need a day or two, others may need weeks. Continue doing what you're doing - listening, validating, understanding, and hugging - for as long as they need.
At the same time, don't use grief as an excuse for bad behavior. You better believe that Allie experienced consequences to her punching me in the face, even though I knew the reason behind it was completely legitimate. Strong feelings are allowed. Hurting people is not allowed.
As with Allie, this death might be the first experience of its kind for your kids, and they will likely not know how to handle the strong feelings. You will have to guide them through with grace and compassion and while working through your own grief.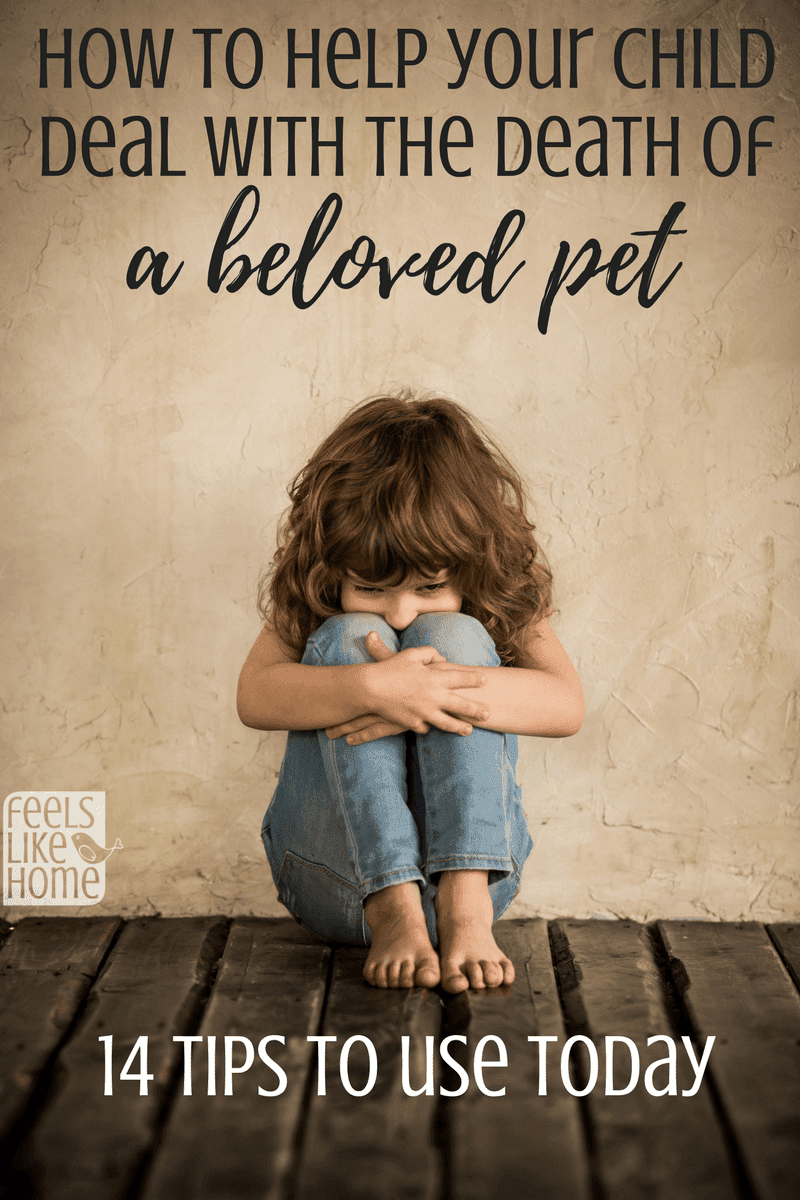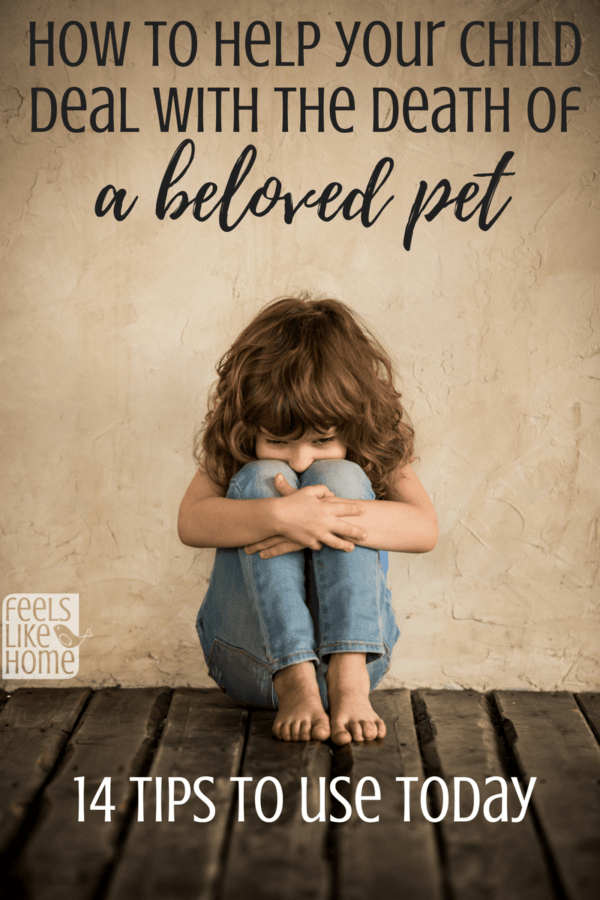 Pin