This printable food tracker teaches kids healthy eating and healthy living concepts in a gentle way. Print and laminate and help them to complete it nightly to see how they can improve their food habits!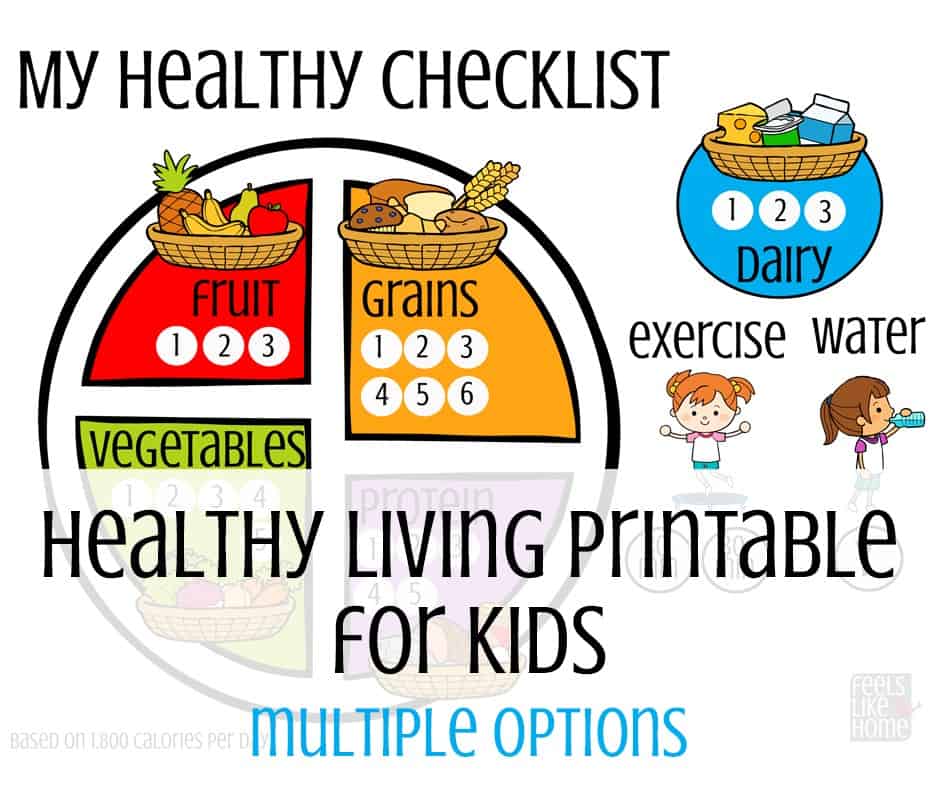 On August 5, I stepped on the scale and discovered that I had lost exactly 100.0 pounds since my surgery on April 6 (actually, I count my weight loss from March 29 when I started my pre-op liquid diet, but still same time frame). I have seen tremendous success with my own personal habits, and I want to see my husband and kids improve their personal habits as well.
I have written about kids and healthy eating a couple of times this month, so if you haven't already, go back and read Reward with Food, Punish with Food: 11 Tips for Preventing Childhood Obesity and How to Help Your Kids Eat a Healthy Diet - 5 Tips from a Registered Dietician. There's a whole lot of good stuff in those two, especially if you're struggling with using food as rewards ("You can have dessert if you eat all of your broccoli.") or if your kids are super picky eaters like one of mine is.
I am in super Photoshop, print, and laminate mode in preparation for our upcoming homeschool year. We technically started on July 24 (don't pity my kids - we take a lot of breaks during the year), but we have eased into it and haven't started all the subjects yet.
One of our primary focuses this year for our homeschool is developing and learning about healthy habits like good nutrition and getting plenty of exercise.
When we visited the registered dietician in July, she gave us a couple of handouts for the kids to fill out every day. They came straight off the MyPlate.gove website, so you can take a look at them if you'd like.
There were two big problems with these checklists:
She assumed my kids were highly active, which they are not. This is an area of focus for me, but they are lucky to get 30 minutes of exercise a day. This means they need fewer calories than kids who get 60+ minutes of exercise daily.
The spaces on the forms are tiny, and neither of my kids is able to record her food choices in those spaces.
Other than those, the checklists were good. They provide a ton of very useful information, and allowed me to track the girls' nutrition by the day.
Unfortunately, having me track the girls' nutrition does nothing to teach them to be healthy and independent. I want them to take responsibility for healthy choices, not to rely on my constant direction.
So, being the resourceful person that I am, I grabbed some clip art from Etsy and made my own charts for the girls.
Initially, I had a lot of extra information on the chart including how much of each food group makes up a serving, but Grace said it was overwhelming to her, so I took it all off. I have included those in a separate printable below to help you. You could print it and attach it to the back of the chart for easy reference.
What does 3* mean for dairy?
You will notice on the 1,200 calorie chart that dairy says 3 servings but the third has a * next to it. This means that dairy for this age group should have 2-½ servings per day or 2-½ cups of milk, not a full 3.
How to prepare the food tracker for kids
I printed these charts on my printer's best settings and then laminated them using this laminator (which I LOVE and use at least once a week!) and these laminating pouches which are perfect because they're 9 x 11.5, big enough to put a full-sized sheet of paper inside.
I also go these dry erase markers and these wet erase markers so that the kids would have a choice of which to use each night.
How to use the healthy living chart for kids
My plan is to have these charts attached to our refrigerator with magnets. Each night after dinner, I will get them down with our markers, and I will help each of the kids to estimate what she ate.
According to our dietician, it's not as important to cross out every circle as it is important to have a balanced day that includes about the same amount from each food group. In other words, it's okay to only eat half of your fruits as long as you only ate about half of your veggies, grains, and proteins.
You should never try to coerce your kids to eat more just to cross out the circles on their chart.
Also, it is okay to have an unbalanced day or even a few unbalanced days, as long as you even things out within a week or so. It's best to eat a balanced diet every day, but there's no harm in having mostly fruits and proteins one day and mostly grains and veggies the next day, as long as you get the right amount of foods in a several day period.
Some other tips from the dietician and the MyPlate.gov site:
Kids should limit sodium to about 2,000 mg per day.
Kids should limit saturated fat to about 20 grams per day.
Kids should limit added sugars to 45 grams a day. (This is tricky! Fruits and vegetables don't count in this total unless they're packaged in syrup.)
I left these off the chart because really, what 6-year-old cares about sodium and added sugar?
Why teach kids to use a food tracker?
As a bariatric patient, I will count calories of everything I eat every day for the rest of my life. My bariatric nutritionist tells me that all successful weight loss patients (through surgery or other means) track their food forever to make sure they aren't reverting back to bad habits and overeating.
I know that some people don't have to do this. Some people are naturally thin and learned from their parents how to eat healthy and stay that way. I didn't. My kids didn't. For this reason, we need to track our food to learn better habits and make sure we're eating appropriately.
Maybe when they're a lot bigger, and they have really internalized what a healthy diet looks like, we might relax on filling out the food tracker. But for the time being, I think it's important that they physically see how much they're eating and how it compares to what they're supposed to be eating.
For more classroom & homeschool learning content, check out the Learning Index.