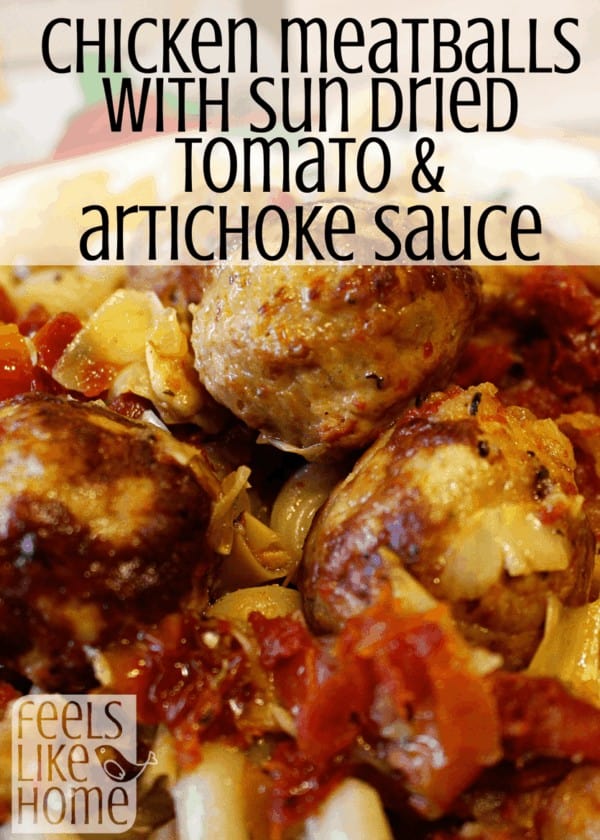 I don't eat most of the foods that I ate before my surgery. Pasta, bread, rice, potatoes, all sugars - all out. I eat mostly meat, eggs, and tofu with a few bites of soft veggies if I still have room. Some meats still make me nauseous, but my repertoire is slowly expanding.
When I was first on a "normal" bariatric diet, I was having tremendous difficulty eating. Every single thing I ate made me feel so sick that I couldn't imagine eating again a few short hours later. She told me to try some meatballs - a few bites at a time - and see what I could tolerate.
That plan worked well, and Joe and I found some yummy sun dried tomato chicken meatballs for a little variety. We threw this sauce together and meant to top it with some feta cheese, but we were so hungry and excited for the tartness of the sun dried tomatoes and artichoke hearts that we completely forgot about that until we had already finished our dinners.
Of course, our picky children did not touch this meal, but I loved it and ate it for lunch several more days in a row.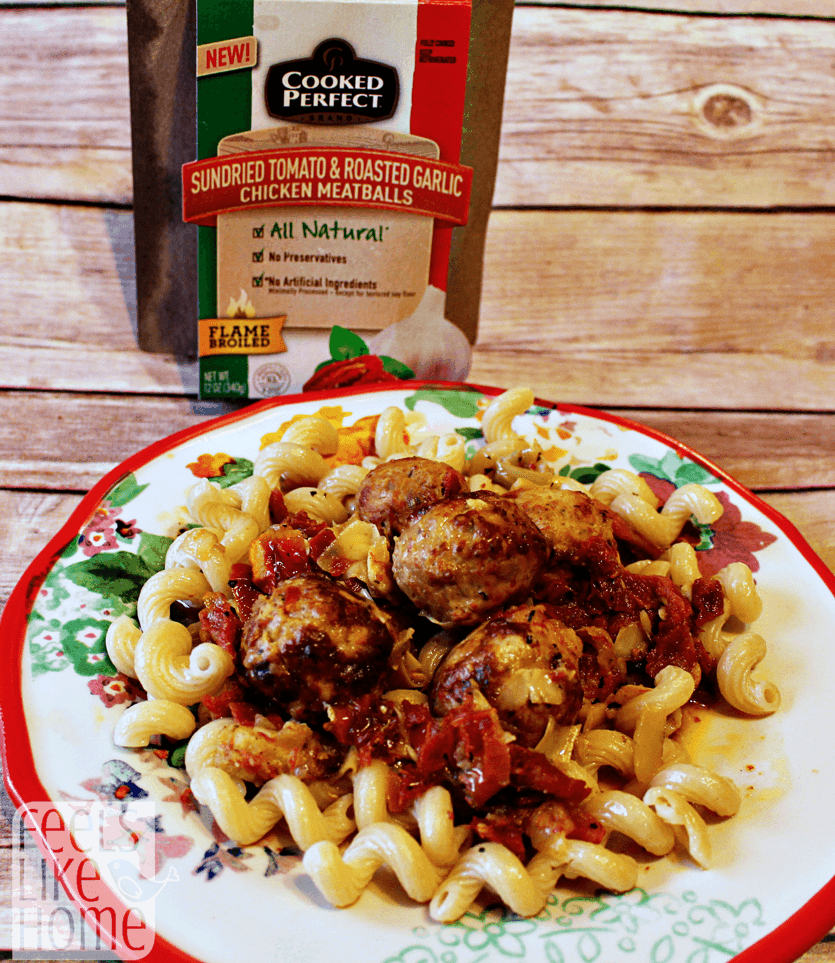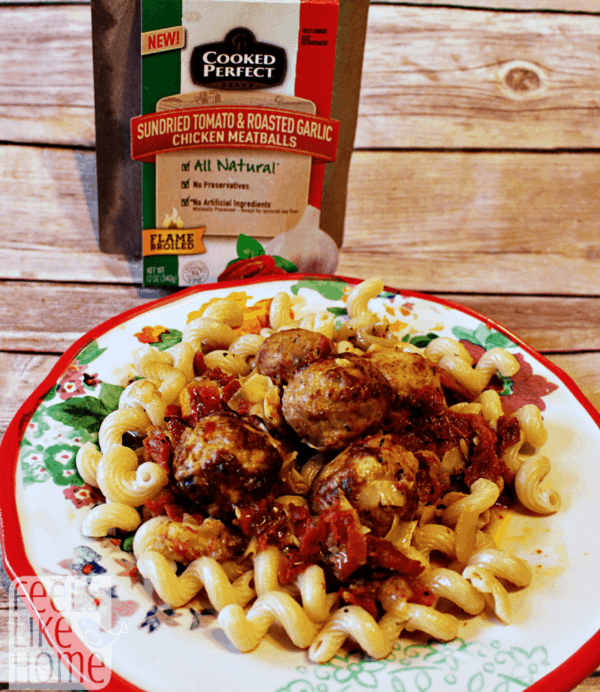 Recipe
Cooked Perfect® fresh meatballs come in a convenient microwave pouch and can be heated that way if you don't want to heat them on the stove. Super easy!
I ate four meatballs with plenty of sauce on a dish. Joe ate his over pasta as pictured.
Cooked Perfect Fresh Chicken Meatballs made this dish come together quickly and easily, perfect for a weeknight when time is short. Because they're refrigerated, not frozen, they heat quickly once you add them to the sauce. While the sauce is simmering, you can cook the pasta, chop salad for a side dish, or enjoy a glass of your white wine!
Cooked Perfect fresh meatballs come in four flavors: Italian Style Beef & Pork, Korean Style BBQ Beef & Pork, Sundried Tomato & Roasted Garlic Chicken, and Italian Style with Parmesan & Mozzarella Chicken. Stay tuned for a recipe using the Italian Style Beef & Pork later on in June!
Cooked Perfect Fresh Meatballs are crafted using choice meats, real cheeses, and savory herbs. You can't go wrong with any of the flavors and, as I said above, they make weeknight meal preparation a breeze!
Find a store where you can buy Cooked Perfect Fresh Meatballs.
Save $1.00 on your next purchase of Cooked Perfect Fresh Meatballs.
Find Cooked Perfect Fresh Meatballs in the refrigerated meat and poultry section - not in the freezer!
This is a sponsored post written by me on behalf of Cooked Perfect® Meatballs. All opinions are 100% mine.