My belly is pink, Dear Reader.
This past Sunday, I was trying out a recipe for bath paint, and I was stained. The staining appears to be permanent. Gracie Anna is stained, too, thanks for asking.
Fortunately, our skin cells will not live forever, and our bellies and legs will return to their normal color in a week or two. I hope.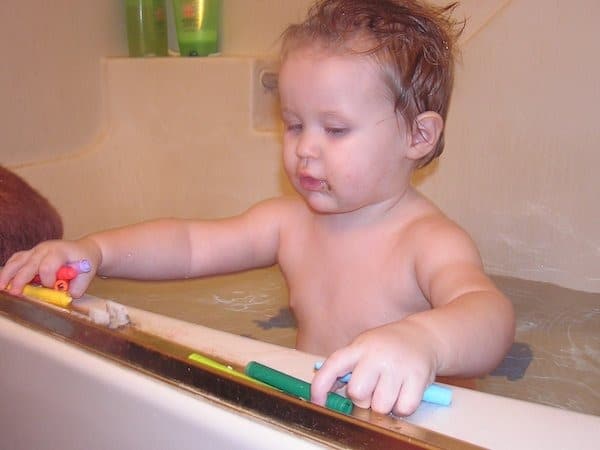 Pin
At any rate, the bath paints were super fun, and my friend at KaNani Essentials is sending me some organic bath paints that are guaranteed not to stain.
But you aren't looking for bath paints, you're looking for bath crayons, like the ones I used to color Joe and Grace uses color on the sink. We've been making those, too.
Homemade Bath Crayons
Ingredients:
1 bar Ivory soap
Warm water
Food coloring
Instructions:
Grate the bar of soap. You'll need about 1 cup of soap shavings. I use Ivory because it's very mild. It's what Grace's dermatologist recommended, and it's what we use at home. Unfortunately, there isn't a short cut to the grating, unless you use a food processor. You can't use detergent or powdered soap. They're too harsh.
Add food coloring and warm water, a few tablespoons at a time, to the soap shavings and mix until it forms a thick dough. You can add more water or soap shavings to get the right consistency.
Once the dough is firm, you can shape it into crayons by hand or press it into candy molds. I made ours into little cigars so that they'd be easy for Grace to handle.
At this point, you can leave the crayons out to dry and harden. Amy from MomAdvice puts hers in the freezer for 10 minutes or so, and then leaves them out to dry after that.
Notes:
You probably want to test the crayons on your bathtub and other surfaces before you unleash the children with them. Make sure they rinse off.
Ditto with your skin. I learned that one for you.
I found some neon food coloring at my grocery store that is splendid. I love it.
If you want to make your crayons different colors (as opposed to all one color as in the instructions above), you can separate the soap shavings into smaller chunks, and mix each with water and food coloring to get the right consistency.
If you're interested, you can get real crayon-shaped molds at the craft store.
When you're all done, take some pictures! I'd love to see them.