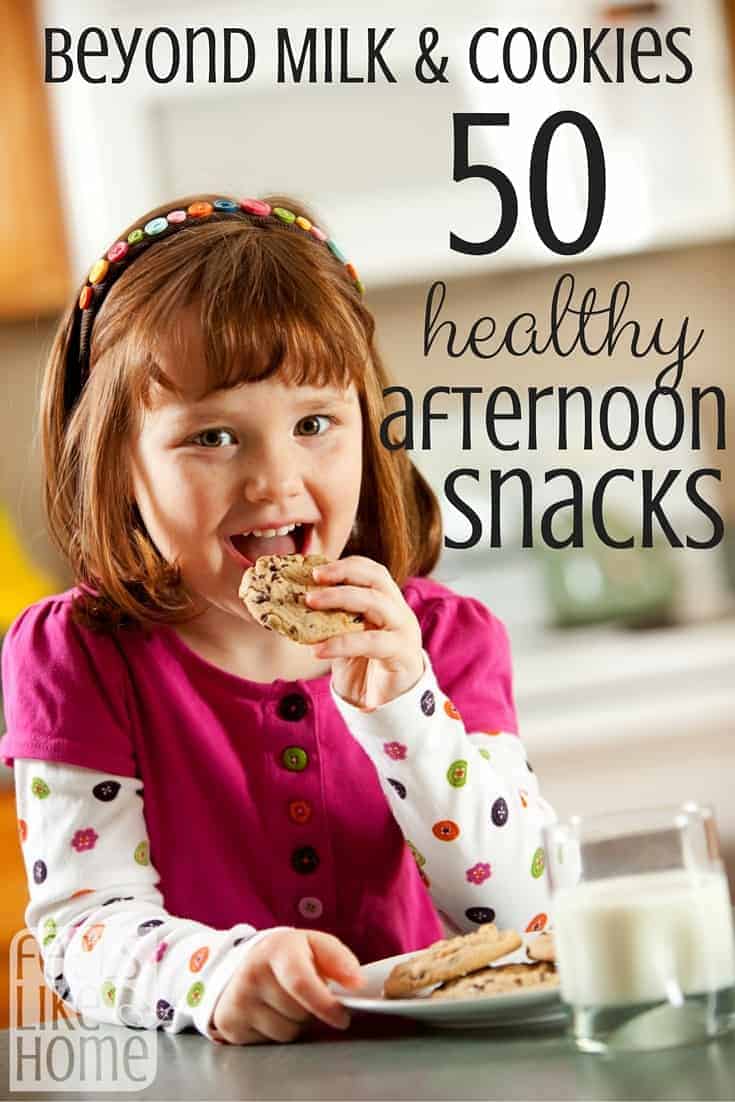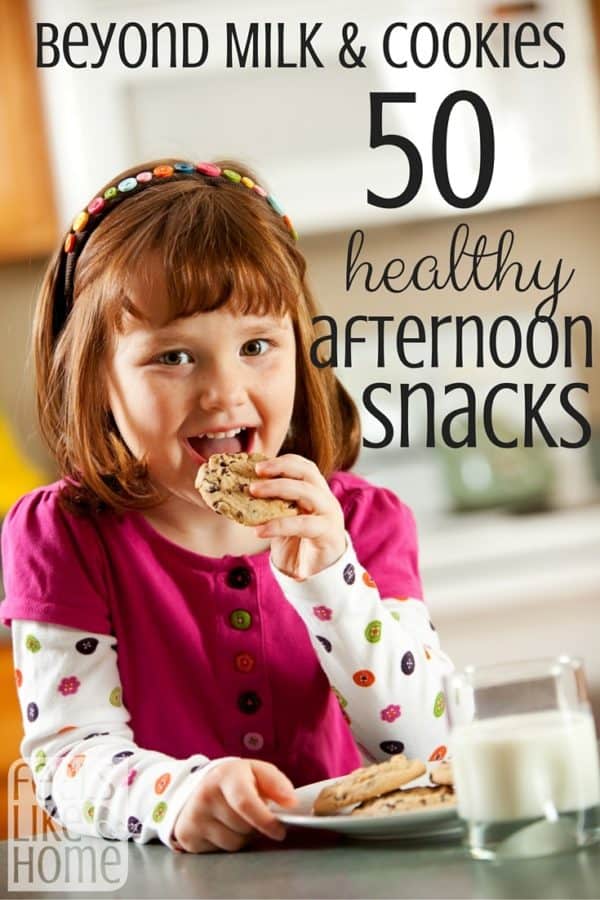 Pin
Even though we homeschool, my kids hit the mid-afternoon slump just like everyone else's. There's that point in the afternoon when all they want to do is lay around and watch tv.
Because they're hungry and thirsty and don't realize it.
So we do afternoon snacks, just like other families do after-school snacks. It's the same idea.
The key to a good afternoon snack is a source of protein. Whether you include nuts, eggs, dairy, or meats, the protein is key to filling their bellies and getting them back in the mood to play.
Tyson® Anytizers® snacks are great for afternoon snacking because they are packed with protein. These all-white meat chicken bites come in several delicious varieties, all offering simple preparation. Simply heat and serve!
Here are some of our favorite afternoon snacks:
A cheese stick with a piece of fruit
Apple or pear slices with peanut butter
Tyson® Buffalo Style Boneless Chicken Wyngz* - Anytizers® snacks dipped in ranch dressing (My kids love buffalo chicken anything! They beg to have buffalo chicken dip for dinner even.)
Fruit with dip (To make an easy dip, combine 1 cup Greek yogurt with 2 tablespoons each brown sugar and lime juice, sprinkle with cinnamon sugar)
Granola bar
Tyson® Honey BBQ Chicken Wyngz Anytizers® snacks with a glass of apple juice
Ham roll-ups (Take a small tortilla, spread with Miracle Whip, top with a slice of cheese and a slice of ham. Roll up. Optional - slice it into pinwheels.)
Graham crackers with peanut butter and thin apple or pear slices
A handful of toasted almonds with a glass of milk
Tortilla chips with fresh guacamole
Tyson® Popcorn Chicken Anytizers® snacks with honey mustard for dipping
Nutella drink with a piece of fruit (Mix 2 tablespoons Nutella with 6 ounces of milk. When well-blended, pour in 4 ounces of cold seltzer.)
2 fig bar cookies with toasted almonds
A handful of honey roasted peanuts with a few chocolate chips mixed in (This is a rare treat, obviously not an everyday snack.)
Tyson® Homestyle Chicken Fries Anytizers® snacks with honey mustard or ketchup for dipping
Pretzel rods with peanut butter or Nutella for dipping
Homemade peanut butter crackers with sliced strawberries in the middle
Homemade cheese quesadilla triangles
A cheese stick with black olives (bonus points if they're the colossal size that the kids can stick on their fingers)
Banana chips with a glass of milk
Apple chips with peanut butter for dipping
Half of a bagel with low fat cream cheese and a dusting of cinnamon
A hard-cooked egg (make perfect hard boiled eggs with these tips)
Frozen bananas dipped in chocolate and re-frozen (probably no protein here but they're really tasty)
Grapes with almonds
BBQ Chicken sandwich (Cut one slice of bread in half. Top with Tyson® Honey BBQ Chicken Wyngz* Anytizers® snacks, cut in half to make them flat. Add a slice of cheese and the other half of the bread.)
Applesauce and a slice of cheddar cheese
Mini pizzas made on English muffins
Trail mix
A small bowl of cereal with milk
Cheese cubes with honey mustard for dipping
Pickles with cheddar cheese
Feta cheese (My kids eat feta with a spoon. Anyone else's?)
Rice cakes with peanut butter and fruit on top
Rice cakes with Nutella and fruit on top
Cinnamon toast spread thick with butter (Does butter count as a protein?)
Cheesy bread (Put a thick slice of cheese on top of a piece of bread and put it under the broiler for 2 minutes, until it melts.)
A frozen Go-Gurt
Cottage cheese with apple butter
Cottage cheese with peaches or pineapple
A yogurt parfait (Layer their favorite yogurt flavor with fresh fruit and granola, then repeat the layers.)
Homemade instant pudding (It's made with milk, right?)
A scrambled egg with ketchup
Strawberries with Nutella for dipping
Graham crackers with Nutella for dipping
Tyson® Popcorn Chicken Anytizers® snacks with half of a frozen waffle (Chicken and Waffles are a real thing.)
Cucumber sticks and Tyson® Homestyle Chicken Fries Anytizers® snacks with ranch for dipping
Kid sushi (No fish involved)
Here are the girls picking up our latest batch of Tyson® Anytizers® snacks at Walmart.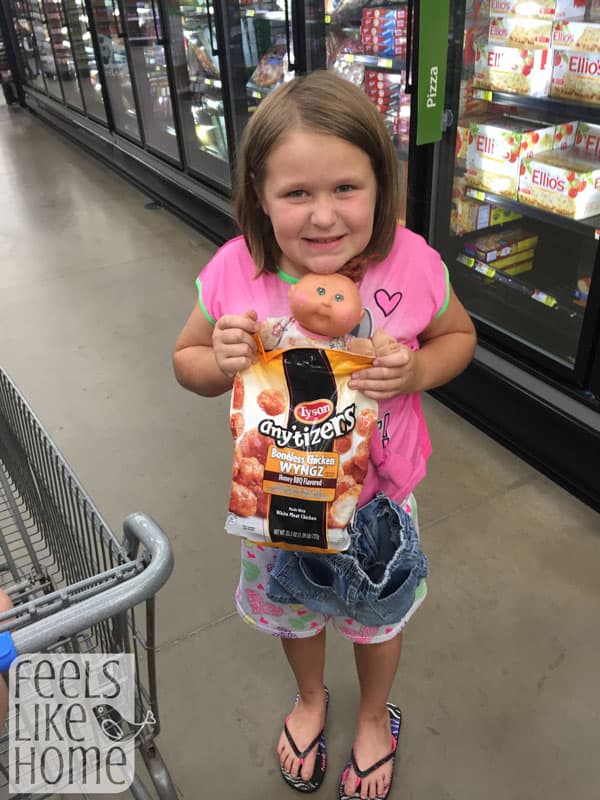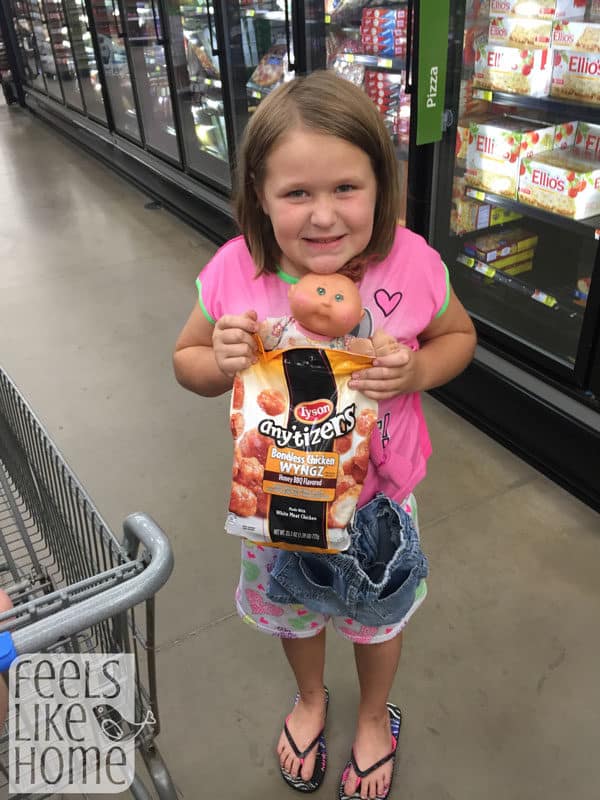 Pin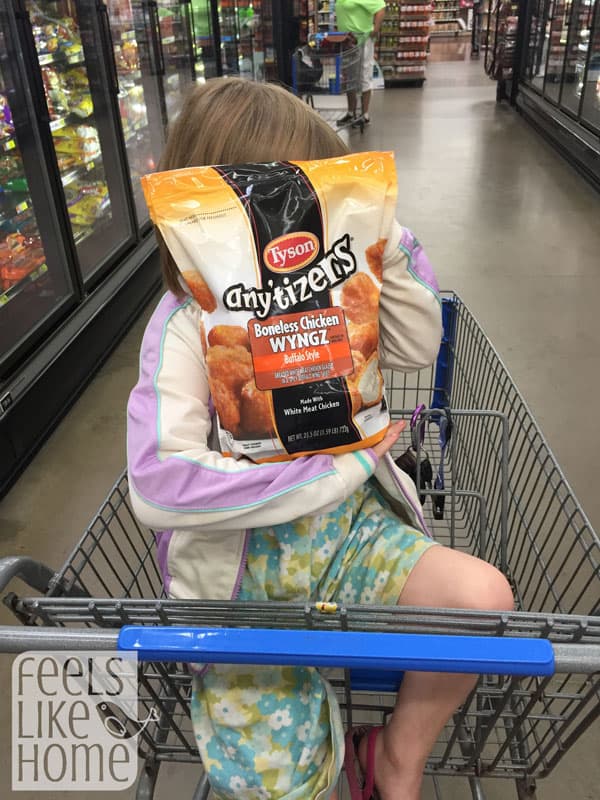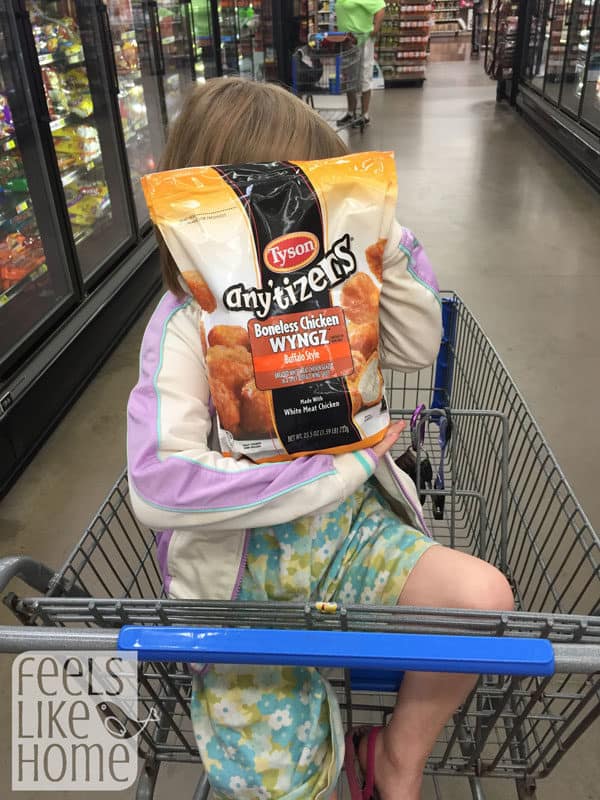 Pin
We buy Tyson® Anytizers® snacks because they are a quick, easy, and great tasting snack to have on hand. We also love that Tyson Project A+ will give back to our local schools and homeschool groups.
Tyson Project A+ is simple. All you have to do is clip the Tyson Project A+ labels from the back of the Tyson® products you already buy! You give them to your school, and the school can redeem them - for 24¢ a label. Those labels will add up quickly!
More products have Tyson Project A+ labels than what I've mentioned here. Check out the Tyson Project A+ site or Walmart's website for more details.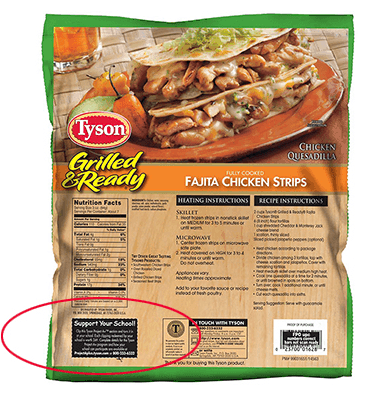 Pin
This is a sponsored conversation written by me on behalf of Tyson. The opinions and text are all mine.

Pin