Italian Meatballs with Golden Mushroom Sauce
June 27, 2017 •
By Tara Ziegmont
My dear sweet friend Robyn made a comment on one of my recent posts that she has trouble with nausea whenever she doesn't chew her food well enough. This got me to thinking about all of the trouble I've been having with eating – constant nausea after almost every meal – and I wondered if inadequate chewing was my issue.
So I tried chewing everything way more than I thought was necessary. Guess what! The nausea stopped! Chewing really was my issue, not my new stomach hating food.
Now that I have figured that out, my food choices have expanded dramatically. I have been able to eat (very small amounts of) steak, seafood, chicken, turkey, and ham. Yay!
I belong to a Facebook group for bariatric surgery patients that is very strict about eating habits and lifestyle changes in order to prevent future regain, and they advocate starting vegetables in very small quantities as soon as you're released to eat a normal bariatric diet. So I have been introducing cooked veggies and even ate a tiny bit of Olive Garden salad this week with no issues. Another big yay!
I am down 74 pounds since March 29, and I am very pleased with my progress. Thanks for hanging in there with me!
On to today's recipe. It is very quick and easy, has a high amount of protein, and tastes great! Joe and I both ate it for lunch the next day after we made it. There are lots of mushrooms and a thick, creamy sauce, so get ready!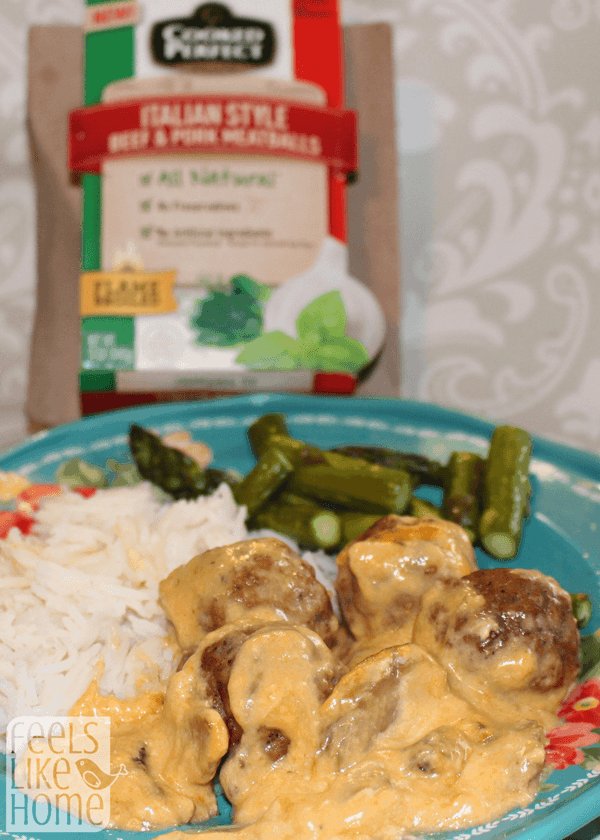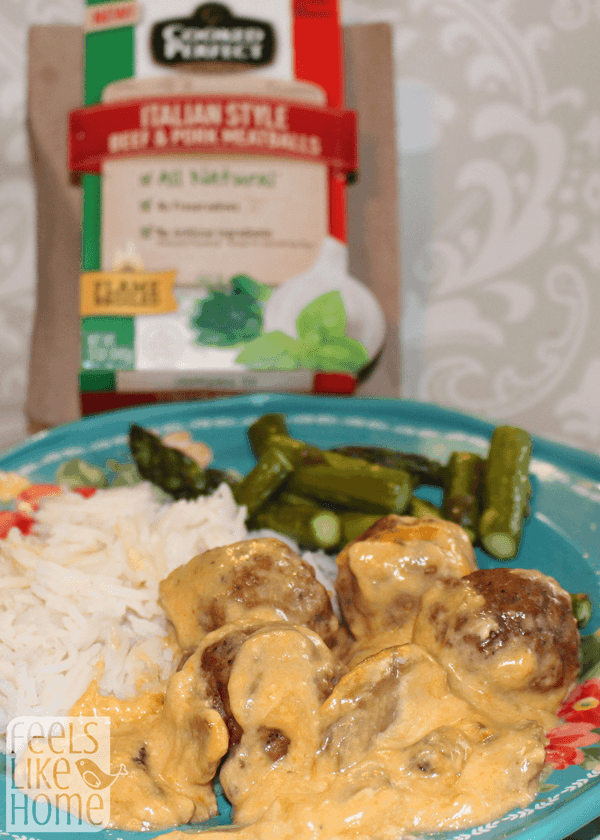 Italian Meatballs with Golden Mushroom Sauce
Ingredients
2

packages

Cooked Perfect Italian Style Beef and Pork meatballs

2

cans

golden mushroom soup

1

cup

Greek yogurt

plain

3/4

cup

milk

We used 1% but any milk will be fine.

4

cups

mushrooms

sliced

2

cloves

garlic

2

teaspoons

onion powder
Instructions
The meatballs come in a convenient microwave pouch, so take advantage of that and microwave them.

Combine remaining ingredients in a large skillet and heat until sauce is bubbly and mushrooms are starting to soften.

Add the hot meatballs to the sauce and serve or, alternately (especially if you have picky children like mine) serve the meatballs and spoon the sauce overtop.
Notes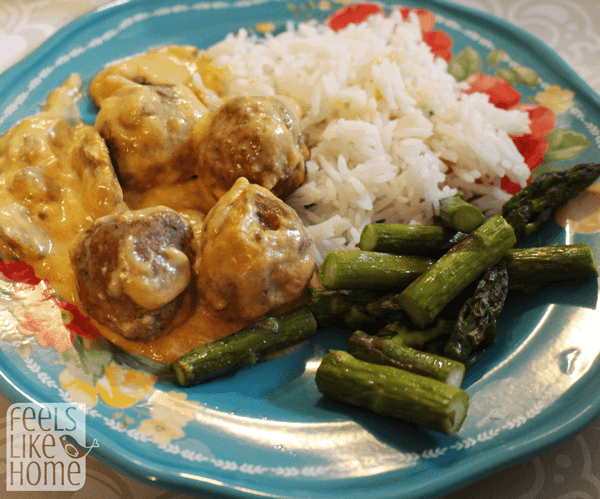 Joe didn't think about our children's disdain for mushrooms and put all of meatballs into the mushroom sauce. Then, when it was time to serve the food, he had to set about rinsing sauce off of meatballs for the kids. He was none too happy about that.
Joe ate his meatballs as pictured, with the sauce and meatballs served over rice. I ate 4 meatballs in sauce with some asparagus, and I was very happy with them. The kids devoured their rinsed off meatballs and asked for more.
I found the Italian Style Beef and Pork meatballs to be very moist and rich. I really liked them a lot.
Cooked Perfect fresh meatballs come in four flavors: Italian Style Beef & Pork, Korean Style BBQ Beef & Pork, Sun-dried Tomato & Roasted Garlic Chicken, and Italian Style with Parmesan & Mozzarella Chicken. My last meatball recipe featured the Sun-dried Tomato & Roasted Garlic Chicken Meatballs, and they were fantastic, too!
Cooked Perfect Fresh Meatballs fully cooked with no artificial flavors, colors, or preservatives. They're flame broiled to lock in the savory flavors of each mouthwatering meatball. You can't go wrong with any of the flavors and, as I said above, they make weeknight meal preparation a breeze! The recipe above came together in under 15 minutes and is perfect for after a long work day.
Find a store where you can buy Cooked Perfect Fresh Meatballs.
Save $1.00 on your next purchase of Cooked Perfect Fresh Meatballs.
Find Cooked Perfect Fresh Meatballs in the refrigerated meat and poultry section - not in the freezer!
This is a sponsored post written by me on behalf of Cooked Perfect® Meatballs. All opinions are 100% mine.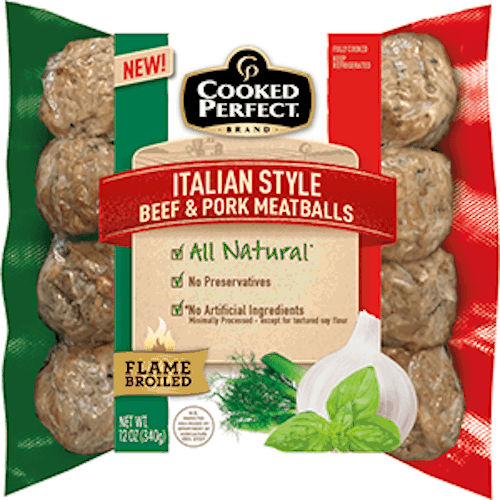 © 2017 – 2020, Tara Ziegmont. All rights reserved.
Related