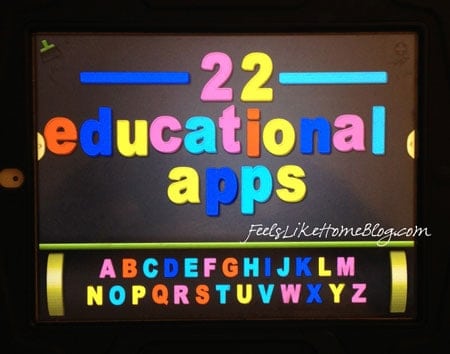 Last week, three people asked me what I thought were the best educational apps for iPad and iPhone. Two more asked this week.
I figured it was worth writing about.
These apps below are geared toward a preschool to 1st grade crowd. If you're looking for a younger audience, check out my 10 Best Apps for Preschoolers post.
Usually $3.99 (on sale right now for $1.99) – This is really cool. It's got page after page of "magnets" that you can stick to backgrounds. There's a whole alphabet in lowercase and uppercase, as well as seasonal shapes and princesses and all kinds of things. Be warned – some of the extras cost another dollar. I've spent maybe $5 on the extras over the last year.

Bob Books #1

$3.99 – I've written about this one before. Grace liked it when she was just starting to learn letters and word formation.

Anything from Duck Duck Moose. Every single thing I've ever downloaded from Duck Duck Moose has been stellar. Their apps have been the girls' favorites from 1 until 5 (and probably beyond). Here are the most educational ones:

$2.99 – For kids who are just learning to write or struggling with proper letter formation, this app is great. It is fun, but it makes them form the letter in the exactly the right way. We did have some issues with Grace being a lefty, but she still likes the app.

LH Kids Dot To Dot

Free  – After you do the dot to dot puzzle, it turns into a coloring page. Grace does these all the time.

Free – This app is a reader. You can download books (some free and some cost money), and the app gives you the option to hear the story or read it on your own.

Free – This app lets kids create their own books, mad-lib style. They can create their own graphics and share and/or buy their books.

$1.99 each – These are best for older kids through adult. You have to answer questions and then stack the maps in order to earn points.

$1.99. There's also a version for toddlers, 1st Grade and another for 2nd Grade.

Anything from Toca Boca. Like Duck Duck Moose, Toca Boca apps are always really good. Some of them are more educational than others, but there are good things to learn from all of them.

$0.99 – Grace loves this app. You have to trace shapes quickly and correctly to go to the next level. It doesn't seem educational at first, but it's really good for fine motor skills and hand-eye coordination.

SUPER WHY!

$2.99 – This is another one that teaches spelling, phonics, and reading. It features the Super Why characters from the PBS tv show.

$4.99 – This is actually 4 apps in one. We got some of the other apps individually (at $1.99 each), and then went for the Deluxe version that puts them all together. It's a spelling and phonics game.

Free – This one is music-based. Little balls fall down, and you have to put up bars to contain them (or not). Each time a ball hits a bar, it makes a sound. You get all kinds of rhythms and notes from the combination of balls and bars. It's fun.
© 2012 – 2018, Tara Ziegmont. All rights reserved.