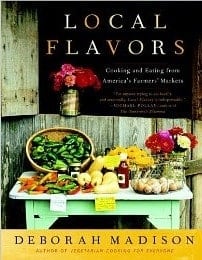 Since I read Animal, Vegetable, Miracle
a couple of years ago, I have been committed to eating local food.
We ate a lot of fresh foods before that (especially from our own garden), but had never considered the long-term implications of eating food grown thousands of miles away.
Now, at least half of our food is locally grown, even more than that in the summer.
Local, in-season foods are healthier, tastier, and almost always cheaper than their long-traveling and out-of-season counterparts.
I was talking about seasonal foods on Twitter this week, and a few people mentioned getting stuck in a veggie rut, using the same old recipes until they were just sick of the monotony.
When you have a recipe that just works, it's so easy to get into a routine.
This year, try some new preparation methods and recipes. Here are my favorite books and web sites for preparing seasonal foods.
Books that Will Help Make the Most of Seasonal Foods
Websites that Will Help Make the Most of Seasonal Foods
What resources do you use to maximize your use of seasonal foods?
© 2011 – 2018, Tara Ziegmont. All rights reserved.