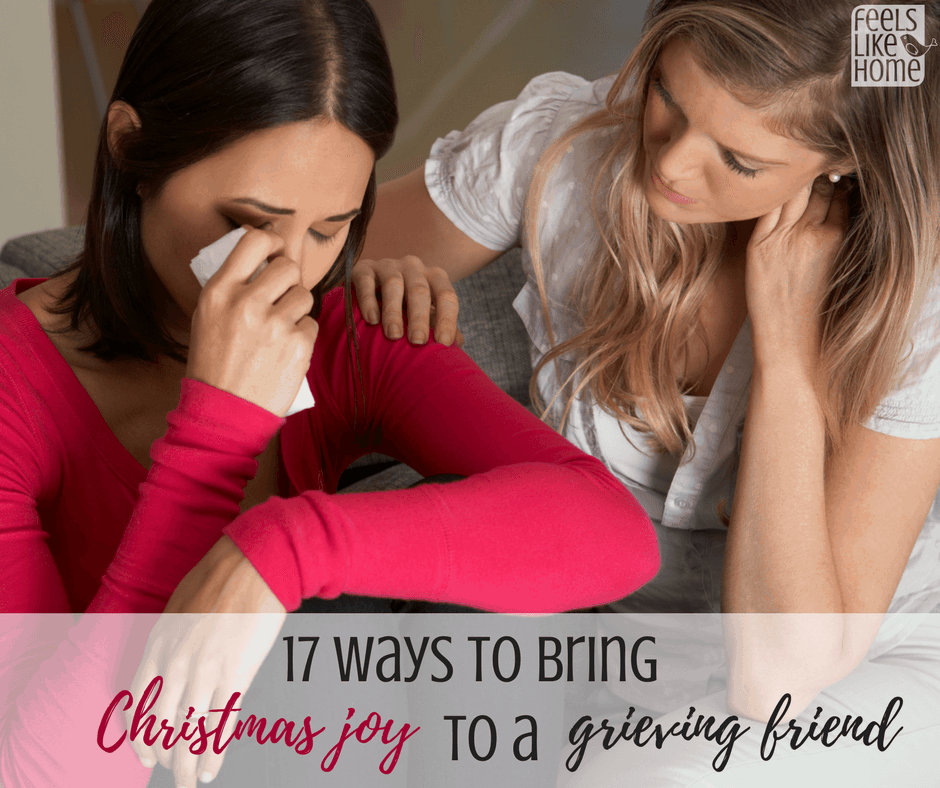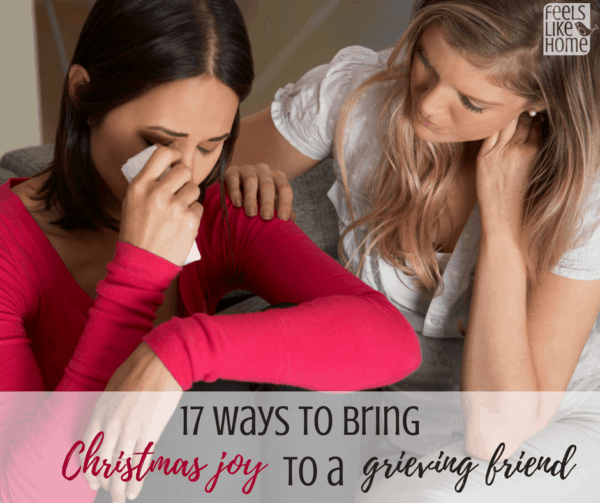 I shared some suggestions on Tuesday for how to cope if you are grieving this holiday season. I remember distinctly how I felt in 2014, the year that my mother died. My heart was broken, and I didn't feel like celebrating anything. If you are grieving yourself, make sure you check that one out.
If you have a friend or family member who is grieving, you may feel helpless. I know Joe did during that time for me.
You may feel like bringing up her lost loved one will make it worse, will make her feel her loss more deeply.
You may wish she would just snap out of it and enjoy herself.
You may be grieving yourself.
How to Bring Christmas Joy to Someone Who is Grieving
Give an ornament to remember her loved one. I wrote about this in my other list. I purchased a beautiful white Hallmark ornament for myself and each of my sisters that first year. It included a little poem about remembering a loved one during the holidays. If that's not your style, you could create an ornament or personalize one. There are lots of options (I love this one on Etsy), but the key is that you're remembering her loved one in a tangible way.
Give her handwriting jewelry. I bought one of these handwriting necklaces for my little sister last year for Christmas, and I wished I had one for myself, too. I think they are gorgeous. Handwriting is something so distinctive and memorable. I loved my mother's precise and neat handwriting. It's an easy way to remember a loved one in her absence.
Share happy memories. Your friend wants to remember her loved one, I promise you, but she is probably having trouble remembering the good times because she's so focused on the hole in her own heart. If you share happy memories of that person with her, it will help her to remember the good times. It may not encourage her to cheer up and enjoy the holiday season, but it will at least give her a smile in the midst of her tears.
Send her a note about her loved one. A pretty notecard filled with memories of her loved one gives your friend something tangible and private. She doesn't have to share it with anyone but can tuck it away to bring her some comfort when she is feeling bad. Make sure to mention her loved one by name if you have a memory or story about her.
Fill the void. Your friend's loved one was important in her life. Figure out what she did for your friend - took her out to lunch, babysat her kids, went shopping with her. Offer to do those things with your friend.
Toast to her loved one. If you're having a drink with your friend or eating a meal together, offer a toast to her loved one. You don't have to say anything fancy, just remember that the person she lost was special and important.
Show grace. Your friend may not feel like doing anything, and that is totally okay. Offer her grace without trying to pressure her into "enjoying" the holiday season. It's entirely possible that she can't right now.
Make a shadow box or memory box. One of my favorite gifts in the months after my mother's death was a memory box from my friend Allie, author of No Time for Flashcards. She had asked me for some of my favorite photos, and she printed them and put them in a box she created. I still have that box, and it sits on my bookshelf in the living room.
Send her flowers. I received a dozen gorgeous bicolor roses on my mom's birthday the year after she died. I never found out who sent them, but they made my day. Actually, they made my month. I have never forgotten those flowers.
Send her a special stuffed animal or a custom picture pillow. Whether you're a child or an adult, when you are missing someone special in your life, it helps to have something to hug.
Make up a gift basket with all the things she needs. It's practical and not all that much fun, but a pretty basket filled up with tissues, beautiful hankies, great smelling candles (I'm burning this scent right now in my kitchen!), and a gift certificate for a photo book of her favorite memories.
Donate in her loved one's name. Find out what your friend and/or her loved one was passionate about, and make a donation to a related charity in her name. Make a pretty certificate and give her a related gift.
Give her a Bible with verses on hope, joy, and comfort highlighted. This is my favorite Bible, the one I use almost every day. These Bible highlighters are really nice and don't bleed through the thin pages. Here are some Bible verses to start with: verses for when things feel hopeless.
Encourage her to change her traditions if she needs to. I wrote in my previous post that we hosted Thanksgiving for years and years, but the first year after my mom died, I just couldn't handle it. We ended up joining my in-laws at a buffet. I hate going out for holiday meals, but it was better than having the meal at our house without my mom. We actually did that three years in a row before returning to our house for dinner (and then, only because I can no longer eat at buffets because of my bariatric surgery).
Take your friend out for a meal. It could be a breakfast, lunch, or dinner, and you can talk about her loved one or not, as she wants. Make sure she knows that she doesn't have to entertain you and you can sit in silence if she wants. Bring tissues, especially if her loss is very recent. But at the same time -
Graciously allow her to decline your invitation without guilt. Your friend may not be up to being sociable, especially if her loss is recent. Invite her, offer your support, but do not pressure her to accept. She may just need quiet and space right now.
Make it a year of kindness. You don't need to tell her this right now, but make an appointment on your calendar for next year to send monthly cards, e-mails, sermons, or gifts to your friend. Not only will she appreciate your thoughtfulness, she will find comfort in knowing that she is not alone.
I personally will never forget the friend who reached out to me when my mom died, taking my kids for a few hours every day and hugging me and just listening. She is a great listener and a great friend, and that very difficult time strengthened our friendship tremendously. She will always have a special place in my heart.
No matter what you decide to do, please just do something. Your friend is hurting deeply right now and needs the comfort and warmth of your friendship more than ever.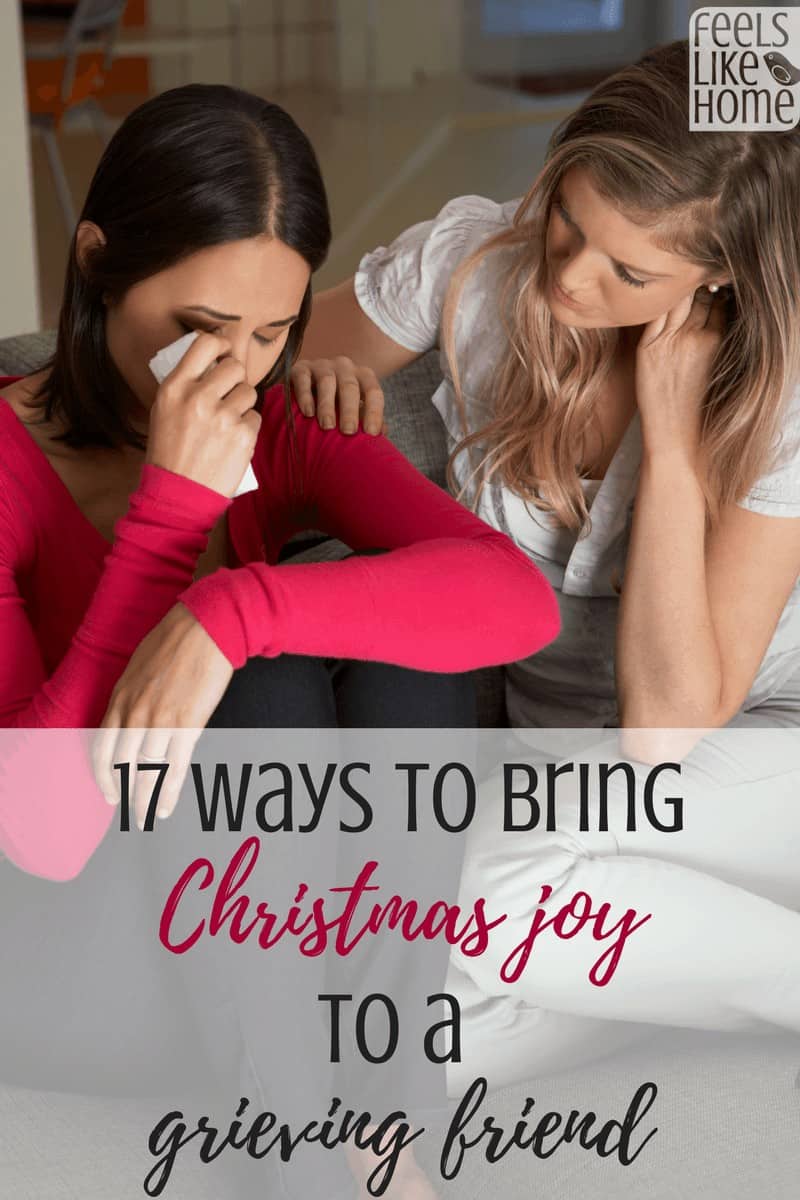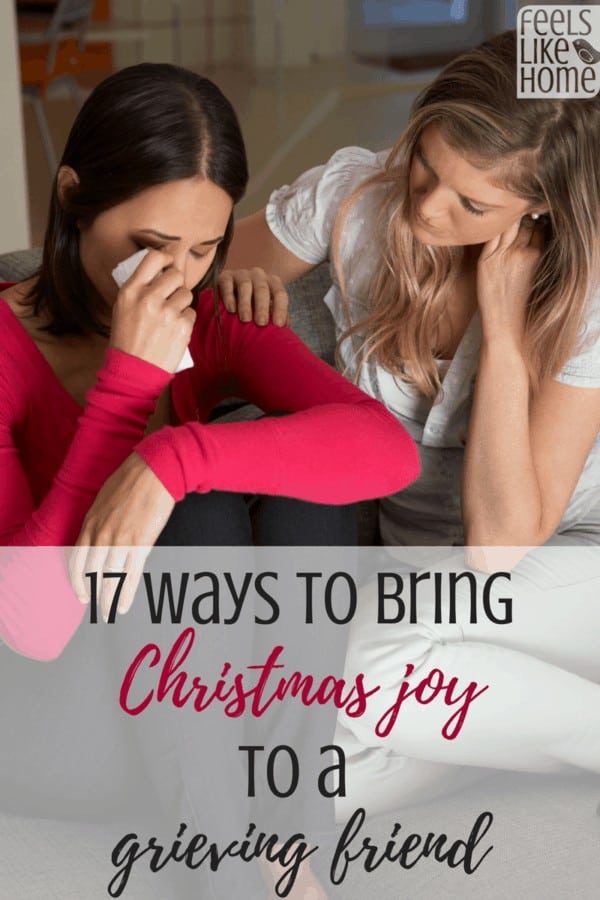 Pin