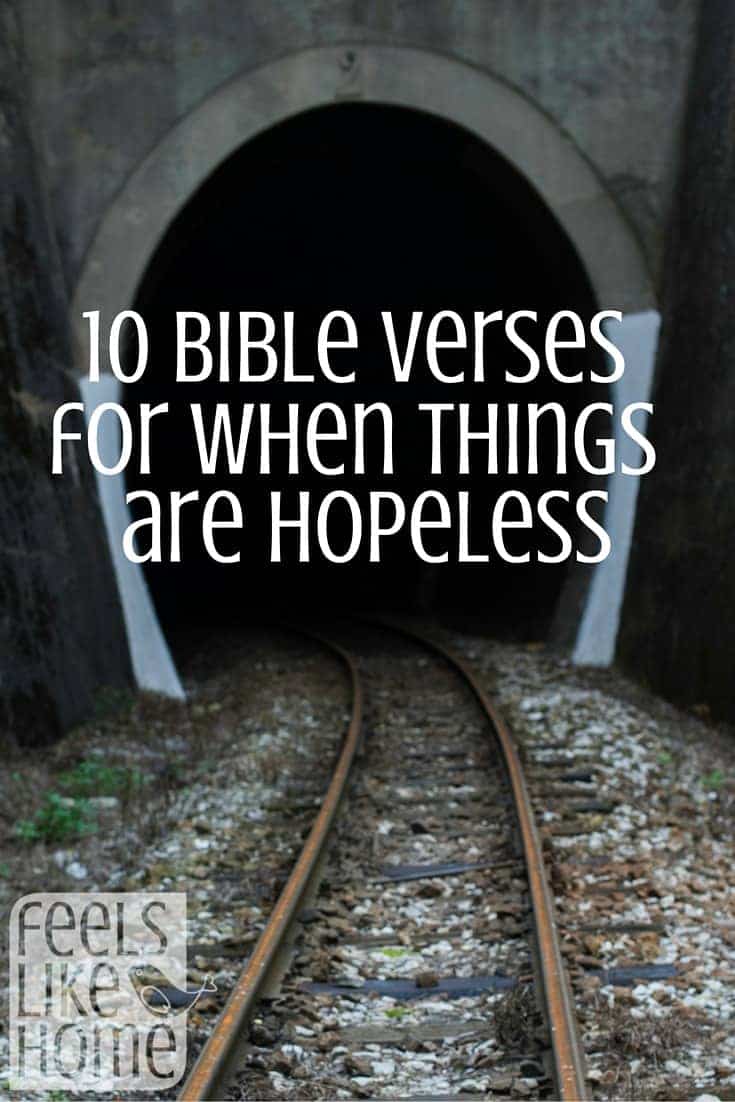 I struggle with anxiety and depression (part of bipolar disorder), and I am prone to seeing the worst case scenario. It just happens. I can't help it.
I work hard to find the good, the cheerful, the beautiful in every situation.
It's not easy.
Never easy.
That's the everyday stuff. Then there's that every once in a while dreadful hopelessness that the enemy ushers into our lives to push us away from God.
That is a whole new level of not easy.
The despair is real, close, and painful. When you can see no way out, you feel all alone.
Where is God then, when all hope is lost and there is no light in the darkness?
Last week, we had a situation with our car. We spent over $6,000 on a new engine, only to be told days later that the transmission was failing and would cost another $3-4,000 to fix.
Money we didn't have. Couldn't get.
There was no way out. We both work at overlapping times and need two cars to drive to and from work at a minimum.
There were more questions than answers.
No good answers.
There was more darkness than light.
So much darkness.
I felt all alone, adrift in the face of a bleak future, with no way out.
So very alone.
I was lost, and I could not find my way. Every way I looked, there was only struggle and pain and continued despair.
That's what the enemy does. He isolates you and makes you afraid and makes you question whether God is really there at all. He whispers in your ear that God doesn't really care, that He can't really fix this, that all is lost and there's no way out.
Those are all lies, my friend. All lies and all straight from the devil himself.
Because He really is there.
Be strong and courageous! Do not be afraid and do not panic. For the lord your God will go ahead of you. He will neither fail you nor abandon you.
-Deuteronomy 31:6
He really does care.
Don't be afraid, for I am with you.
Don't be discouraged, for I am your God.
I will strengthen you and help you.
I will hold you up with my victorious right hand.
-Isaiah 41:10
He really can fix this this, no matter what this is.
Great is our Lord and mighty in power;
his understanding has no limit.
-Psalm 147:5
All is most certainly not lost. There is always a way out for God.
Yet what we suffer now is nothing compared to the glory he will reveal to us later.
-Romans 8:18
Those words seem so simple, and yet, in the midst of my despair, they felt empty. They felt trite and lame and meaningless.
My husband said, "God will take care of this, dear. He will provide." and I just walked away.
I didn't feel like believing.
I didn't believe.
If we are unfaithful, he remains faithful, for he cannot deny who he is.
-2 Timothy 2:13
I had walked away from God, drawn by my nature to the grim messages of desperation and loneliness the enemy presented.
I didn't feel like I was doing anything wrong, but boy did I feel terrible.
Depression tapped gently on the window while I sat in a rocking chair hoping to make progress.
Nothing happened.
For nothing will be impossible with God.
-Luke 1:37
And then my pastor preached a sermon that God meant specifically for me.
It woke me up and convicted me of unbelief and faithlessness. It showed me how I was the one who had wandered away, even though it felt like it was God.
"I do believe; help me overcome my unbelief!"
-Mark 9:24b
I could hardly wait for the time of prayer so that I could sprint to the altar and confess. I repented and cried on my knees, arms of a friend around my shoulders.
Cast all your anxieties on him, because he cares for you.
-1 Peter 5:7
That same night, a group of friends prayed over us. They prayed for our car, for wisdom and discernment so that we would know what to do.
Therefore I tell you, whatever you ask for in prayer, believe that you have received it, and it will be yours.
-Mark 11:24
And then, on the way home from that meeting, the check engine light began to flash. We called a tow truck, found a ride home (thank God for friends), and waited.
In the morning, the car was fixed. The culprit was a cracked $9 part, covered by warranty.
No additional expense.
Remember the wondrous works that he has done, his miracles, and the judgments he uttered.
-Psalm 105:5
I don't know your situation. It might not be resolved the same day you cry out to God. I would venture to guess that most of the time, it won't be.
My point is this, dear one: He hasn't left you. He won't leave you. Not today, not tomorrow, not ever.
Grab these Bible verses for when things are hopeless in a convenient black and white printable below. You can work on memorizing and meditating on them, one at a time.