How to make the best zucchini eggs for breakfast or brunch - This simple and easy recipe uses fresh veggies to make a healthy, paleo, low carb, gluten free dish. Sprinkle with shredded cheese to serve.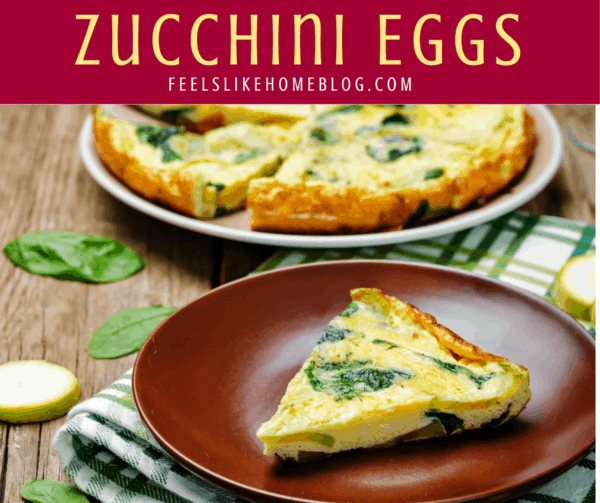 Earlier this week, I cooked eggs for Gracie and I to eat for brunch. I prefer my eggs over hard, so that's how I made them.
This morning, Gracie requested yellow eggs. I guess that was an unsubtle hint that she prefers her eggs scrambled.
I didn't want to eat just a scrambled egg, so I threw some fresh veggies in the pan to sauté before adding the eggs.
Grace was not on board with my zucchini and eggs plan, so I made her yellow eggs as requested before making my own.
I intended to make myself a frittata, but it stuck to the pan and turned into scrambled eggs with veggies. Regardless, the results were delicious.
Garlic scapes are only available for a couple of weeks in the late spring to early summer, and typically only in the northern US and southern Canada. This is because they grow from hard-neck garlic which does not grow in warmer climates. (Not sure about other parts of the world.) Garlic scapes are typically available only in farmer's markets; I've never seen them in a grocery store. If you've never used garlic scapes before, head over to this page for some tips and more delicious recipes.
If you can't find garlic scapes, feel free to use one small clove of garlic. This recipe makes only one large serving or two pretty small servings, so you probably don't want to use more than one small clove or you will be breathing garlic fire for days.
How to make zucchini eggs
Melt butter in a large sauté pan over medium-low heat. When you're cooking eggs, it's important to keep the heat very low or the bottom of the eggs will burn before the top cooks through.
Add diced onion, zucchini, and garlic scapes; cook until the veggies are crisp-tender.
Meanwhile, whisk together the eggs and a few splashes of milk. When the veggies are just crisp-tender, pour the egg mixture into the pan.
Allow the eggs to cook a bit, and then begin stirring and turning over. Continue cooking until eggs are solid and opaque. We like our eggs a wee bit brown, so I cook them a bit longer.
Sprinkle with shredded cheddar cheese and Tabasco and serve.
Recipe