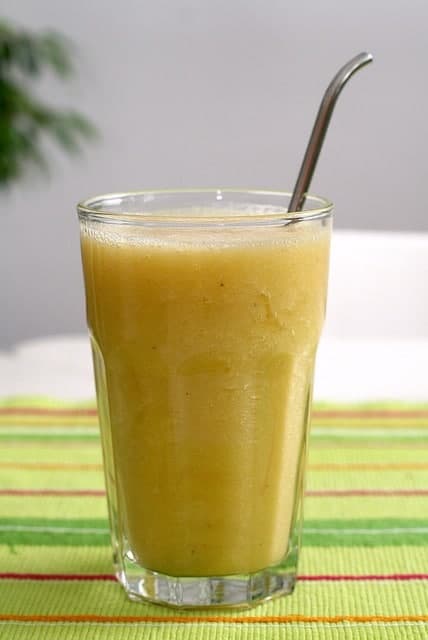 When I was in college, I ate a creamsicle smoothie from the café by my dorm almost every day.
They were delicious and horribly unhealthy, primarily made from of orange juice and ice cream.
Since then, I have just assumed that all smoothies are high in calories.
I never bothered to investigate.
A couple of Mondays ago, I found myself with three brown bananas on the counter and nothing to do with them.
Actually, I could think of several things to do with them, but they all involved baked goods. I sure love banana brownies and banana bread and banana cake, so I couldn't make them.
Back to the point. I wanted to use up my browning bananas, and something made me think of smoothies.
If you're a smoothie pro, you may already make something like this, so I apologize if this is really basic.
It also happen to be the best smoothie I'd ever eaten, bar none.
Grace has tired of my terrific smoothies, but I have eaten a smoothie for an afternoon snack two or three days a week since I discovered them.
Recipe