Instant Pot Made Easy - This cookbook ebook is full of simple, easy, and healthy Instapot recipes for families. Even picky eaters will approve! Most are keto, low calorie, and low carb. A few are gluten-free. Includes recipes for frozen or thawed chicken, beef, and pork and some include rice. These are the best easy dinners for beginners or advanced Instant Pot users.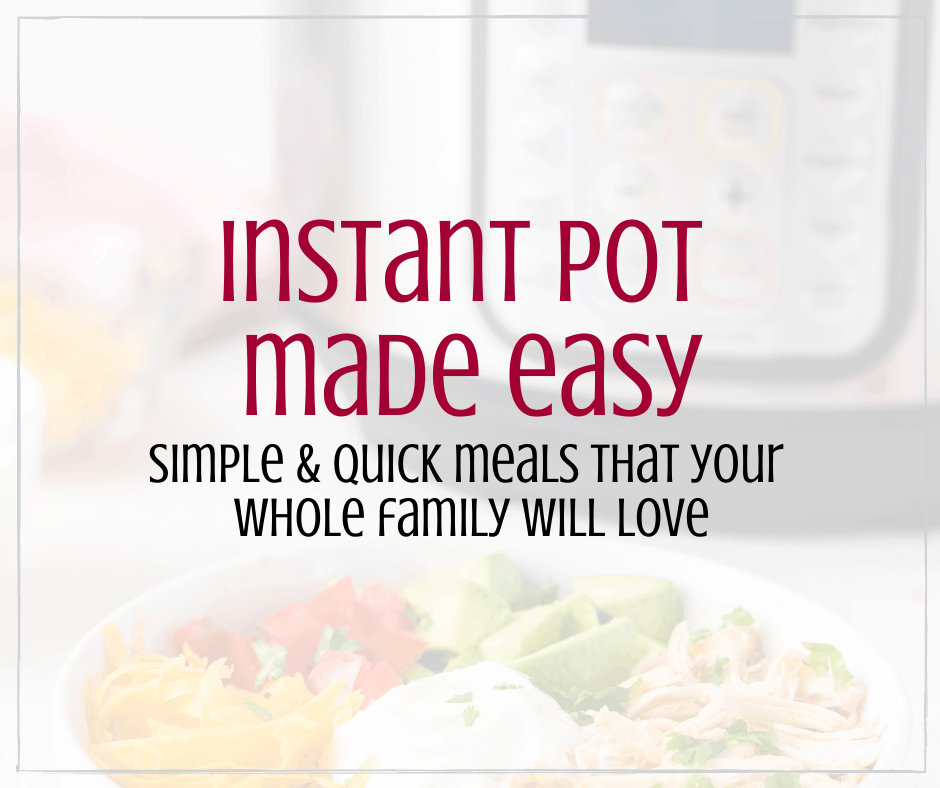 Do you have an Instant Pot, but you're not sure what to do with it?
Or maybe you have a few Instapot recipes, but you know you could be using it better and more often?
Or maybe you're still in the "I'm not buying an Instant Pot, I don't care what you say!" camp.
We resisted the Instant Pot for a long time, but when my friend Jill drank the Kool-Aid and raved about her Instant Pot, I finally caved and got one. Jill said it would save oodles of time and energy in the kitchen, and my poor husband is seriously overworked, so I thought he would love it – if it was as amazing as Jill claimed.
I brought the new Instant Pot home and gave it to Joe for his birthday two years ago, hoping he would not hate me for it.
I kept thinking, how would I react if Joe came home on my birthday with a kitchen or cleaning tool. I'm not sure I would react the same way he did. But anyway.
He didn't hate me for the Instant Pot, not even close. He did a little research and totally fell in love with his new Instant Pot. He immediately started using it at least twice a week, a habit which has continued to do this day.
Joe has myriad of Instant Pot recipes, and I have shared quite a few here on Feels Like Home. His favorite thing to do with his IP is to make chicken in it. He can put the chicken in frozen, cook it for 15-20 minutes, and then have chicken ready to go for just about any recipe. It couldn't be easier or quicker.
Instant Pot Made Easy - Simple & Easy Instant Pot Recipes
Because I get asked about Instant Pot recipes more than just about any other kind of recipes, I have put together a little cookbook e-book just for my fabulous readers.
Instant Pot Made Easy includes some of my most popular Instant Pot recipes in one easy cookbook.
Instant Pot Made Easy is a one stop shop for getting the most out of your Instant Pot.
Are you wondering how much Instant Pot Made Easy costs? Surprise, it's free! Just enter your email address below, and you will receive an email with instructions. It's my gift to you. Enjoy!
If you try to use the button and it won't work for you, leave a comment below, and I'll email you the instructions.