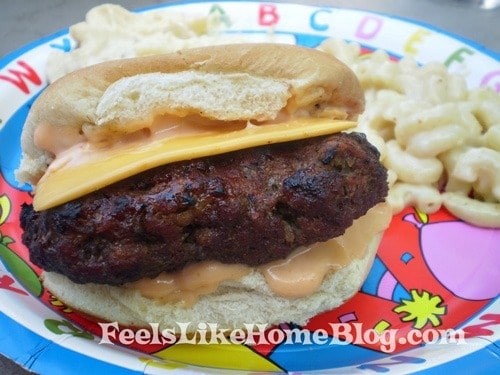 I love to walk out onto my patio and smell a neighbor's grill. Isn't that one of the best smells of the summer?
Not long ago, we invited my parents and sister over for an impromptu cookout. We planned to have burgers, macaroni salad, potato salad, and cantaloupe - a very traditional summer menu.
Just before we started cooking, I noticed that we didn't have any hamburger buns. I called my mom and asked her to pick some up on her way over.
She showed up with Hawaiian rolls. I'd never heard of such a thing, but the label claimed they were made with pineapple for a hint of sweetness.
I had intended to ask Joe to make fajita burgers, but I wasn't sure how they would turn out served on Hawaiian rolls.
I didn't want to scrap my flavored burger plan, so I dug around in my pantry and found sweet and sour sauce.
I've seen sweet n sour sauce with pineapple in it, so I thought the combination would be good in burgers, too. I played with the burger recipe and came up with this -
Why, yes, that is a leftover Sesame Street birthday plate. Isn't it fancy?
Try to eat it without losing half of the delicious toppings.
Recipe