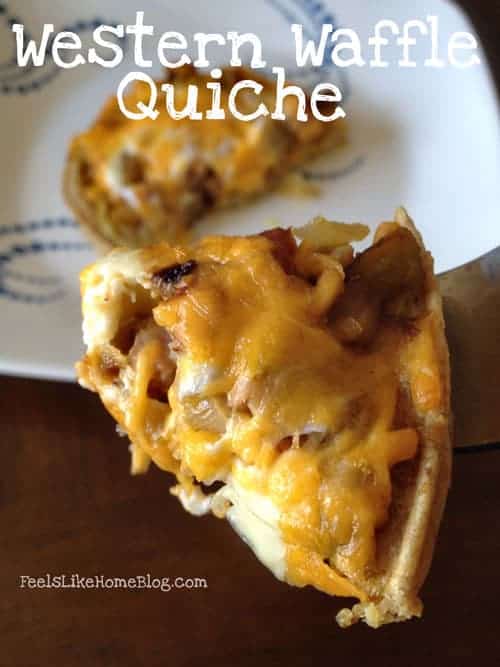 Pin
It's a Week of Waffles at Feels Like Home! Being that I'm a Chief Waffle Officer, I'll be posting waffle recipes featuring Eggo Waffles all week from April 1 to April 7. I'll share some breakfast, lunch, dinner, snack, and dessert recipes, so make sure you come back each day for my most recent creation! (In the interest of disclosure Eggo Waffles are not gluten-free. I did eat two of these quiches, and they were delicious.)
When I moved out of my parents' house, I didn't know how to cook. It took me most of a year to figure it out, and it happened mostly because I became a Pampered Chef consultant.
As I learned how to make the demo recipes, I picked up tips and tricks and products to make cooking easier.
It's no coincidence that many of my recipes are loosely based on recipes from The Pampered Chef. This is one of those.
The inspiration for this one is a PC recipe called Chile Cheese Pie. It's more or less a quiche, made with cheddar cheese, onions, and green chile peppers.
In addition to the onions and peppers, I threw in some ham leftover from Easter dinner, making the topping essentially a western omelet (hence the name).
I expected the egg mixture to sit on top of the waffles, cooking into a quiche in all the little wells. That's not actually what happened - the egg mixture soaked in and cooked within the waffle. It left the waffles a little soggy, but they were delicious nonetheless.
I wonder if they would stay crispier if you used less topping or toasted them longer in the beginning.
I intended these to be a breakfast food, but they would also be nice for brunch.
For this post, I made them in the afternoon and ate them for a late lunch.
Joe ate the leftover one for a snack when he got home from work.
They're pretty versatile; you can't go wrong with egg, ham, veggies, and a waffle.
Recipe
These really were delicious. I love that the green chiles are sweet and a little spicy.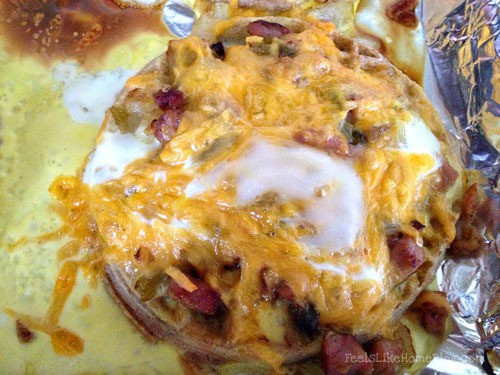 Pin
This post is part of a project called a Week of Waffles from Eggo, sponsored by Kellogg. I have been compensated to create and share recipes using Eggo Waffles. All recipes, photos, and text are created by me.