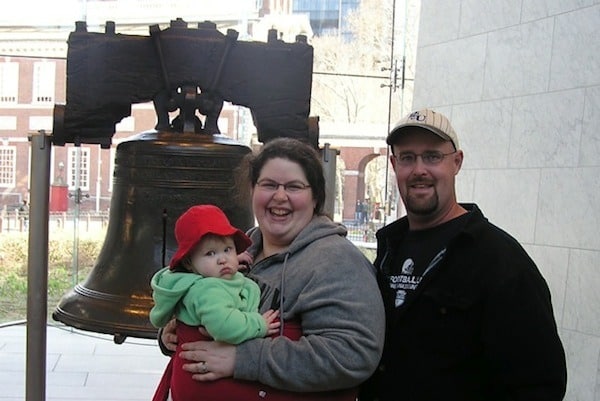 Pin
When I was 19 or so, I planned a trip to Philadelphia for myself, my sister, my mom, and my 7-year-old niece, who was visiting for her yearly August vacation. Both my sister and I were in college, and we didn't have a lot of extra money, so we decided to pack everything we wanted to see - and trust me, we I had a long list - into a single day.
The plan was simple: drive down, have fun, and drive home.
Well.
We drove down. The drive is easy, almost all on the PA Turnpike. We found an inexpensive parking lot in between Chinatown and Independence Hall (all part of the plan), and we walked toward the monuments.
So far, so good.
We went to the Independence Visitor Center first, to get tickets for the Independence Hall and Carpenter's Hall tour. We took the tour and checked out the National Constitution Center (which was still under construction if I remember correctly). We stood in line in the scorching heat - it was August, remember, and everything was busy - and bathed in the air conditioning of the small building that holds the Liberty Bell.
It doesn't sound like we did a lot, but we had and learned much, and it was already time for lunch. We crossed the street to the Bourse building to eat, and then we walked to Christ Church to pass by Ben Franklin's grave. We marched on, to the Betsy Ross House and its walking tour, as the sun soared high and the temperature soared over 100 degrees.
It might have been smart at this point to grab a horse-drawn carriage or tour bus - or even a taxi - but I was too cheap for any of that.
We would walk! And enjoy it!
On we walked, tracing the route toward the Delaware River that I'd marked on my map of historic Philadelphia. My route was less than an inch long in each direction, so I thought it must be a short walk.
I was so wrong.
Oh so very wrong. On the hottest day of the hottest month of the whole year.
We walked at least thirty-seven city blocks that day, maybe more. I stopped counting after seventeen.
As we walked back toward our car, soaked in sweat, tongues dry as the sidewalk, someone suggested that we get a taxi. Or a bus. Or anything with wheels. At first I balked.
"We can do it! They didn't even have taxis 200 years ago! Keep walking!" I encouraged.
My niece whined and whined and whined. "I'm too hot!" she complained. "I'm thirsty! I need a drink! I'm going to die!"
Parched and irritated, I snapped at her. "YOU'RE NOT GOING TO DIE. You're hot and thirsty? So am I! So is Amanda! So is Grandmother! Do you hear us whining about it? NO! BE HOT AND THIRSTY AND QUIET!"
It was not my finest moment.
My mom suggested it might be time to consider a taxi, and I acquiesced. Once she changed my mind, all taxis in the city of Philadelphia simultaneously disappeared.
Forever.
So we marched on.
Past the parking lot containing our car.
Because my plan was to eat an authentic Chinese dinner in the Chinatown.
When we finally reached Chinatown, we looked around at all the Chinese restaurants, windows displaying signs we couldn't read.
"What now?" My sister asked.
"Well, we pick one." I said.
"How do we pick? I don't want to eat a neighborhood cat. How do we know what restaurants serve cat? We can't read anything!" None of us were thinking clearly at this point.
(I don't think any of the restaurants in Chinatown serve cat. You'll have to take your complaint about that comment up with my sister. I'm just recounting the facts here.)
I have a photograph of her from this day, wearing an expression that says, "Sister, you are the biggest idiot that has ever lived, and I am never going to let you plan a trip again for as long as I live." (But she did, lots of times.)
Eventually, we found two guys using a rope and pulley to hoist a mattress up to the window of a second floor apartment. We figured that at least one of them was a local, and we asked them where to eat.
They sent us to Ho Sai Gai, home of the Philly Cheesesteak Eggroll (totally authentic Chinese food). We sat down at a table in the dark and quiet restaurant (it was late in the afternoon, not quite suppertime). The waitress came with a pitcher of water, and we asked for three more, explaining where we'd walked from.
She disappeared, and we heard wild laughter from the kitchen where, we could only assume, she was sharing the tale of our cheapness and idiocy. It was the best food and best water we'd ever consumed.
Somehow, we scraped ourselves up off our chairs and walked the six blocks back to the car after dinner.
And then my poor mother had to drive us almost three hours home.
Honestly, I have no idea how she did it.
Every time I tell this story, it ends with, "Whose idea was it to pack all that into one day any way? That was stupid." And then everyone reminds me that it was my idea.
Which I have always known.
Clearly, that is not the best way to see the sights of Philadelphia.
What is the best plan to see the sights of Philadelphia, you ask?
Let me tell you.
Don't try to do it all in one day. Stay overnight. Stay a couple of nights. Right now, a bunch of Philadelphia hotels are offering a special Visit Philly Overnight Hotel Package where your car can stay free when you stay for two consecutive nights. Take advantage of it - there's so much more in Philly than you can do in a single day.
Figure out the actual mileage from one destination to another if you plan to walk. Do not rely on the map distance to determine whether the trip is advisable or not. (Who would even do that? It's so dumb.)
Bring plenty of water no matter when you visit. If you walk, you will get thirsty, whether it's January, March, or August.
If you want to see everything in a short period of time, spend the money for a horse-drawn carriage or a bus tour. You won't regret it.
Go to VisitPhilly.com and decide what you want to see. Here are a few of my recommendations:

Of course, the aforementioned sights are must-sees - the Independence Visitor Center, Independence Hall and Carpenter's Hall, the National Constitution Center, The Liberty Bell, Independence Hall, Christ Church, and The Betsy Ross House. These are in a smallish radius, definitely walkable in hot or cold weather.
The Franklin Institute is an awesome science center. We've been there a bunch of times with our kids, and one of their favorite exhibits has always been the giant heart. You walk right through it, following the path that blood takes through the atria and ventricles.

The Please Touch Museum is another learning disguised as super fun kind of place. Grace talks about the Please Touch Museum all the time - the Alice in Wonderland maze and the theater and so much more. Whereas the Franklin Institute is primarily a science museum, the Please Touch Museum is more general kids' learning mecca. While you're there, make sure you check out the Whispering Benches, a short walk away.

The Philadelphia Zoo is huge. I took Grace there (by myself! when I was pregnant!), and we had an awesome day. It took us a whole day to explore, so leave plenty of time. There are lots of exotic animals, of course, plus a really fun kids' area with mazes and bunnies and much more. It's a great zoo.

Valley Forge National Historical Park - We had family photos taken here once, years ago, and we explored the park after. It's an amazing place, especially when you consider that General Washington and his troops spent the winter of 1777-1778.

Philadelphia Science Festival - This takes place every year in April. We've never been to it, but I'm hoping we will this year!

Camden Children's Garden
Underdogs, a fun eatery where you can get a hot dog with avocado and spicy Thai peanut sauce on a gluten-free bun. Yum! (They have less adventurous toppings for less adventurous diners.)
Longwood Gardens
Franklin Square
The US Mint
Peddler's Village
Ringing Rocks Park
This is a sponsored conversation written by me on behalf of Visit Philadelphia. The above opinions, text, and bad decisions are all mine.
Philadelphia is the perfect spot for a getaway!
Stay for any two consecutive nights at one of twenty participating hotels and your car stays free!
For more information and to book your room visitphilly.com/overnight.