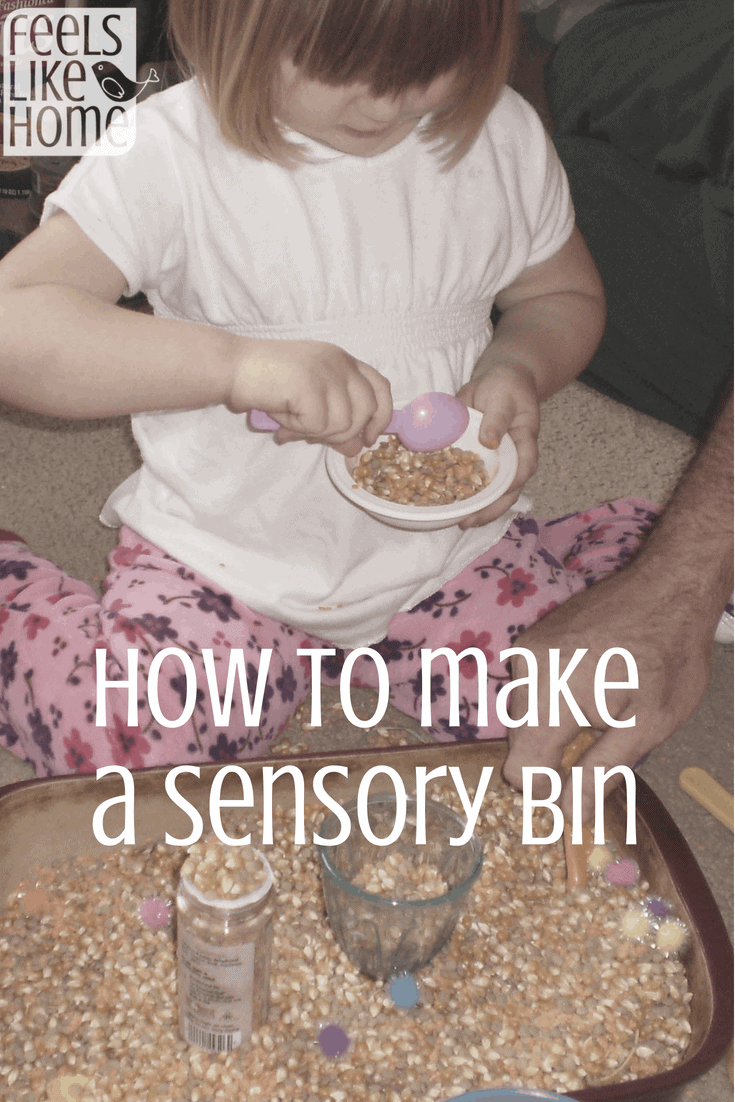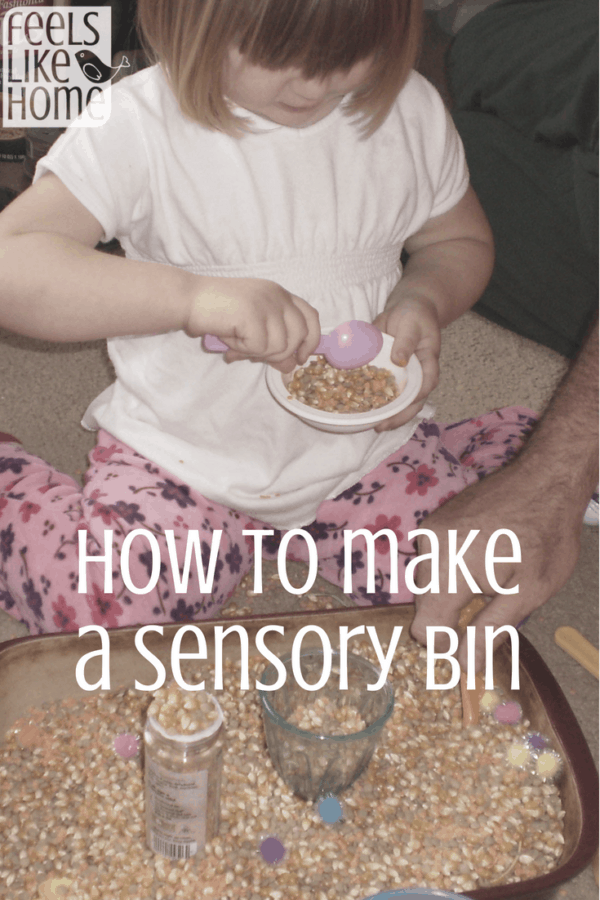 Pin
What is a Sensory Bin?
A sensory bin is a container filled with a substance that invites play, like sand, water, unpopped popcorn kernels, lentils or other dried beans, rice, water beads or birdseed. Most of the time, there are larger items in the bin as well, such as plastic letters, people figures, animal figures, or pompoms.
The container needs to be big enough to allow for free movement of the filler substance without it spilling over the edges.
Why make a Sensory Bin?
Sensory bins are awesome for kids. They provide a sensory experience that many kids (and adults) find soothing and calming. They also help kids to focus on the task in front of them. They help kids to develop critical thinking skills and foster imagination.
Sensory bins also provide life skills - pouring, sorting, filling, and dumping. They provide fine motor skills practice in pouring and picking up. They provide social playing practice as kids have to share tools and items within the bin.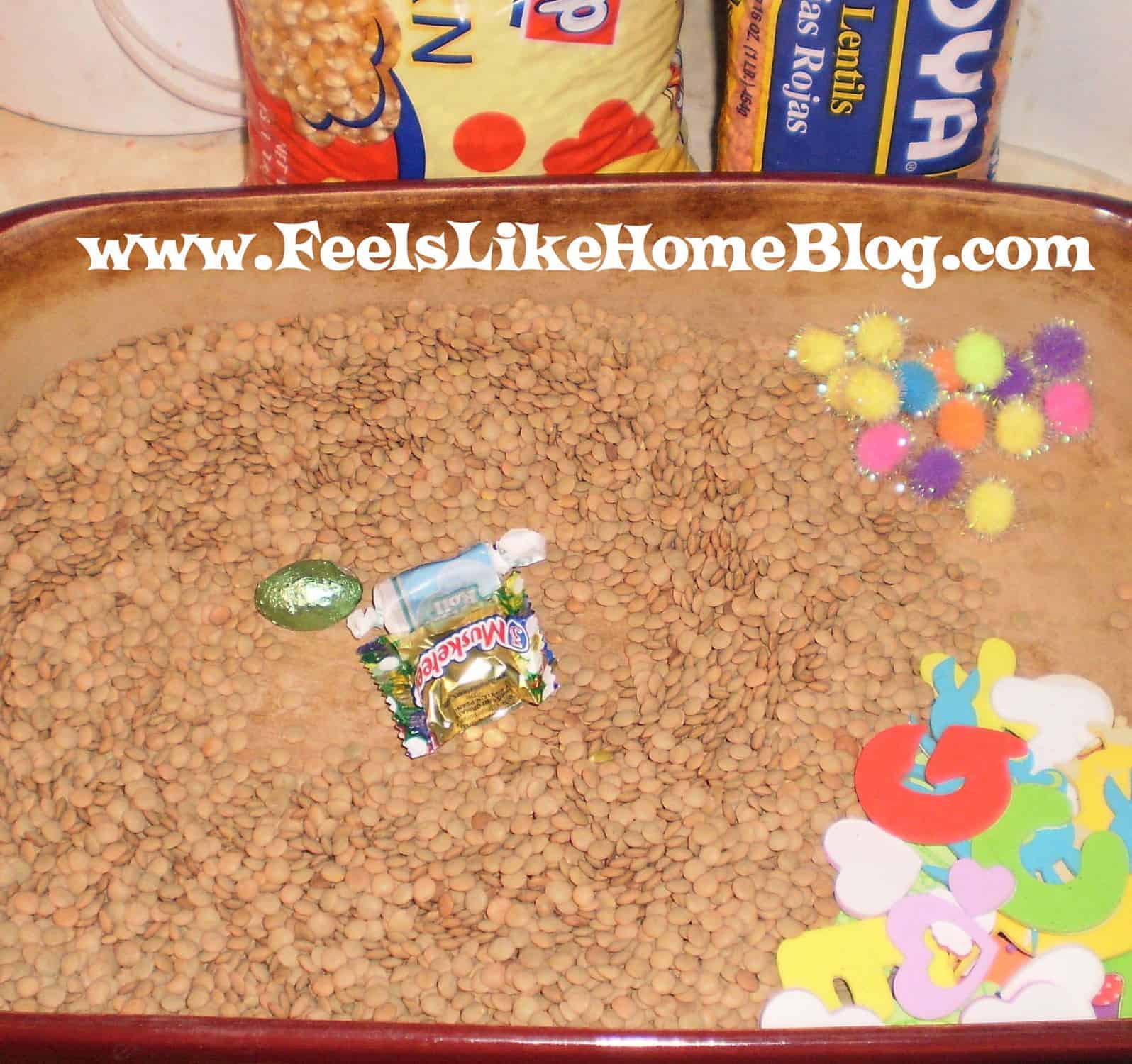 Pin
How to Make a Basic Sensory Bin
Totally inspired, I headed to my pantry cupboard. I found two bags of lentils (brown and red) and a bag of popcorn.
Next, I invaded my craft supplies, finding some sparkly pompoms and foam stickers.
Last, I raided Grace's Easter basket, choosing 3 small pieces of candy.
I dumped everything into a 9x13 casserole dish.
Sensory Bin Materials
Start with a container. As I said, I used a 9x13 dish, but we had a lot of spillage. A container that's deeper (I would recommend at least 6") would have made things easier. I would recommend a dish pan or big cat littler pan as a good start.
Find a filler. I mentioned above that you can use a lot of different materials for filler: sand, water, unpopped popcorn kernels, lentils or other dried beans, rice, water beads, aquarium gravel, bird seed, perler beads, even flour. You're only limited by your imagination.
Add some tools. Spoons of different sizes, tongs, jars, dishes, cups, tweezers, chopsticks, and bowls all work. Again, you're only limited by your imagination, and likely your kids will go find some extra tools on their own.
Choose a theme (if you want). The sensory bin below had no theme. I just grabbed some alphabet stickers and pompoms, and Grace was totally okay with it just like that. But we have also done sensory bins with a Frozen theme (beans with Elsa & Anna figurines), an Antarctica theme (epsom salts with these penguins mixed in), an ocean theme (blue water beads with fish), and a fall theme (dry pasta with plastic apples and pumpkins and fake colored leaves).
In general, I think TOOBs make the best mix-ins because they're cheap and well made and small enough for little hands, but any smallish items can be fun. My girls have always liked Polly Pockets and similar sized dolls in their sensory bins.
Rules for Playing with a Sensory Bin
If your kids have never played with a sensory bin before, you will have to establish some rules:
Keep the materials inside the bin.
If the materials are tossed, play will be over.
Materials are not to be eaten.
If you're really concerned about mess (especially if using shaving cream or flour), put a tablecloth under the sensory bin or take the whole affair outside.
Playing with a Sensory Bin
I'd always thought that sensory bins were messy and pointless. I was wrong.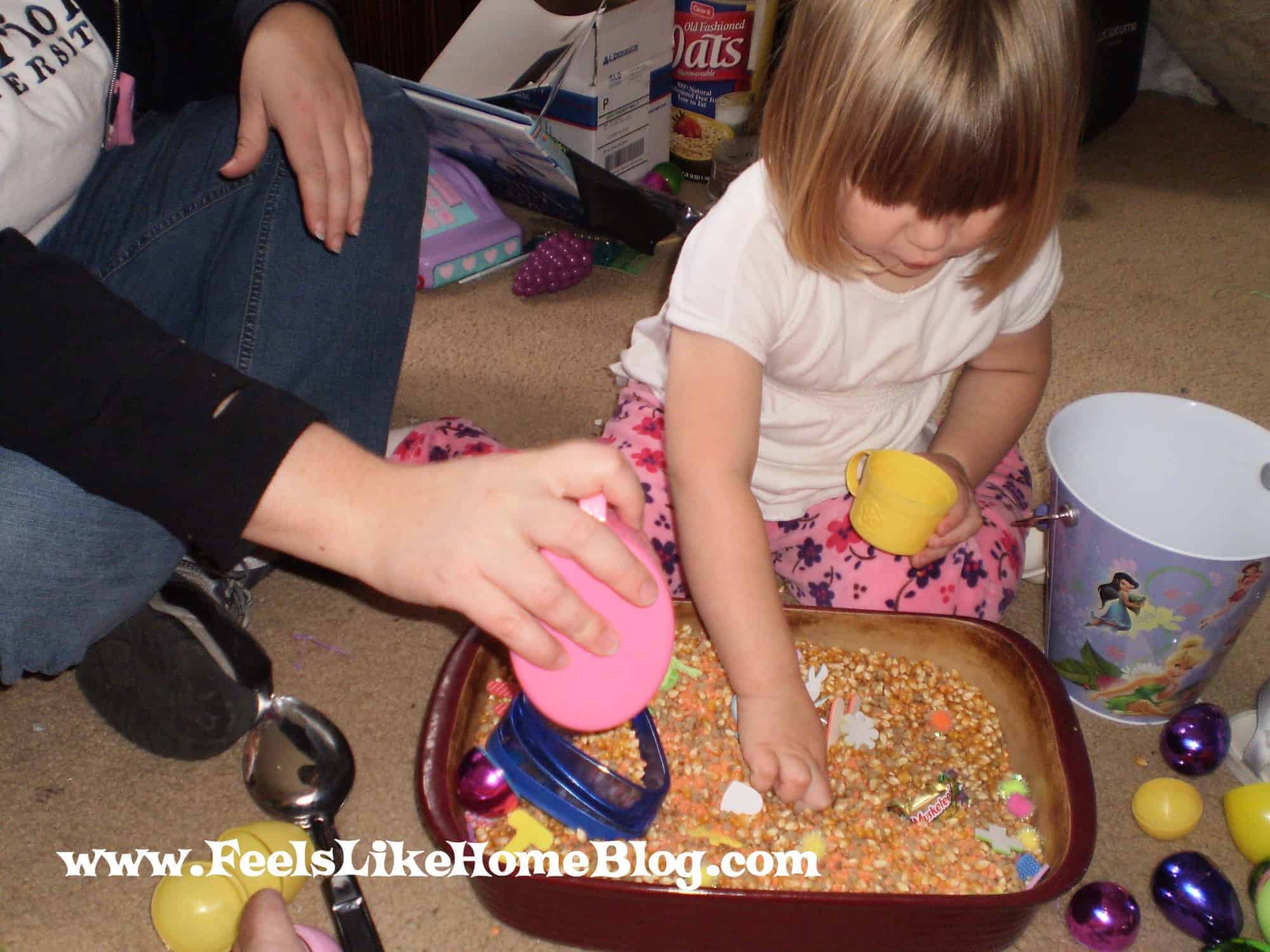 Pin
As soon as I set the casserole dish down on the floor, Grace dug in, picking out all of the stickers and candy and putting them into a bucket. Eventually, she poured them back in.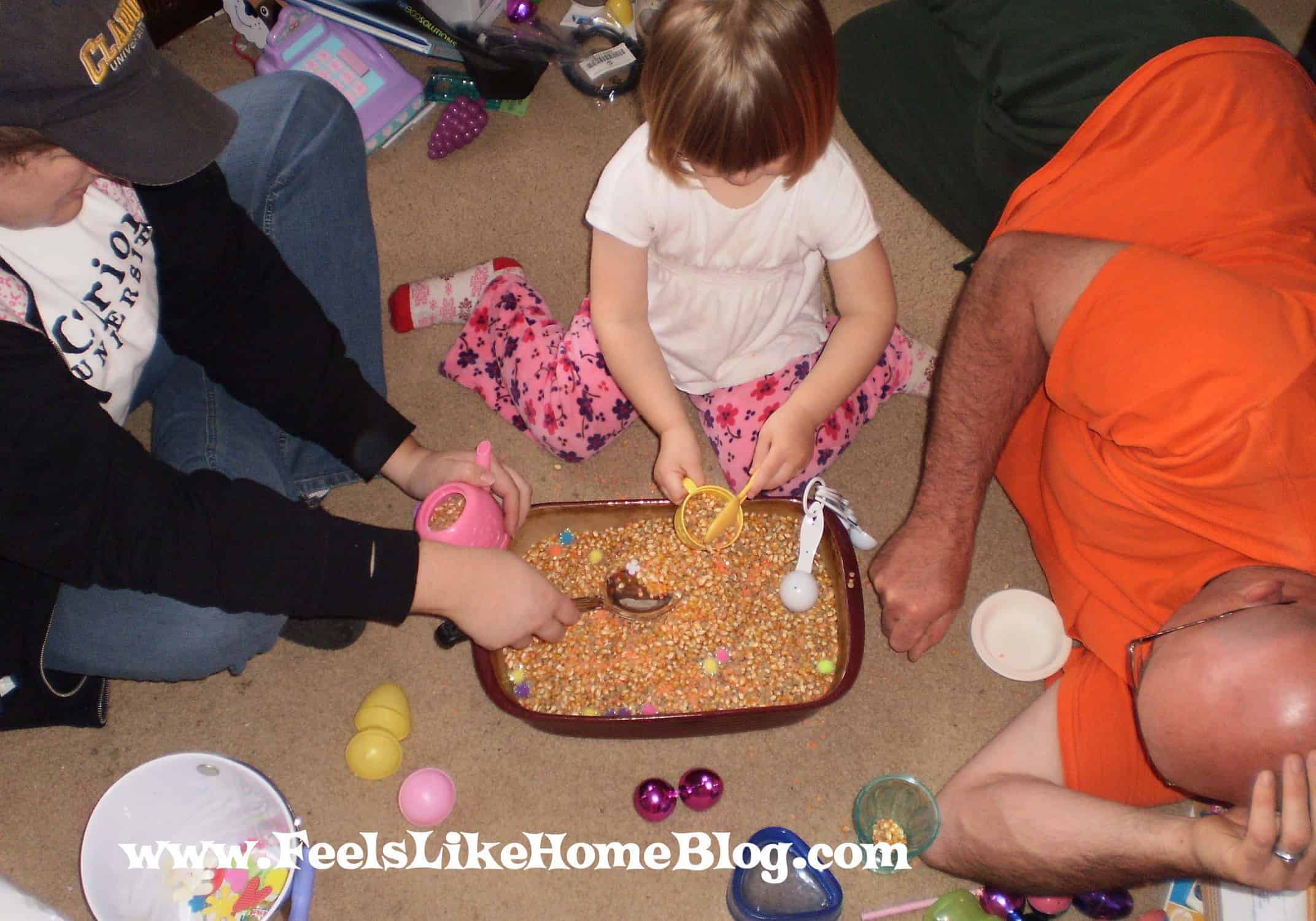 Pin
Soon, she grabbed Easter eggs and kitchen supplies.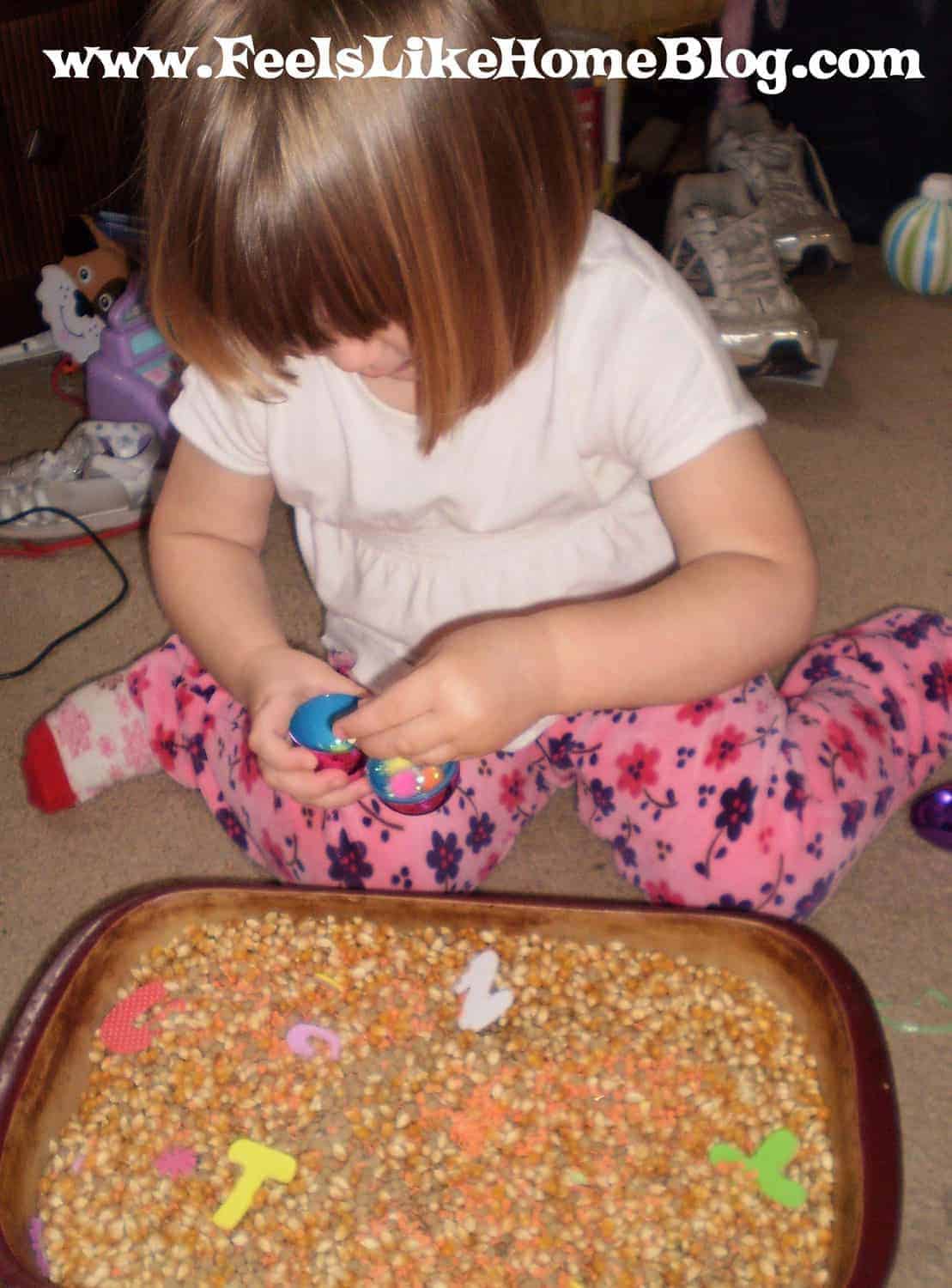 Pin
Before long, she had all of the measuring cups and spoons, mixing spoons, and all sorts of cups and bowls from her play kitchen.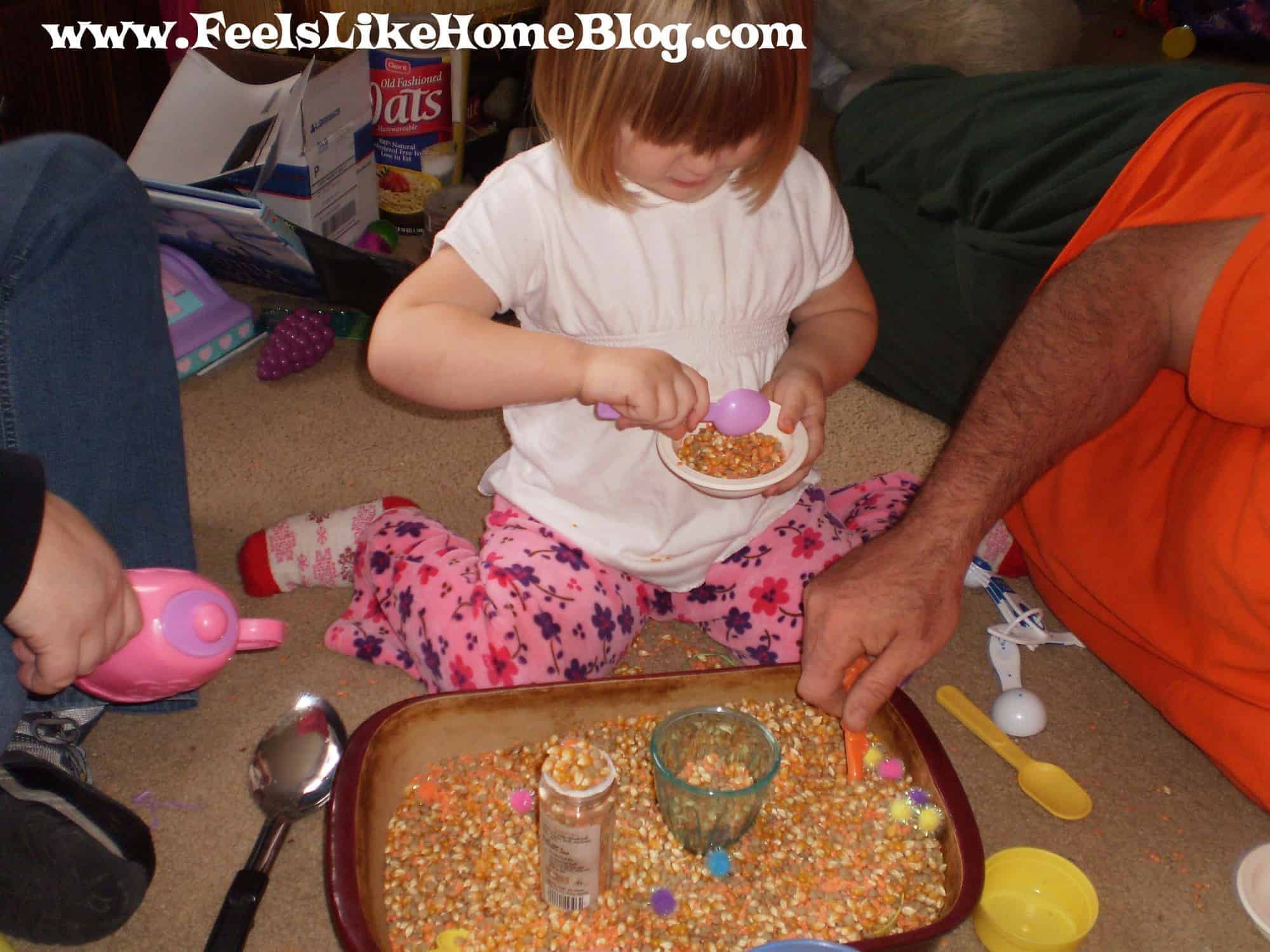 Pin
She was mixing and pouring.
I was happy to see her pouring the small kernels without much spillage, into the ice cream dish and into the spice jar.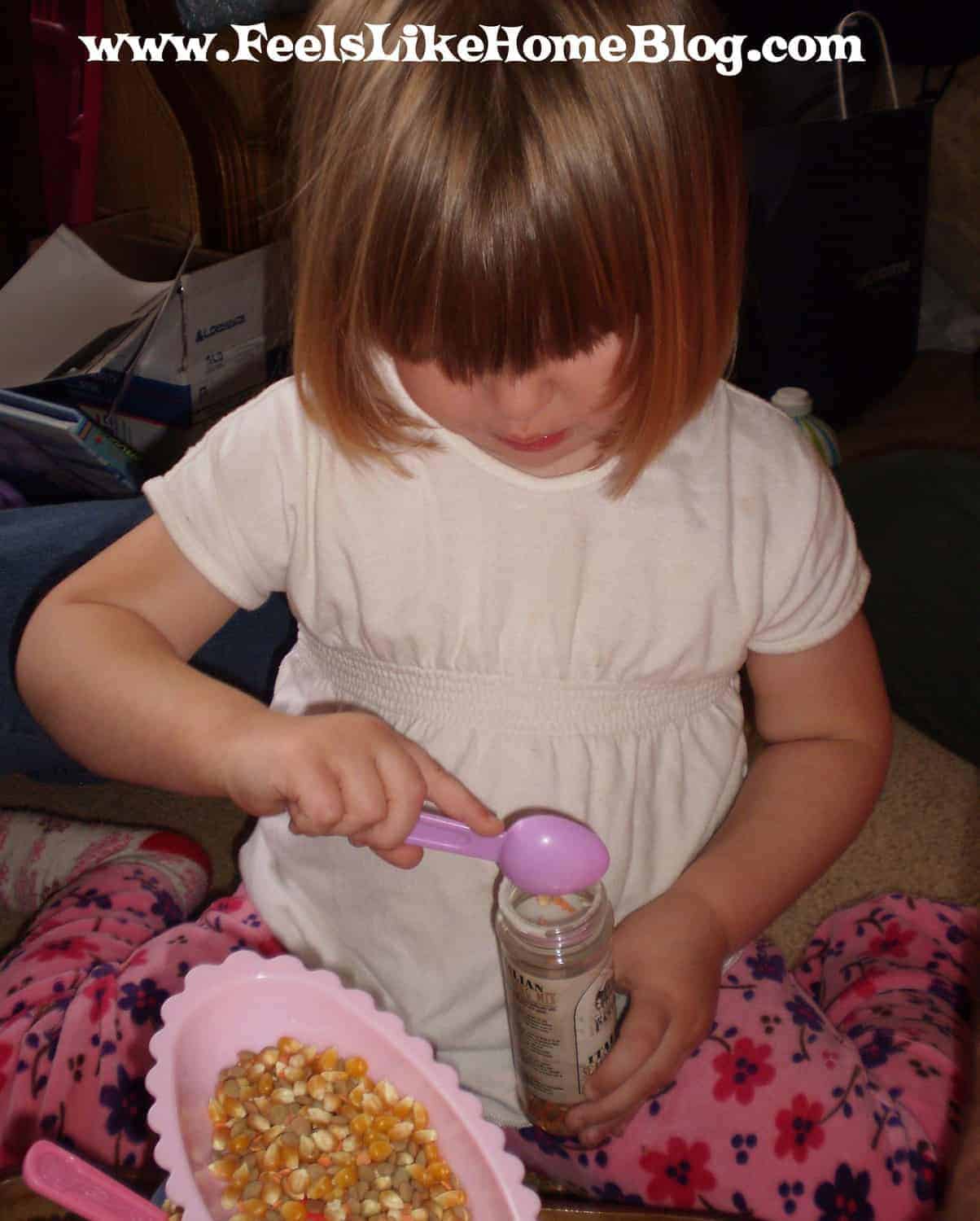 Pin
It was irresistible. Joe, Grace, my sister, and I spent a whole afternoon mixing and pouring and sorting and mixing again.
We had sandwiches and ice cream, all imaginary. We passed and shared. It was great.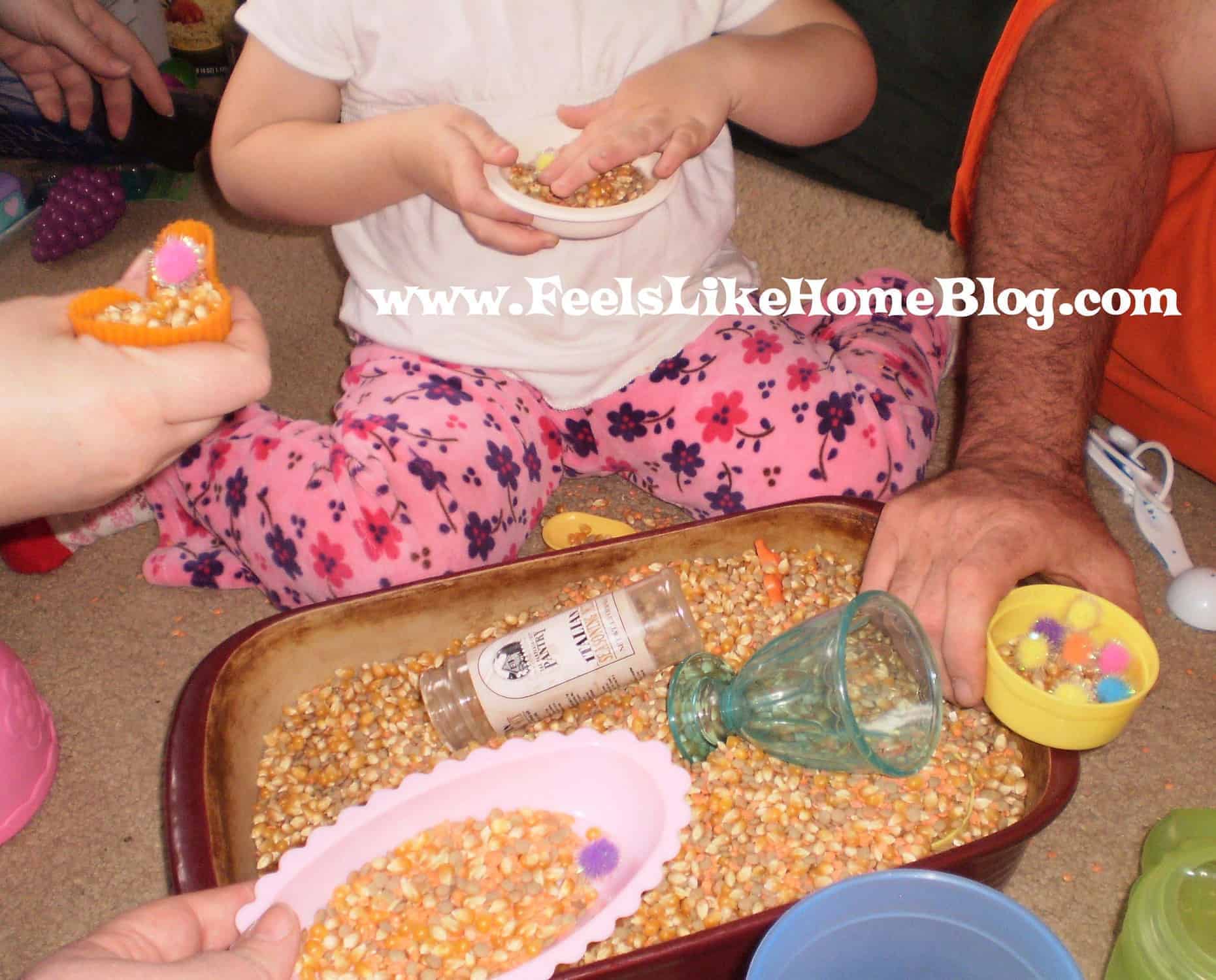 Pin
Grace had fun stacking the filled containers.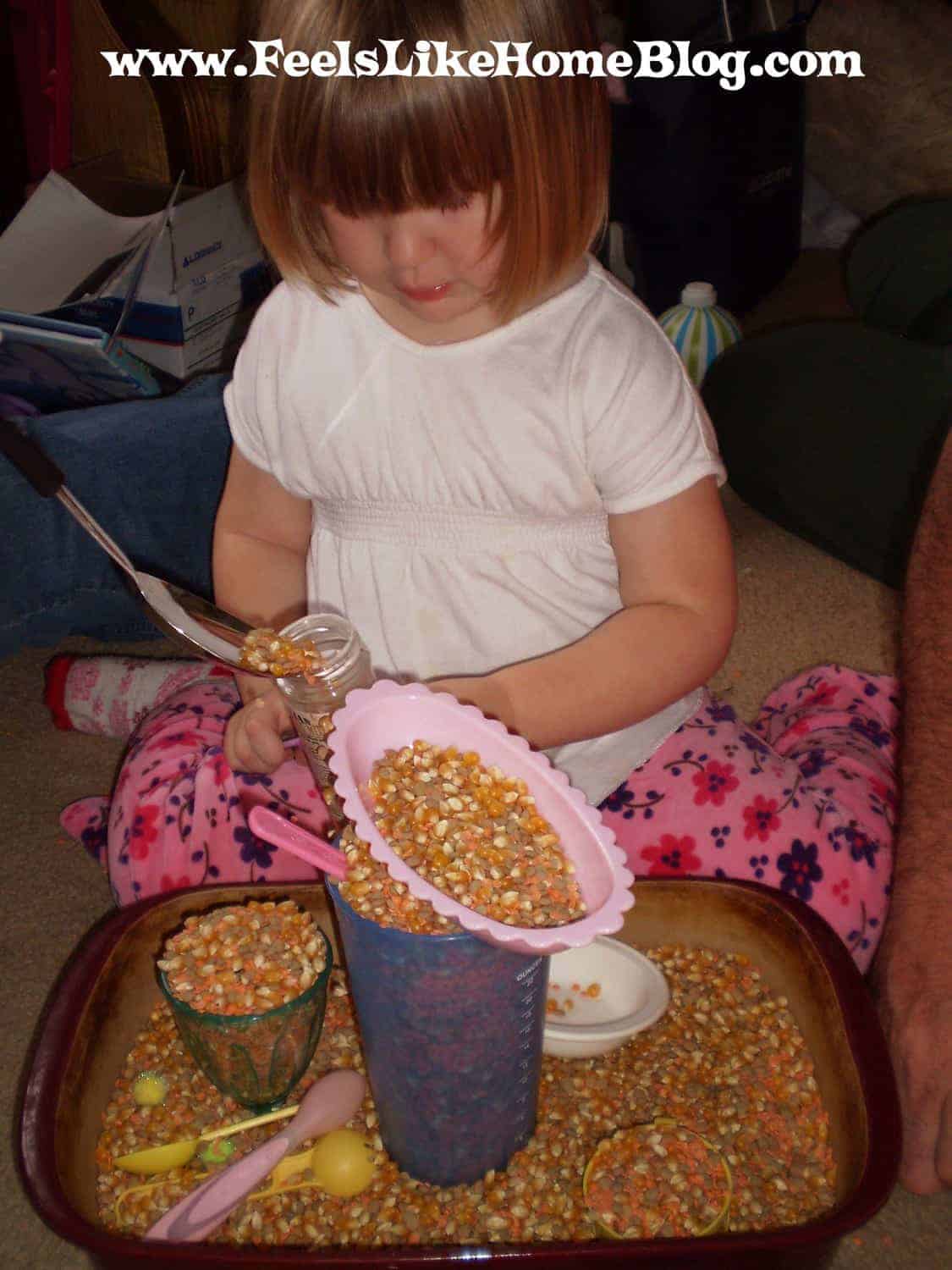 Pin
Joe spent the afternoon picking popcorn kernels out of our bin so that he could have a snack. It turns out that I used the last of it. Oops!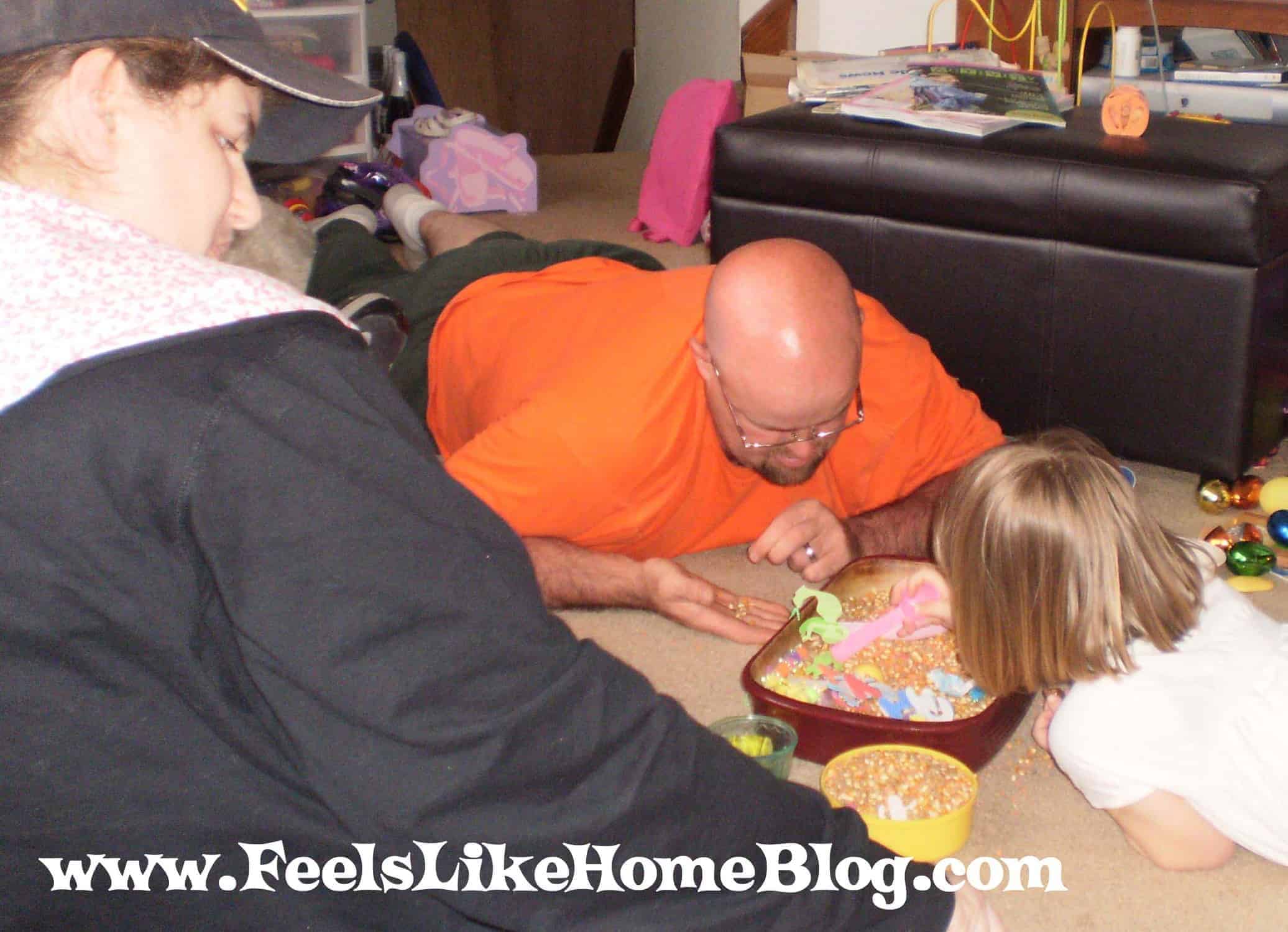 Pin
By the time we were done playing, he had almost enough for an afternoon snack.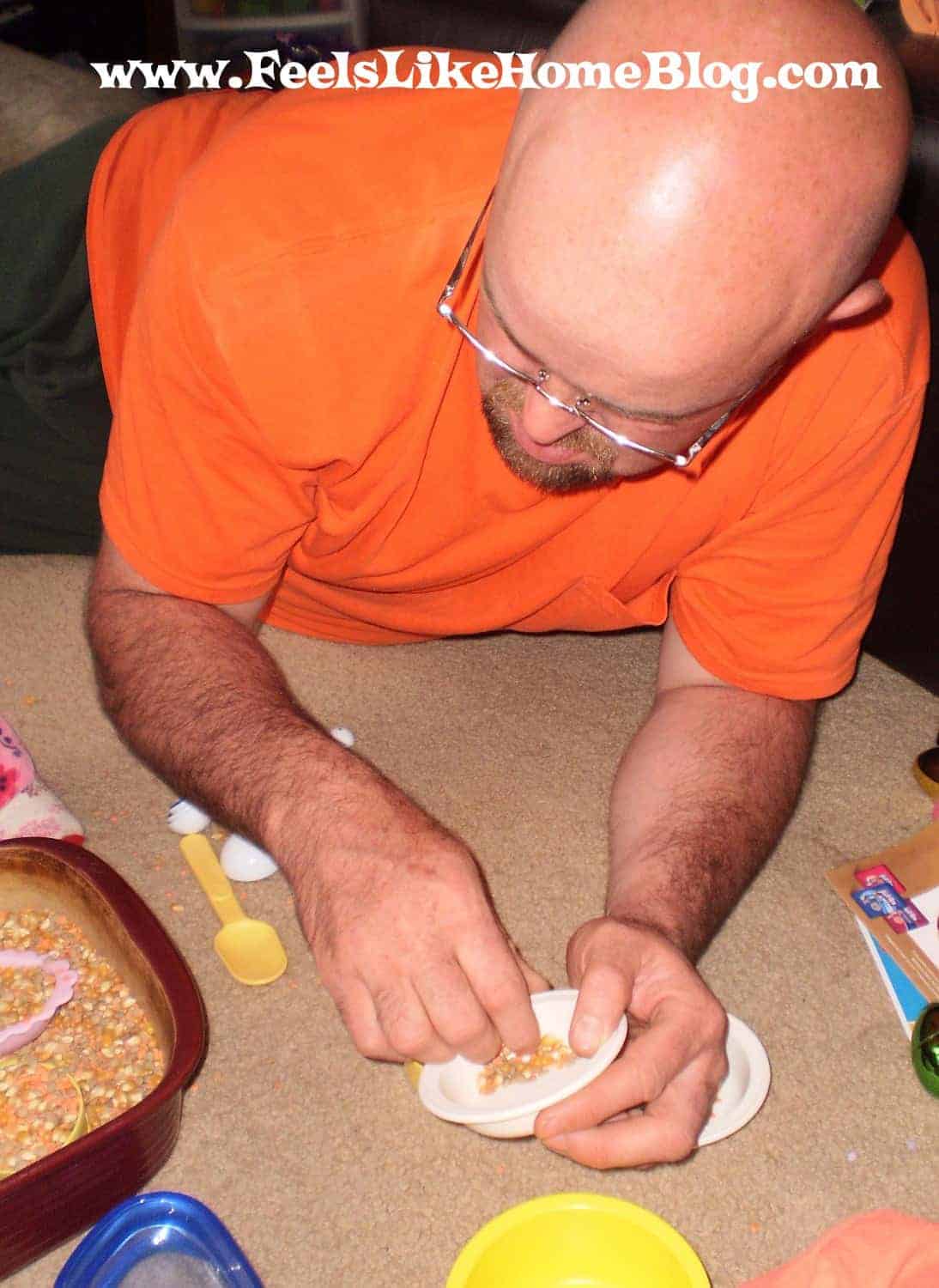 Pin
The only problem was that lentils and popcorn kernels were everywhere. Fortunately, my sister noticed that this big, metal spoon picked them up with almost no effort. It only took a few minutes to get the bulk of it picked up this way. The vacuum did the rest.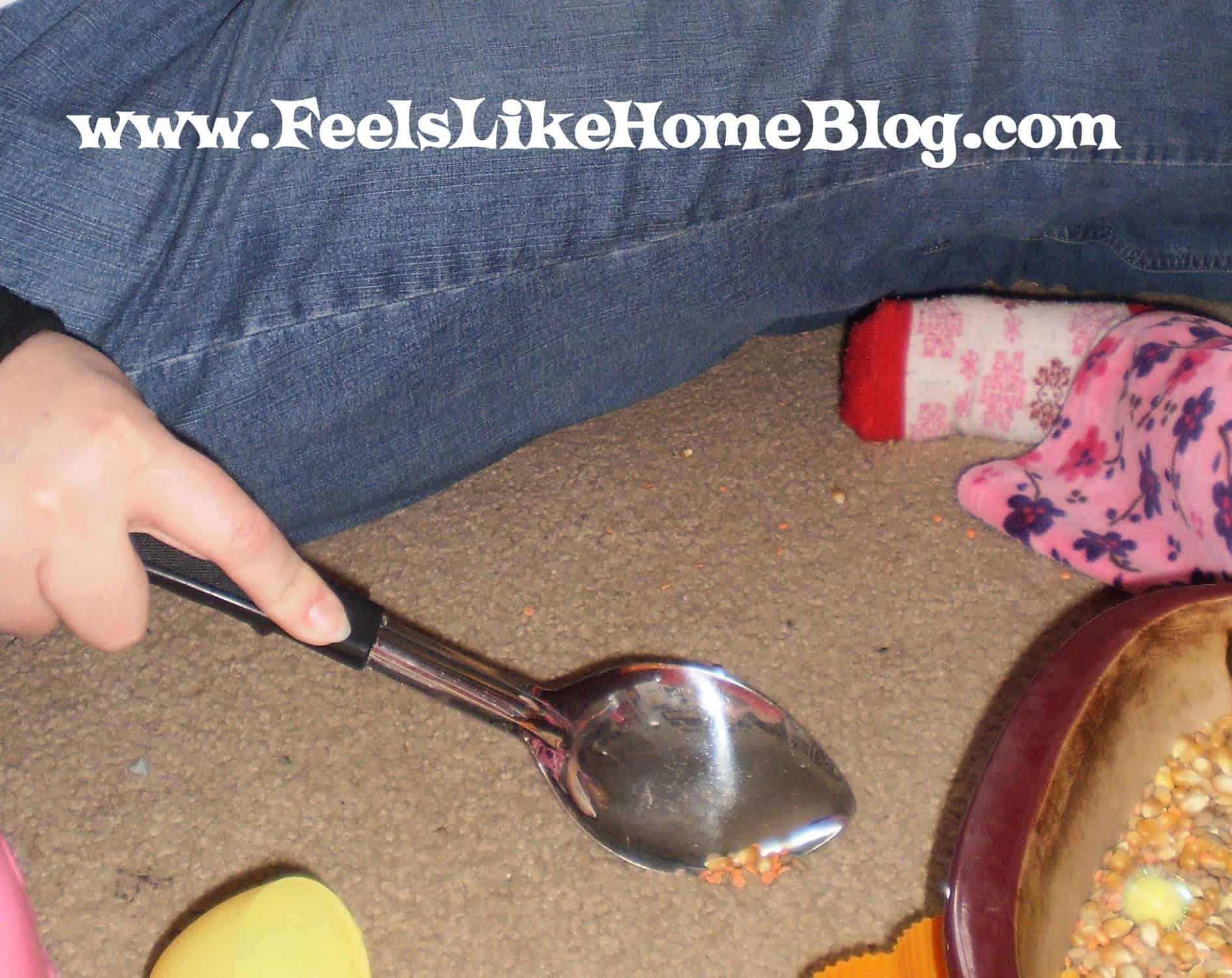 Pin
I left the casserole dish in the living room for a few days, and Grace went back to it every single afternoon. She loved playing in it, even when no one was playing with her.
Allie suggested putting the contents of the dish into a giant zip-top bag to save for later playing. I thought that was a great idea.