I am a slob.
I have always been a slob.
When I was a single girl, teaching in the school year and loafing in the summers, my house got a little out of control.
Okay, maybe a lot out of control.
At any rate, a friend told me about this ingenious thing she signed up for online - the Flylady. They Flylady told her to get dressed and put her shoes on first thing in the morning, to clean her sink so her kitchen would sparkle, and to make her bed every day. She sent my friend email reminders, and those email reminders changed my friend's life and her home.
Yay! (Can you hear my enthusiasm? Or maybe it's sarcasm.)
I signed up for the Flylady. The Flylady sent me about thirty-five emails in two days, and I promptly quit the Flylady.
If I'm always reading emails, when am I going to have time to do all this crazy cleaning, I thought.
I have since heard that the Flylady has changed her email methods (and her website actually looks like something I could maybe handle at this stage of my life, except the getting dressed to the shoes thing which will never happen in my lifetime), so don't let me sway you one way or the other about her.
Anyway, I digress. The only thing that stuck with my from that brief experience with the Flylady was that my sink should shine. It is in the center of my kitchen, easily sullied by bits of go from little fingers and paws and the very air itself (or so it seems).
The Flylady and I part ways at the frequency with which the sink needs to be scrubbed, and I generally do it whenever I notice some bit of goo lingering in there.
When this happens, I'm irritated that whomever rinsed that thing down the sink didn't completely do the job, and I roll my eyes and get out the cleaner.
(I know this is the wrong attitude to have. I should clean the sink every day whether it's dirty or not, right? And just be happy about having a clean sink.)
Imagine my continued irritation when there's enough cleaner in the bottom of the bottle to rattle around - I can hear it sloshing in there - but it won't come out the nozzle. Now what?
I shake the bottle. Nothing. I tip it and tilt it to try to make the solution make contact with the sucker upper thing. Nothing. Usually, I end up unscrewing the lid, pouring it onto a sponge (because you know I am not wasting a drop of this stuff), and using it like that.
This post is sponsored by Clorox and The Motherhood. All opinions are my own.
Anyway, Clorox has a solution to my bottle-ending irritation. Their new Smart Tube Technology makes it possible to spray every last drop of Clorox Clean Up, Formula 409, and Tilex.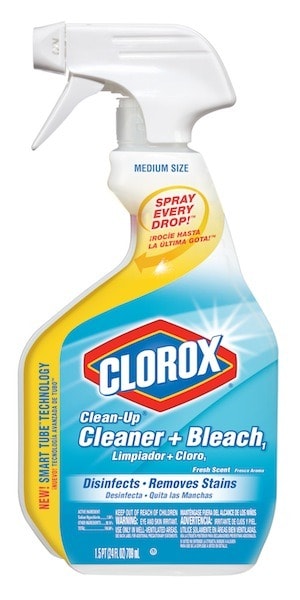 Pin
"For years, consumers have had to put up with tilting and tipping to salvage that last little bit of liquid, and it just doesn't cut it anymore!" said Renu Mevasse, Marketing Manager, Home Care at The Clorox Company. "For the past 100 years, Clorox has been committed to providing a better cleaning experience to consumers and it was time to focus in on improving one of her key cleaning tools – our spray bottles. SMART TUBE® TECHNOLOGY was the result, and we hope that adding it to our bottles lets consumers say goodbye to frustrating workarounds for getting to that last drop and makes cleaning a little bit easier."
Pretty nifty, huh? Now I'll only be irritated at the person who left the sink a mess (which is me as often as anyone).
Smart Tube Technology actually goes a step beyond helping you to get every drop out of the bottle, also featuring a more durable trigger that provides better coverage and control and a smoother pull. It makes it easier to dispense the cleaner with less effort (something my arthritic hands appreciate).
Get up to $2.50 in coupons!
Clorox just launched a new coupon on their SprayEveryDrop.com site. When you watch the quick video about the spray bottle's "makeover" you'll get a $1 coupon. If you share the video on Facebook or Twitter, you get a $1.50 coupon.
Enter to win free Clorox products!
Clorox is providing 5 free product coupons to one lucky Feels Like Home reader!
To be entered for a chance to win, tell me your biggest cleaning frustration in the comments. 

Sweepstakes Rules:
No duplicate comments.
You may receive (2) total entries from the following entry methods:
a) Leave a comment in response to the sweepstakes prompt on this post
b) Share this post in social media. Leave the link to your share in a comment.
This sweepstakes is open to US Residents age 18 or older. Winners will be selected via random draw, and will be notified by e-mail. You have 72 hours to get back to me, otherwise a new winner will be selected.
This sweepstakes runs from 4/12 – 4/19/13.
Good luck!
Read the official rules here.