These quick tips will help you to keep your produce fresh for as long as possible, keeping fruits and vegetables fresh so you don't have to throw money in the compost bin.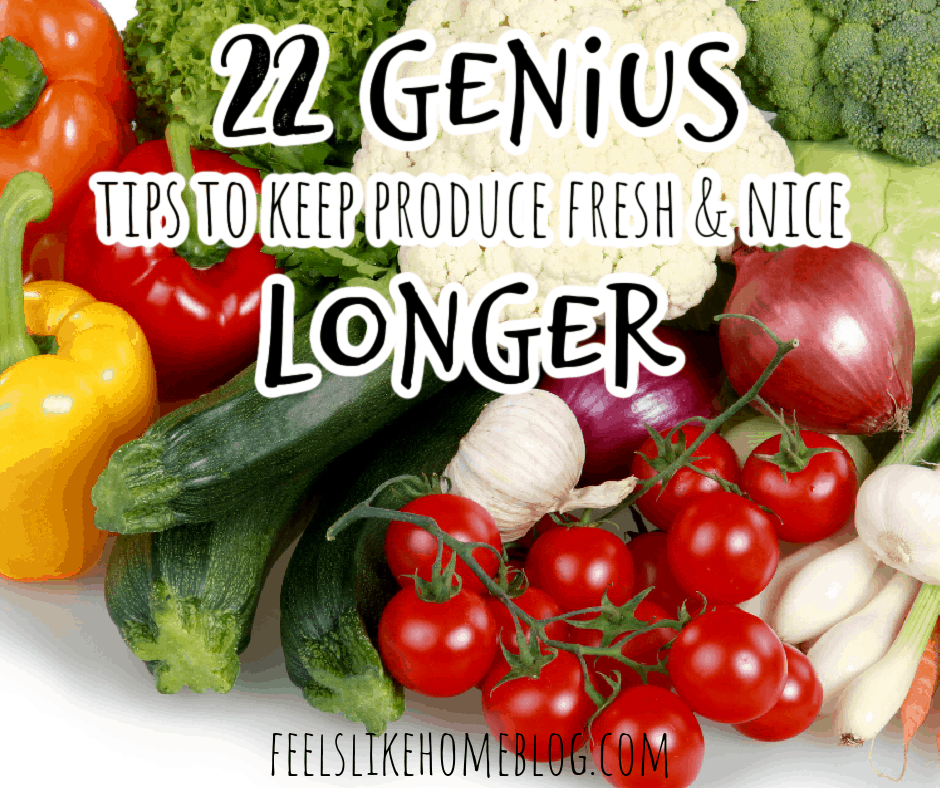 I just got a new refrigerator, and I am super excited about it. One of the features that my new one has that my old one didn't is humidity-controlled crisper drawers. Oh, and the drawers in the fridge are not completely broken, and that is a big bonus being that the old ones had giant holes in the front where they had cracked and broken over the years.
Even with fancy crisper drawers, fresh produce has a limited shelf life. Below are some tips to keep your fresh fruits and vegetables fresh and nice (and edible) for as long as possible.
I've included different recommendations for fruits and for vegetables. It's also important to know that some require refrigeration and others are best kept on the counter - you have to know the difference!
How to keep produce fresh longer
Use drawer liners designed for produce. These green liners are made of a special material that absorbs moisture and prevents mold from forming. They also allow air to circulate around and under the foods which keeps them fresher longer. I put a set into my new fridge just this week.

Don't wash or cut produce right away... Excess moisture causes most fruits and vegetables to spoil prematurely, so don't was them until you are ready to cut and use them. (See a special rule for watermelon in point 22 below.)
...except rinse your berries! Berries are an exception to the "don't wash!" rule. All berries (strawberries, raspberries, blackberries, blueberries, gooseberries, etc.) should be swished around in a weak vinegar water solution before drying and storing. To make the solution, mix 2 cups of water with ¼ cup white vinegar. Dump the berries into the solution, swish them around to ensure that all berries have maximum coverage, and then drain and spin in a salad spinner to remove as much of the moisture as possible. Very gently past the berries dry with a paper towel or clean kitchen towel. While it is true that moisture causes rot, the vinegar kills off any spores that may have arrived on the berries and allows them to stay fresh for more than a day or two.
Dry your greens & berries before putting them away. When it comes to storing fresh greens including lettuce and leafy greens like spinach and kale and fresh berries including blackberries, raspberries, and strawberries, you have to make sure you reduce moisture as much as possible before storing. Never rinse before putting them away and, if they are wet from the store, use a salad spinner remove excess water, then place it in storage container lined with paper towels (see #5 below). The paper towels will soak up any remaining excess moisture, and help the produce to last longer.
Use containers specifically labeled for produce. I have vented containers called FreshWorks Produce Saver that make fresh fruits and vegetables last for weeks rather than days. Tupperware has a similar product that my sister swears by. Some people swear by Debbie Meyer GreenBoxes, although I haven't ever used those. The point is that you need containers specifically designed to keep produce fresh, and these containers are the key to preserving your food more than a day or two.
Learn which foods should not be stored together. Some fruits give off a gas called ethylene as they ripen. You probably haven't noticed it, except that it makes other fruits and vegetables ripen and spoil more quickly when surrounded by ethylene. Some fruits that release it are apples, apricots, avocados, bananas (when ripe), blueberries, cantaloupe, green onions, grapes, honeydew, kiwi, mangoes, nectarines, peaches, pears, plums, potatoes, and tomatoes. Foods that are sensitive to ethylene (and therefore should be kept away from the above) are asparagus, bananas (unripe), blackberries, broccoli, Brussels sprouts, cabbage, carrots, cauliflower, cucumbers, garlic, green beans, leafy greens, leeks, okra, onions, parsley, peas, peppers, raspberries, spinach, squash, strawberries, sweet potatoes, and watermelon. For the most part, the ethylene producers should not be kept in the refrigerator, so keep them on the counter or table away from the foods that are sensitive.
Reduce ethylene gas in your crisper drawers. Because so many fruits and vegetables produce ethylene gas, it can be difficult to fully separate the producers from the sensitive foods. Activated charcoal has been proven to absorb ethylene gas, so you can get some of these cute little charcoal apples, and they will make the fridge safer for those sensitive foods. I have these as well.

Freeze it. Not everything thaws well, so you won't be able to freeze all your overripe produce, but if it looks like your berries, broccoli, Brussels sprouts, sweet corn, green beans, peaches, squash look like they're losing freshness, throw them in the freezer. Generally, you want to spread them out on a sheet tray for 24 hours so that they freeze individually (rather than in a big clump), and once they are fully frozen, you can place them into a zippered freezer bag or plastic container. Just be aware that some of these foods require a bit of processing to freeze.

Corn must be cut off the cob.
Peaches work much better if removed from the pit and sliced.
Bell peppers should be cleaned (seeds and membranes removed) and sliced.
Zucchini and summer squash should be sliced or spiralized
Onions should be peeled and diced or chopped. Frozen and thawed onions are great to cook with but have a weird texture when eaten uncooked.
Garlic must be peeled before freezing. (Seriously, whose garlic lasts long enough to spoil? Not mine.)
Citrus (lemon, lime, orange, grapefruit, etc) should be squeezed with the fresh juice frozen in ice cube trays. This will yield approximately 2 tablespoons of juice per cube. Once the cubes are fully frozen, pop them into a zippered freezer bag, squeeze out any excess air, and store in the freezer for up to 6 months. To use, just pop out and add to a recipe.

Add a paper towel. If you use plastic bags such as zippered bags (leave them open!) or the produce bag from the store, make sure to add a paper towel to the bag to absorb any moisture. Moisture encourages rot.
Use lemon or lime juice to prevent browning. Apples, bananas, and avocado all oxidize and turn brown really quickly when cut. In order to prevent this, sprinkle something acidic on the cut surface. For apples and bananas, I like to use fresh lemon juice. For avocados, I prefer fresh lime juice. You most likely won't notice the flavor, but you will surely notice that the food hasn't turned ugly brown.
Know what to store in the fridge and what to leave out on the counter. While most of these can also be stored at room temperature, they won't fare nearly as well and are likely to spoil before you get a chance to consume them.
Fridge - Apples, asparagus, berries (blackberries, raspberries, strawberries), broccoli, cabbage, carrots, celery, cherries, cucumbers, grapes, greens, all herbs, lettuce, pears, peppers, spinach, and summer squash (zucchini, yellow squash)
Room temperature - Avocados, bananas, citrus, garlic, mangoes, melons (cantaloupe, honeydew, watermelon), onions, peaches, pears, pineapple, potatoes (white and sweet), tomatoes, winter squash (acorn, butternut)
Choose your produce carefully. This is especially hard to do in the age of curbside pick up and grocery delivery, but if you choose your fruits and vegetables carefully, making sure you don't have any overripe, bruised, or damaged pieces, it will last a lot longer once you get it home. Always check the use by date and get the freshest one you can if you expect to keep it for a week or two!
Store an apple with your potatoes in a paper bag. The ethylene gas released by the apple will prevent the potatoes from sprouting. But keep an eye on the apple because apples spoil more quickly than potatoes.
Never ever ever store tomatoes in the fridge. I know this is part of #11 above, but it is important because chilling kills the flavor and ruins the texture of tomatoes.
Never ever ever store onions in the fridge. From a purely logical point of view, onions have a strong odor and will cause everything in your fridge to smell like onions. But beyond that, storing onions in the fridge causes them to get soft well before they actually spoil. Instead, store them at room temperature in a paper bag. The exception to this rule is sweet onions which are generally kept in the fridge where they stink everything up. Sweet onions last longer if chilled.
Keep bananas together. I haven't been able to figure this out, but I tested it, and it worked for me. If you keep bananas attached to one another and wrap the stems in plastic wrap, they will last 3-5 days longer than if you separate them.
Wrap celery and green onions in foil. The plastic bag that these vegetables come in hold in gases and moisture and cause the stalks to spoil more quickly. Wrapping them in foil allows the gases to escape without drying the celery or green onions out. They will stay crisp for about a week longer than they will in the bag.
Store herbs in water. Most cut herbs will live a lot longer if you place them upright in a glass with a couple inches of water in the bottom, just like cut flowers. Cut the stems at least ½" before putting them in the water, again just like flowers. I've heard you can do the same thing with broccoli, asparagus, and carrot/celery sticks but I've never tried that. Be sure to change the water every day or two and remove any leaves that fall in the water for maximum freshness.
Freeze herbs in olive oil. If you've done your best with your herbs and still have a lot to use, snip or chop them and place one tablespoon into each well of an ice cube tray. Add just enough olive oil to cover the greens and freeze. Once solid, place into a zippered freezer bag, squeezing out the air before closing. When you need fresh herbs, just pop out enough cubes to make the right volume. The cubes will last about six months in the freezer.
Store mushrooms in a paper bag. Paper lunch bags are so useful for a variety of purposes, so buy a package of them next time you shop! Mushrooms kept in a plastic container and plastic wrap get slimy quickly because the release so much moisture. If they dry out too much before you can use them, simply soak in some clean water for a few minutes, and they'll plump right up. You can even buy dehydrated mushrooms that you rehydrate by soaking prior to using.
Restore greens with an ice bath. If your lettuce, spinach, or other salad greens are limp but not slimy, they don't have to be thrown out. Simply soak in a tub of ice water for 5 to 30 minutes (depending on how sad they were to start with), and they will crisp up and be good to eat again.
Cut watermelon upon arriving home. Watermelon is the exception to the "never cut ahead of time" rule because it actually gets sweeter after cutting. So cut it as soon as you get home from the store, and it will taste great a couple of days later.
What tips do you have to make produce stay fresh longer? I'm sure there's plenty I could learn!