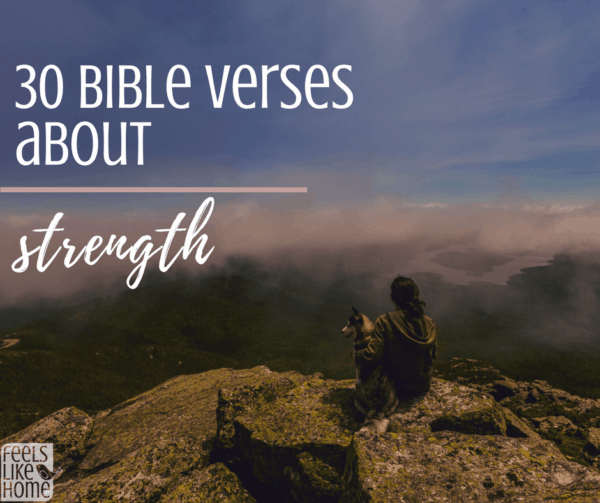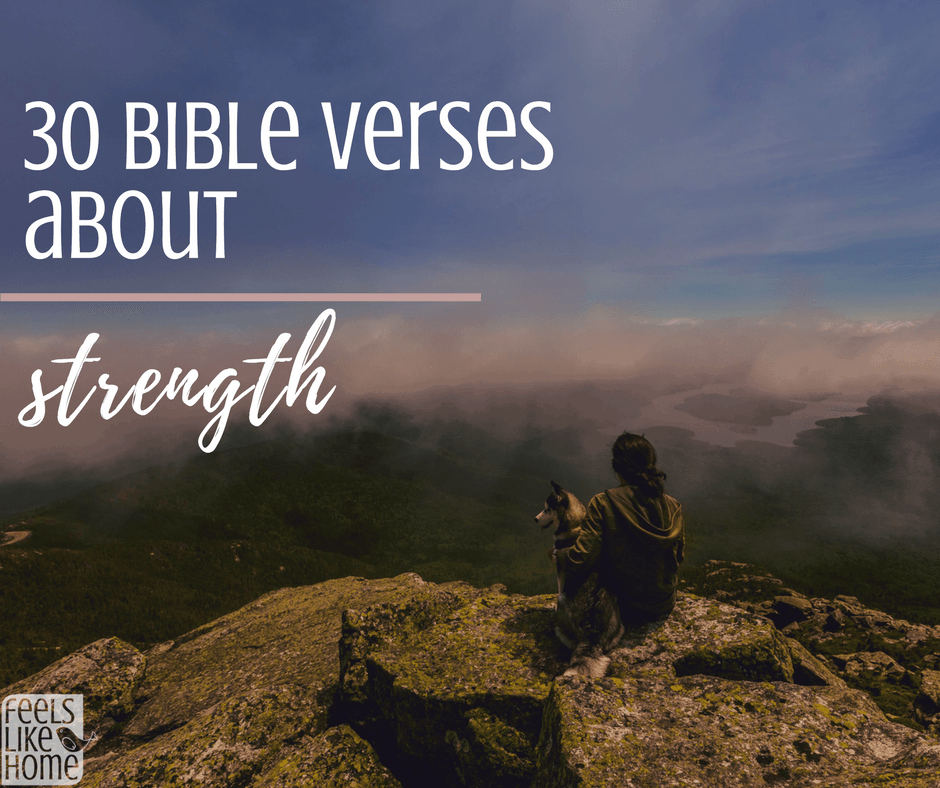 Five years ago, as my mother was dying from pancreatic cancer and my husband was out of work and my cat died and we had to replace the engine in his car and my kids needed their mother and life just kept going on despite my sadness and anxiety and depression, an online friend wrote on my Facebook wall, "I don't know how you're doing it. I would be a mess right now, if I were you."
My therapist calls me Super Tara when I go into overdrive to make sure that everything is fine. The truth was that I was a mess but Super Tara held things together well enough to pass for normal on the outside.
The heart of the situations was that it wasn't Super Tara at all. God alone gave me supernatural strength to weather the storm. I found solace in my church family and in sermon notes and in the Bible and in the wise counsel and warm support of close friends, women who knew my heart and my aching soul.
When we pray for strength, God gives it. He isn't going to let any of us fall or be crushed under the weight of our troubles.
Seek the LORD and his strength; seek his presence continually! -1 Chronicles 16:11
In fact, He says in the Bible that His strength is made perfect in our weakness. He allows us to be broken so that we will rely more fully upon Him.
But he said to me, "My grace is sufficient for you, for my power is made perfect in weakness." Therefore I will boast all the more gladly about my weaknesses, so that Christ's power may rest on me. -2 Corinthians 12:9
Feeling broken is no fun. It hurts deeply, but there is a way through. The way is Jesus.
Pray this prayer with me, sweet friend:
Heavenly Father, give me your supernatural strength to weather this storm in my life. Help me to see that Your ways are higher than my ways, and Your thoughts far beyond my thoughts. Show me Your great plan in this situation, and help me to stand up under its weight and walk boldly in Your love and grace. In Jesus's name, amen
Bible Verses About Strong Characters
The Bible is full of examples of men and women who drew their strength from God. They had faith in His ability to lead and guide them and to fortify them against whatever the world had in store.
Paul
Paul recognized that his work would not have been possible without the blessings of God. He was able to spread the Good News only because of supernatural strength.
But the Lord stood by me and strengthened me, so that through me the message might be fully proclaimed and all the Gentiles might hear it. So I was rescued from the lion's mouth. -2 Timothy 4:17 [Unless you're genetically Jewish, you and I are Gentiles.]
That is why, for Christ's sake, I delight in weaknesses, in insults, in hardships, in persecutions, in difficulties. For when I am weak, then I am strong. -2 Corinthians 12:10
For the Spirit God gave us does not make us timid, but gives us power, love and self-discipline. -2 Timothy 1:7
Peter
Peter was brash and impulsive, but he is one of my favorite New Testament characters. He was real and flawed and found wholeness only in the love of Jesus. He went on to lead the early church into a period of great growth.
Do you have the gift of speaking? Then speak as though God himself were speaking through you. Do you have the gift of helping others? Do it with all the strength and energy that God supplies. Then everything you do will bring glory to God through Jesus Christ. All glory and power to him forever and ever! Amen. -1 Peter 4:11
His divine power has given us everything we need for a godly life through our knowledge of him who called us by his own glory and goodness. -2 Peter 1:3
Joshua
Joshua was a scout sent into the promised land ahead of the Israelites, before they wandered in the desert for 40 years. He trusted God to deliver the land into their hands, despite its being inhabited by giants and other formidable adversaries.
Have I not commanded you? Be strong and courageous. Do not be frightened, and do not be dismayed, for the Lord your God is with you wherever you go. -Joshua 1:9
Abraham
Does Abraham need any introduction? I'm not sure that he does, but here goes. Abraham showed supernatural strength and great faith over and over in the Bible. He packed up his household and left the only home he'd ever known for parts unknown, because The Lord spoke to him. Then, Abraham and his wife prayed for a child for many years, and they finally were blessed with one well into their 90s. And then, God told him to take the child and offer him as a burnt offering. The Bible doesn't specifically mention his strength through this experience, but as a parent, I cannot even begin to imagine what it took for him to demonstrate that level of obedience. (Spoiler: God provided a ram for a burnt offering and Abraham did not have to kill his child.)
After these things God tested Abraham and said to him, "Abraham!" And he said, "Here am I." He said, "Take your son, your only son Isaac, whom you love, and go to the land of Moriah, and offer him there as a burnt offering on one of the mountains of which I shall tell you." So Abraham rose early in the morning, saddled his donkey, and took two of his young men with him, and his son Isaac. And he cut the wood for the burnt offering and arose and went to the place of which God had told him. -Genesis 22:1-3
Bible Verses About Strength that Comes from God
Let's start off with my favorite Bible verse. It reminds me that no matter what comes at me, I can handle it because God can handle it. Even when it feels like the world is falling apart, God's mighty hands can hold it together.
I can do all things through Christ who gives me strength. -Philippians 4:13
This is another of my favorite passages because I can imagine soaring on wings like eagles. The Lord is never weary, even though I feel weary all the time. I can draw strength to go on from His unending power.
Have you not known? Have you not heard? The LORD is the everlasting God, the Creator of the ends of the earth. He does not faint or grow weary; his understanding is unsearchable. He gives power to the faint, and to him who has no might he increases strength. Even youths shall faint and be weary, and young men shall fall exhausted; but they who wait for the LORD shall renew their strength; they shall mount up with wings like eagles; they shall run and not be weary; they shall walk and not faint. -Isaiah 40:28-31
In the next verse, Jesus rebuffs his disciples, but the message is still true for today. If you have faith that God will give you the strength that you need, He will give it to you.
He said to them, "Because of your little faith. For truly, I say to you, if you have faith like a grain of mustard seed, you will say to this mountain, 'Move from here to there,' and it will move, and nothing will be impossible for you." -Matthew 17:20
When we need strength, fear often sets in and weighs you down, but you can rise above fear and anxiety.
Fear not, for I am with you; be not dismayed, for I am your God; I will strengthen you, I will help you, I will uphold you with my righteous right hand. -Isaiah 41:10
We are called to praise God in every situation, and that includes when we're struggling and need His strength.
The LORD is my strength and my song, and he has become my salvation; this is my God, and I will praise him, my father's God, and I will exalt him. -Exodus 15:2
The next scripture is focused on temptation, but I think it applies equally to situations of oppression and turmoil. He will always provide a way of escape that you may be able to endure this, too.
No temptation has overtaken you that is not common to man. God is faithful, and he will not let you be tempted beyond your ability, but with the temptation he will also provide the way of escape, that you may be able to endure it. -1 Corinthians 10:13
I love this next verse. If the Lord is on your side (and He is), what should you be afraid of? Nothing.
The LORD is my light and my salvation; whom shall I fear? The LORD is the stronghold of my life; of whom shall I be afraid? -Psalm 27:1
The next one is also about fear. I included verses on fear because I think we need to overcome fear in order to be strong in our faith and in life.
Be strong and courageous. Do not fear or be in dread of them, for it is the LORD your God who goes with you. He will not leave you or forsake you. -Deuteronomy 31:6
Jesus has overcome the world. He has overcome death. He can overcome whatever plagues you, I guarantee it.
I have said these things to you, that in me you may have peace. In the world you will have tribulation. But take heart; I have overcome the world. -John 16:33
This is not the version of Psalm 23 that I memorized many years ago, but I like it a little bit better. Whatever is plaguing you in your particular dark valley, you should not be afraid of it because Jesus can beat it.
Even when I walk through the darkest valley, I will not be afraid, for you are close beside me. Your rod and your staff protect and comfort me. -Psalm 23:4
Timothy writes that God gave us a spirit of power and strength. It's not something we have to request or beg for; it's something that has already been given to us.
For God gave us a spirit not of fear but of power and love and self-control. -2 Timothy 1:7
Our flesh allows worry and anxiety to creep in, but God's strength is enough to overcome any obstacle.
My flesh and my heart may fail, but God is the strength of my heart and my portion forever. -Psalm 73:26
I love to circle God's promises in my favorite study Bible. This is a big one for me. He promises to strengthen and protect you, too.
But the Lord is faithful, and he will strengthen you and protect you from the evil one. -2 Thessalonians 3:3
The Lord is all the strength you need.
I love you, Lord, my strength. The Lord is my rock, my fortress and my deliverer; my God is my rock, in whom I take refuge, my shield and the horn of my salvation, my stronghold. -Psalm 18:1-2
We seek strength in times of trouble, when our hearts are heavy and we need help. It is at these times that we are called to sing of His strength and power and love.
But I will sing of your strength, in the morning I will sing of your love; for you are my fortress, my refuge in times of trouble. -Psalm 59:16
Nothing is too hard for the Lord, not even this thing that's plaguing you right now.
Sovereign Lord, you have made the heavens and the earth by your great power and outstretched arm. Nothing is too hard for you. -Jeremiah 32:17
Can you internalize the next verse? God is able to do immeasurably more than you could ask or even imagine. Not just more, but immeasurably more. More than you can imagine more.
Now to him who is able to do immeasurably more than all we ask or imagine, according to his power that is at work within us, to him be glory in the church and in Christ Jesus throughout all generations, for ever and ever! Amen. -Ephesians 3:20-21
Trust in Jesus, my sweet friend. Trust in Him to help you through this terrible, challenging situation that you're in.
The Lord is my strength and my shield; my heart trusts in him, and he helps me. My heart leaps for joy, and with my song I praise him. -Psalm 28:7
In His hands are all the strength and power that has ever existed in all the earth. Can you even comprehend that? He wants you to tap into that strength and power.
Wealth and honor come from you; you are the ruler of all things. In your hands are strength and power to exalt and give strength to all. -1 Chronicles 29:12
He promises to give you strength. You already have everything you need to endure this trial.
The Lord gives strength to his people; the Lord blesses his people with peace. -Psalm 29:11
Some versions of this last verse talk about wealth and money, but I liked this version best. You have the power to be successful in this. Not just to endure it, but to succeed in it. Can you imagine yourself coming out on the other side successful?
Remember the Lord your God. He is the one who gives you power to be successful, in order to fulfill the covenant he confirmed to your ancestors with an oath. -Deuteronomy 8:18
You can do this thing. You can survive it. You can conquer it with the strength and power of Jesus, and He is just waiting for you to ask. He promises to help you and to bless you.
Keep the faith.
Get these Bible verses on strength in a convenient black and white printable below. You can work on memorizing and meditating on them, one at a time.